 Giving and Living
Date:
Location: Westpoint Exhibition Centre, Westpoint Exhibition Centre, Clyst St Mary, Exeter, Devon, EX5 1DJ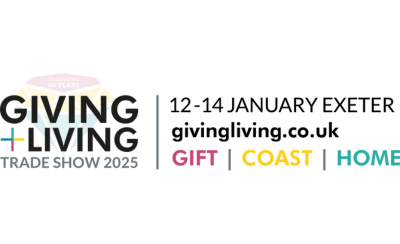 Giving & Living 2024 – Gift-Coast-Home - Ideas that sell.
The Giving & Living trade show takes place from Sunday 15th – Tuesday 17th January, at Westpoint, Exeter, and (as ever) will be showcasing the very latest gift and home ideas, with a focus on the best ideas for coastal, and UK tourism markets. Giving & Living is the only trade show in the UK with a specialism in the coast. Since 1965, retailers not only from the South West, but from right around the UK's coastline, have depended on this show to showcase new trends, brands and products at their peak buying time, and they come to buy! As the first show of the year of its kind of the year, it will allow buyers to restock and get set up for the year to come as soon as the Christmas rush is over. Giving & Living 2024 is the trade show that will inspire, and provide the gifts that discerning customers will want to take home with them, for friends, family, or even for themselves. There's a wide range of general gifts and homeware for all occasions on display, offering something for everyone – you'll have to go a long way to find a greater choice.
Twitter: @giving_living
Facebook: givingliving.co.uk
Instagram: givingliving.co.uk
01934 733433