 ENTER GIFT OF THE YEAR NOW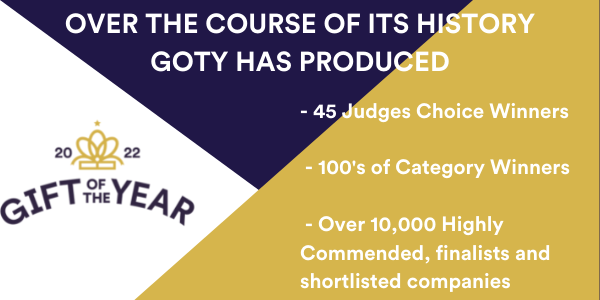 Over the course of 45 years, The Gift of the Year annual competition has produced thousands of happy faces from category winners, to highly commended to even being shortlisted. The accolade opens doors and raises your business profile to an audience that matters – the buyers retailers who judge the competition.
Take a look what our past winners have to say about the awards
Just by entering the competition you are guaranteed for your products to be seen, by retailers, buyers and by just speaking to our previous years winners it is also guaranteed to boost your business and elevate your profile amongst the industry.
The competition is judged by gift buyers across the industry and the standard is incredibly high, so success in the awards is a signpost to buyers that your products will be big sellers. – Hot Smoked
We would definitely recommend entering the Gift of the Year Awards. The platform it gives in terms of reaching the right people and attracting attention across the industry is invaluable. – Burgon & Ball
We would definitely recommend other businesses to enter the Gift of the Year in the future. It is a great platform for meeting new customers, raising the profile of the business and receiving the acknowledgement of the hard work that goes into producing great quality products. – Wrendale Designs
This year we are as excited as evert to welcome new products and see what everyone has been hard at work on during the various lockdowns and we are as ever looking forward to who received the crown of judges choice as well as new to last years 'Peoples Choice'
To enter your products go to www.giftiftheyear.co.uk and if you want to be a judge, or have any other queries them please contact chris.workman@ga-uk.org