 EUROPE'S NEWEST RESPONSIBLE SOURCING SHOW, SOURCE HOME & GIFT, PARTNERS WITH TRENDBIBLE ON SUSTAINABILITY PRODUCT DEVELOPMENT REPORT
EUROPE'S NEWEST RESPONSIBLE SOURCING SHOW, SOURCE HOME & GIFT, PARTNERS WITH
TRENDBIBLE ON SUSTAINABILITY PRODUCT DEVELOPMENT REPORT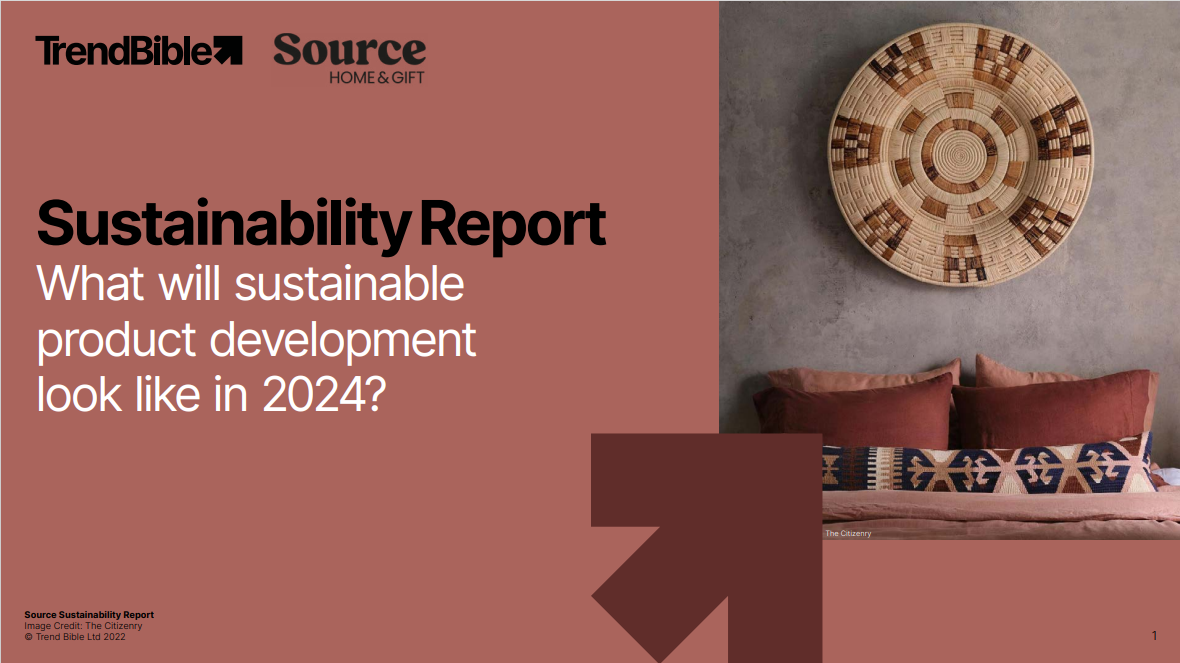 The new international responsible sourcing show, Source Home & Gift taking place from 5th – 8th February at NEC Birmingham, has partnered with trend agency TrendBible on a powerful and informative Sustainability Report taking a deep delve into what sustainable product development will look like in 2024.
The report has been created to underpin some of the key things to consider when building a model for sustainable product development in 2024 and beyond, including working towards responsible consumption and production, reduced inequalities, good health and wellbeing, climate action and decent work and economic growth. The report is divided into three sections which focus on waste cycles, community impact, and regeneration.
Suzanne Ellingham, Director of Sourcing of Source Home & Gift says, "I'm really pleased with the content and scope of this sustainability report with TrendBible. When considering what constitutes responsible and sustainable product development, everything goes under the microscope, the entire business model. From raw materials and manufacturing processes, to packaging, shipping, and how it performs; every aspect of the product's lifecycle must be planned consciously to help protect people and planet. But that is easier said than done, and for many is a matter of where to start and what next? This report is an invaluable resource and highlights some inspiring case studies from businesses and designers taking leaps and bounds to achieve sustainable product developments. In order to move in the right direction, we must look to the innovators in the market to inspire action, and this report does just that."
The three sections include Creative with Waste which covers fully circular design, biomaterials, food waste and cradle to cradle textiles; Community to Consumer featuring empowering producers, giving work, communicating social impact, and focus on indigenous; and Regenerative Futures comprising soil regeneration, carbon sequestration, protecting wildlife, bacteria dyeing, and mycelium.
According to Allegorie, 8% of greenhouse gas emissions are generated by global food waste, which is almost as much as is generated by all of the cars in the world! TrendBible's report states that food waste is a BIG problem. In fact, one third of all food produced in the world for human consumption never reaches the consumer's table. Therefore, product design which utilises food waste, and converts it into a raw material for manufacturing is solving multiple problems; reducing waste, cutting greenhouse gas emissions, and creating innovative new materials. Some of the world's leading materialists and designers are currently experimenting with products and materials such as bio leather made from discarded fruit skin or bioplastics made from by products from the chocolate production industry, like the bento boxes in PriestmanGoode's Zero Takeaway Packaging.
For more about this and much more please visit https://www.source-homeandgift.com/sustainability/sustainability-report to download the full report.
About Source Home & Gift
Source Home & Gift unites the best audited manufacturers from key sourcing regions around the world with key retailers, brands, contractors and interior designers who are looking to find new suppliers or explore private label opportunities.
Working with governments and agencies from across the world, Source Home & Gift will bring best in class manufacturers and artisan producers to the UK to share their capabilities with the UK market. Balancing scale and quality across key buying categories, with a range of minimum order values and range of finishes, the new show puts the entire supply chain at the fingertips of buyers for homewares, gifts, furniture, textiles, toys, stationery and greetings, and technology.
For further information on Source Home & Gift please visit https://www.source-homeandgift.com/welcome
For further press information or images contact Philippa Suitters at Good Results. Email: PhilippaS@goodresults.co.uk Tel: 07866362980