 HEAVEN SENDS: SHOWROOM EVENT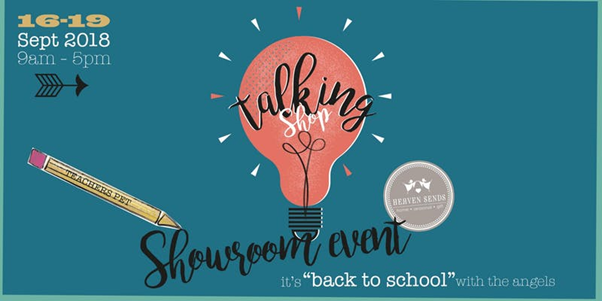 Heaven Sends are hosting a back to school event with experts for a day of buying & inspiration at our next showroom event. Sarah Ward will be one of the experts on hand to offer help and advice at the event.
The Lesson Plan: it's "back to school" with the angels
Product Launch
View and purchase the latest offerings from the angels...including an exculsive preview of our NEW Spring/Summer 2019 collection... all hot off the press... boost your business with these must have products...this inspiring showroom is the only place to browse the entire collection...
Display Christmas Seminar
Back by popular demand our engaging visual stylist Janet Billings will be helping you with your Christmas Window Display skills... Also a chance to catch up with her later in the day for 1-1 sessions along with other experts at the networking lunch...
Inspiring Ideas
Displays & Ideas...soak up the atmosphere at the vent where inspiring displays, tips & ideas are all at hand for you to take away with you & try out for yourself once you are back home... discuss your merchandising problems with our experts...invaluable...
Retail Insight
Networking Lunch...take this opportunity to spend your lunchtime "talking shop"...Meet industry experts who will expand your retail buying, e-commerce, social media & email marketing knowledge base enabling your business to stand out in a crowded marketplace... Pick up actionable tips & tricks to set you apart.
Seminar: Creating the Christmas display that WILL increase your sales.
Jan will briefly cover the basic golden rules of Display for those that have not attended one of her seminars before but also a gentle reminder for those who have. She will then go on to explore how to create that amazing Christmas display that WILL increase your sales.
Where do you to find inspiration? How to incorporate props into your displays to sell your product, where do you get the props from?

Where do you start and knowing when to stop!!

Gain an insight and lots of inspiration to help you create the "WOW" in your window display.