 Lobster Homeware on TV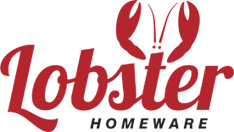 A "brilliant idea" from Giftware Association chief executive Sarah Ward has resulted in GA member Lobster Homeware being featured in a television series that will be shown around the world.
Sarah was so impressed with the Lobster Apron range exhibited at Autumn Fair that she suggested a sewing machine was installed on the stand to demonstrate how company co-founder Nathalie Cuffy made the aprons. The masterstroke paid off when a crew from London video agency Hub spotted her at work and investigated the heart-warming story behind the year-old company – and the apron invented by Nathalie.
It has integrated oven gloves which can be attached, detached, tucked away or placed in pockets, as well as height adjustable poppers so that one size fits all. There is even a mobile phone pocket and tea towel loops!
The six-part series, Pop Up Start Up, has been created by business and financial news network CNBC, Alibaba.com and Hub. The brand new entertainment show, which will be shown in overseas territories and the UK, debuts on CNBC International (Sky Channel 505, Free Sat 201, Virgin Media 613). The transmission date for the episode featuring Lobster Homeware is Sunday 5th February, and can be viewed on catch up or repeats in the coming weeks.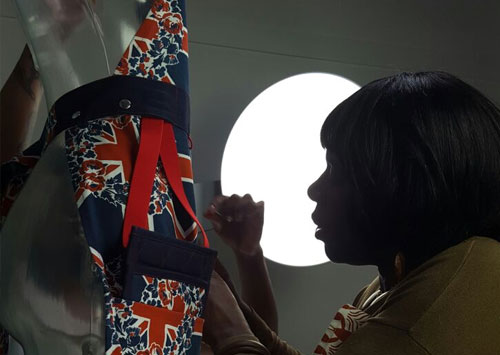 The series will follow 12 aspiring manufacturing enterprises which will go head to head to win a £20,000 cash prize. In each episode, two candidates are given seed money and challenged to mass produce and sell their products in a pop-up shop.
Expert mentors and judges including branding guru Rita Clinton, pop-up pioneer Roger Wade and Pete Wild from Goldman Sachs 10,000 Small Businesses, provide guidance and advice to the contestants on how to manufacture, import, market and sell the products. The contestant who makes the most profit each week wins the £20,000 prize.
Sarah Ward says of Lobster Homeware's launch apron range: "It is very appealing and functional and comes with a lovely backstory from a company that really deserves to be successful. We are proud to have Lobster Homeware as GA members."
It took a 14-year journey to transform Nathalie Cuffy's kitchen table apron sketch into a range of gorgeous prints. The Paddington-born seamstress – one of eight children raised by Dominican parents – went from making and selling embroidered purses at school to sewing for friends, family and also luxury fashion brands such as Victoria Beckham, Amanda Wakely and Ghost. Like her seamstress mother, Nathalie always had two jobs – teaching dressmaking by day and sewing for her customers by night.
But, she explains: "By 2013 the stress of constantly working, raising my three kids alone and trying to run my sewing business was just too much. I collapsed with a heart attack. My family rallied round and gave me the love and support I needed. For the first time I was able to pull back from work and focus on the things that were important.
"To my joy, my younger brother Alec came back into my life. We had drifted apart, but after I came out of hospital he and his wife Lynn took care of me and sorted out my chaotic finances. "I had never made an apron for Alec, so I showed him one. I clearly remember him looking at me and saying, 'Nathalie, we have got to do something with them'."
She says that without Alec, a director of Lobster Homeware, the company would not exist. "He is thoughtful and determined. Alec gathered a team of people and over the course of a year they have turned my dream into a reality." Alec adds: "We really do appreciate the advice we receive from the GA. It was a brilliant idea from Sarah to have the sewing machine on our stand. We are hoping that the programme that results will help us to raise our profile and grow the company."
Further information from Alec Cuffy. Tel 07703 791 268 or email alec@lobsterhomneware.com