 MEET THE BUYER SUCCESS WITH THE GIFTWARE ASSOCIATION AND TILLINGTON GROUP OF GARDEN CENTRES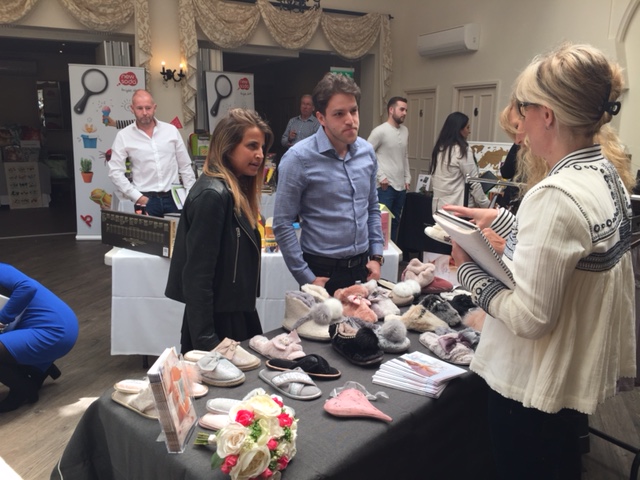 The Giftware Association and The Tillington Group of Garden Centres had an extremely successful Meet the Buyer day in Brentwood, Essex on 12th May, which is sure to continue into a blossoming relationship for more Meet the Buyer Events In the Future.
Simone Rose, Business Development Manager for The GA was delighted in the response from members and non-members alike "As soon as we launched this initiative we had such a great response with such a variation of products as well, we knew we had to pull off the best event we could and I believe that we have achieved that today with a lot of happy faces from both suppliers and buyers alike and everyone really pleased with w the day has turned out"
[gallery ids="1305,1307" type="rectangular"]
The event held in De Rougemont Manor hotel in Brentwood Essex, has been a collaboration between The GA and Tillington Group of Garden Centres, Who have allowed The Giftware Association exclusive access to their annual meeting of Buyers and store owners, allowing us a unique opportunity to showcase our members and get them in front of buyers. From Tillington's point of view they got to view a huge selection of products from a cross section of our members before having the hard task of whittling it down to a select few. The select 17 companies chosen set up on the day and the buyers got to meet them and their products for a couple of hours. As an added bonus the Tillington Group shortlisted a further 32 companies just to view their products either in sample form or catalogue which was great due to the amount that entered this initiative, it felt that a lot more got a chance even though we were limited on numbers.
[gallery ids="1320,1319" type="rectangular"]
Heather Brown from Heather May said of the event "I was so so pleased with the event, loved every part of it and can't thank you guys enough for all your efforts. Joining the Giftware Association has been by fay our best business decision this year." With India Jane (Interiors) Ltd adding "The event was extremely well organised and felt the approach was really refreshing. It was great to see so many concentrated buyers in one room and to get their honest feedback"
[gallery ids="1322,1304" type="rectangular"]
New Soda commented on the day "We are so grateful for the support you provided. It was the best organised Meet the Buyer Event that we have ever attended, with a huge amount of attention to detail, which really made the difference. We look forward to many more" With further comment from The English Cream Tea Company "I thought the organisation and assistance was fantastic, Well done to the team and I look forward to future events"
[gallery ids="1312,1311" type="rectangular"]
Sarah Ward, Chief Executive of The GA said "The first event of the year has been hugely successful with all companies that we bought along enjoying the day and were really thankful. It was great for these companies to get feedback and meet buyers face to face in an industry where it is becoming increasingly harder and harder to get your products in front of the right people. We are aiming to do more events like this in the future of the back of the success of this one, so watch this space. With the feedback that we have received, we are going to take all this positive energy into our next event."
The Tillington Group and The GA will be looking to replicate this event in the future and also The GA will want to work with other companies in the future as well as potentially organising our very own Meet The Buyer Day.
For more information on the event please contact simone.rose@ga-uk.org