 Member Spotlight | The Puppet Company
Member Spotlight | The Puppet Company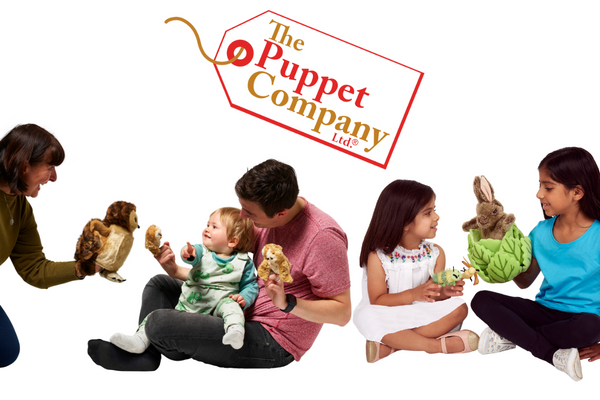 Now in its 22nd year, The Puppet Company has been a key player in the gift and toy world, leading the way with their ethical business practices and showing the world that a values-led business can flourish, even in the most challenging of times. We went to visit The Puppet Company's HQ in Hitchin to discover more about one of our long-standing members.
The Puppet Company launched from a kitchen table with a handmade, beautifully crafted puppet theatre made by Peter and Sue Lockey, who had left their teaching roles to create a business with joy and creative play at the heart of it. Following the tragic loss of Peter in 2021, the business and family are building on his legacy and continuing his mission to share joy. 22 years since it first started and the family-run business is now a global success story, being taken into the future by Sue and their children - siblings Sam, Katy, Joe and Hannah together with their loyal and talented team in Hertfordshire as they share the power of puppets.
Although quality, sustainable, and affordable toys and puppets now fill several warehouses, it is the people that make The Puppet Company so special, pursuing purpose over profit. There is a company culture built on making people happy – whether that be staff or customers. The 21 strong team in Hitchin all have a vital role to play in making sure joy is delivered to customers internationally, and a walk around the offices and warehouses, will convince anyone that there is a united vision for the business.
Marketing and Product Director, Katy Rugman, told us about the key reasons the beautifully made products from both The Puppet Company and sister company, Wilberry Toys, are so special. The team are totally committed to ensuring that their customers – both trade and end-user – have the very best value for money. There is total flexibility in ordering, from a few products upwards of pallets, which has made a huge difference to their smaller, independent businesses, but has also made the brand attractive to new overseas markets as well. Furthermore, every product is manufactured to the highest possible standards internationally, with a focus on sustainability - something they are leading the way on with their latest puppet product ranges made entirely from recycled plastic bottles. The true USP comes back to people, however, and the focus on making people smile. It may sound whimsical, but it is a focus that works, that makes a difference to those who interact with the brand, and that has enabled them to grow at an incredible rate, despite the challenging times faced over the past few years.
The Puppet Company and Wilberry both promote creative play – the products are about children and adults alike being inspired to tell stories, to ignite their imagination and to make people smile. In a tech-saturated world, this battery-free approach to gifting is increasingly in demand. The Puppet Company is now one of the largest suppliers of puppets in the world, so Katy believes there is no reason why they can't continue to grow the markets internationally, spreading joy as they go!
2023 is set to be a big year for the business, with some exciting new eco product launches, continued growth of some key partnerships, new market launches, global trade fairs, further product development and more. Katy is also thrilled to have been shortlisted for this year's Gift of the Year, saying: "The Gift of the Year Awards are a huge opportunity for us to showcase our hugely popular Knitted Sockettes Puppets – a fabulous range which remain one of our bestsellers. The competition has such prestige in the industry, so it is a huge honour for us to be part of it again. We are exhibiting once again at the Spring Fair, so it will be great to see the judging take place on all the amazing shortlisted products while we are there. We'll also be exhibiting at the following upcoming shows, come say hello and find out what makes us different and join the wonderful world of Puppets and Wilberry Toys."

Discover The Puppet Company: https://www.thepuppetcompany.com
Discover Wilberry Toys: https://www.wilberrytoys.com/