 MINI EMAIL MARKETING WEBINAR SERIES WITH FLOW DIGITAL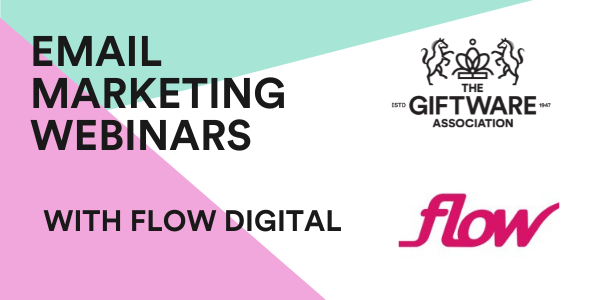 The Giftware Association has once again teamed up with Flow Digital to bring you a mini webinar series focussed on email marketing , how to grow your lists and how how to keep your customers after a busy festive season. read more below about what each webinar contain.

16th December 2021, 3pm - EMAIL IS NOT JUST FOR CHRISTMAS
Adapt and win in 2022
Creating strong relationships online
Getting Sales by 'not selling'
Writing email like you are in the room
Get More Leads, Build a List and Grow your Business
Since the 90s email has been the best and cheapest marketing tool in the box - by a long way.  With email you can sell now, and with no advertising, sell to the same people time and again.  The world is rapidly becoming more and more online, and the key is to build strong relationships online, just like you used to do face-to-face.

---
13th January 2022, 3pm - HOW TO CREATE LEADS AND GROW YOUR LIST
5 steps to create more sales through your website
Attract - Who are you here to serve?
Lead Capture - Why should prospects listen to you?
Lead Magnet - A gift that is not a discount?
Call to Action - Ask your visitor to take action.
Sales - Trust - How to build an online rapport?

One of the most frequent questions we hear is "how do I stand out from the crowd". Building a good looking website is important, but it should not be the main focus.  To get more leads, grow your email list and ultimately more sales, these 5 steps will make it happen for you.