 MODA CHAMPIONS CRAFTSMANSHIP AND RESPONSIBLE SOURCING
MODA CHAMPIONS CRAFTSMANSHIP AND RESPONSIBLE SOURCING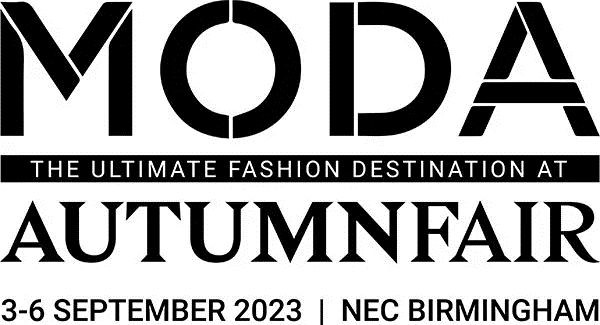 Moda, the ultimate fashion destination at Autumn Fair, will offer buyers a treasure trove of exciting new brands and a host of exclusives to the show, championing responsible and ethical sourcing and promoting handmade and artisan craftsmanship from the UK and around the world.
Held 3rd – 6th September 2023 at NEC Birmingham, Moda is the perfect hunting ground for lifestyle and fashion buyers to discover next season's highly coveted and on-trend clothing, fashion accessories, jewellery, footwear and more.
With over 200 fashion brands, from the much-loved favourites - Jayley, Lighthouse Clothing, Paradiso Couture, Big Metal, Scream Pretty, Sea Gems, My Doris, Lisa Angel, Alpe, and Lunar – to exciting new names and exclusive brands, this is the place to source the widest range of new products for the coming season.
Academie, distributor of French fashion and lifestyle products, will be showcasing for the first time in Moda with Travaux en Cours, Couleur Chanvre, Mousqueton, Norsk, and D.Grandiose. Classic Breton designs get a contemporary and quirky update from Mousqueton, a family business based on the west coast of Brittany in the heart of the sailing and fishing community. Think bright colours, natural fabrics, original designs inspired by the sea. For cool Mediterranean chic from the French Riviera, look out for the super stylish hats, bags and shoes from Travaux en Cours. D.Grandiose make beautiful sheepskin slippers and leather goods for travel, home and office at their artisan workshops near Toulouse, and for the ultimate socks made from Norwegian wool, hot foot it to see newcomers Norsk. Representing a passion for natural textiles, preserving their beauty and benefits, Couleur Chanvre showcases a desire to revive and pass on irreplaceable textile expertise that has been admired for centuries with its collection.
Also showing for the first time and exclusively at Moda are Kama Silver, Schmuck Silver, U Jump, Karen Bags, and Nabi London. Born in East London in 2014 as a Sunday market hobby, Nabi London has since grown to offer a covetable collection of dainty jewellery intricately designed and handcrafted using semi-precious components combined with beautiful pendants, and a stunning gold collection.
New to the Jewellery & Watch line-up, check out Lotusfeet. Set up to help promote the creative and beautiful craftsmanship of Philippine artisans and to support them in their efforts to generate sustainable incomes and fair wages, Lotusfeet is a social enterprise, empowering artisans of the Philippines. For over 10 years Lotusfeet have worked in partnership with eight small family businesses and women's cooperative collaborating in the design and production of jewellery and fashion accessories, employing Fair Trade working principles and using natural and sustainable materials where possible.
New to market, is Elegxnt Clothing. Founded in 2022 by fitness trainer Paige who wanted to help empower women to feel confident in, not only the way they look and feel, but what they wear in and out of the gym. Elegxnt is a small, fast-growing business launching its new collections at Moda.
With a passion to ensure newness across the show floor, Moda is also welcoming Air Supreme, Tales from the Earth, Gist Jewellery, Lucy Kemp Jewellery, That's Sew Laura, From the Source, AZ Designs, Wyld Blue World, Luvieh Jewellery, Elizabeth James, Socks Village and Bowtique London.
Looking for super lightweight high quality travel bags and luggage, look no further than Air Supreme from Luggage Club. The Manchester-based brand offers an impressive collection of waterproof messenger bags, handbags, wallets, backpacks for adults and kids, rucksacks, travel luggage and a unique range of patterns on its crossbody bags.
To celebrate the change of season, handcrafted jewellery brand Tales from the Earth launch its Lingua Flora collection which focuses on the secret language of flowers and the symbolic meanings and sentiments that they carry. Each flower in the range carries a positive message for the wearer, which is explained on an accompanying story card.
Luvieh Jewellery's inspiration comes from plants and stones from the most beautiful corners of the world. It is the freshness, lightness and energy that shape the creation of each piece, handmade by artisans using techniques passed on from generation to generation.
Lucy Kemp Jewellery was founded in Hayle, Cornwall. Lucy's contemporary jewellery is handmade in her workshop and she draws inspiration from her surroundings in and around Cornwall. Continuing the increasingly popular trend for handmade, unique product, That's Sew Laura specialises in bold and colourful handmade and affordable fashion accessories using exclusive fabrics designed in house.
Wyle Blue World is sure to capture the attention of buyers with its collection of semi-precious stone jewellery handmade by artisans in the heart of Istanbul. Each piece is crafted from 22ct gold plated brass and set by hand using semi-precious stones and crystals, that have been ethically sourced from around the world. Also promoting ethical trade, Skipton-based From The Source will showcase their unique range of fair trade and ethical clothes, accessories & gifts.
Showing exclusively at Moda and the perfect addition to Christmas ranges, visitors looking for beautiful handmade, high-quality leather bags ethically sourced from Morocco will be delighted to discover Berber Leather. With no minimum order, Berber's products including satchels, purses, handbags and more, made of the highest quality leather.
A host of other exclusive brands including UK based family footwear businesses Kenyons Blackpool and LJ&R Footwear will also be at the show.
Alejandra Campos, Event Director at Autumn Fair says; "This edition we bring even more of the exciting names, new collections, and exclusive launches that our retail community want to see. With the latest trends focusing on craftsmanship and handmade designs, Autumn Fair will showcase over 1000 brands across the entire lifestyle spectrum from clothing and fashion accessories to home fragrances and interior accessories. Here is where retailers will find the largest choice to create the perfect edit for their customers."
Thousands of buyers have already joined Connect @ Autumn Fair 2023, the new programme that will enable retailers and exhibitors connect before the show opens and arrange mutually agreed meetings in the exhibitor stands. Retailers are invited to register at www.autumnfair.com. Registration is free until 11 August 2023. Any registrations made after this date will cost £25.
For further press information or images contact Philippa Suitters at Good Results. Email: PhilippaS@goodresults.co.uk Tel: 07866362980.
About Moda
With a treasure trove of fashion accessories, jewellery, footwear and clothing, Moda is the ultimate fashion destination at Autumn Fair offering thousands of new products and collections. With live trend-led fashion shows and four days of inspirational and insightful seminars, Moda presents an essential hub for creativity, collaboration, and buying.