 NEW DESIGNER SARAH GREENING GETS SUPPORT FROM THEO PAPHITIS AND KEW GARDENS

After 25 years of working in the NHS, Sarah nowuses her science background to experiment with the chemistry of glass fusing ina kiln to create an unusual style of jewellery where each piece is completely unique,as are the techniques she uses.
She sells her jewellery online, in galleries and shops and thrives ongetting feedback directly from customers at art and craft fairs.
The most common comment from customers is: "I've never seen anythinglike this before" as Sarah explains some of the chemistry magic behind thepieces. Sarah has been overwhelmed by the response to her designs and has had afantastic first 2 years in business.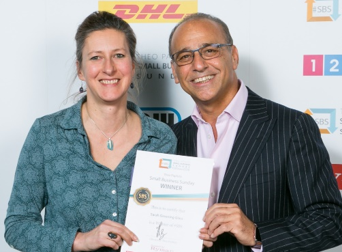 In its first year,Sarah Greening Glass wasone of the businesses selected for an award by Dragon's Den Retail Entrepreneur, TheoPaphitis, for its unique style as part of his initiative which supports smallbusinesses in the UK.
Sarah met Theo to receive her award and he owns a pair of her turquoiseand silver cufflinks! He arranges an annual meeting with all the winners wherehe and his advisers help business owners.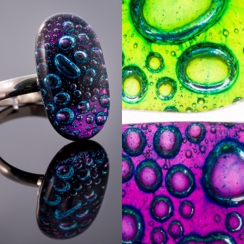 It is with this encouragment that Sarahbooked a stand at the Spring Fairin 2019 in the section for new designers. This led to many retailers buying herjewellery for their shops and galleries including a large order from KewGardens! Sarah followed this with a stand at Top Drawer in Sept 2019 and isvery excited to have a stand at the British Craft Trade Fair (BCTF) in April2020.
The distinctive ranges include her signature 'bubbles' in many colours,an assortment of styles in the coastal colours of turquoise and vanilla, andstylish formal/evening wear with the shimmer of mica or subtle dichroic glass.Her typical customer is someone who likes to wear something fun and unusual andwho appreciates the quality and uniqueness of handcrafted products.
Sarah runsglass fusing classes in her studio in Worcester alongside her husband, Chris,who is a potter. She also takes her classes out into the workplace forcompanies who wish to give their staff a creative break and help team-building.Sarah loves sharing her passion for glass and people come away from her classesfeeling mentally relaxed and creatively fulfilled!
Please visitwww.sarahgreeningglass.co.uk for more details.
NOTES FOR EDITORS
The British CraftTrade Fair (BCTF) will showcase the very best of British crafts across a hugevariety of product categories, including: Jewellery, glassware, metalwork, fineart, greetings cards, ceramics, fashion accessories and homewares. This is theperfect event for retailers seeking exciting British designed products withsound provenance and strong heritage values. No public admittance as It's atrade-only event, and free of charge.
Heading into its46th year in 2020, BCTF will host hundreds of creativedesigner-makers in a fabulous state of the art venue, the Yorkshire EventCentre in Harrogate, from April 4th -7th
Trade prices forthe unique handmade works on display will start from just a few pounds sosomething for everyone and all exhibitors are guaranteed to be working fromGreat Britain and Ireland.
The annual BCTFAwards will be held on Monday April 6 at 6.00pm at the Yorkshire Event Centre,after the show closes. Sponsors include: Pyramid Gallery (York) which willsponsor the BCTF Award for Excellence; Heart Gallery (Hebden Bridge) sponsor ofthe Best Newcomer Award; ACID (Anti Copying in Design) will sponsor the PostNewcomer Award; The Giftware Association is sponsoring The Giftware AssociationAward for Excellence; the National Association of Jewellers (NAJ), sponsoringthe Award for Excellence in Jewellery; Greetings Today magazine, sponsor of theGreeting Card Award, Platform Gallery (Clitheroe) sponsors of the PlatForm andFunction Award and DesignGap/ArtGap, which sponsors the Wow Factor Award, withthe winner of which is traditionally decided by exhibitor votes made during theshow.
For moreinformation about BCTF visit: www.bctf.co.uk
For moreinformation on Sarah Greening Glass visit: sarahgreeninglass.co.uk or email mailto:sarah@sarahgreeningglass.co.uk