 Private Healthcare Is Peace Of Mind
Private Healthcare Is Peace Of Mind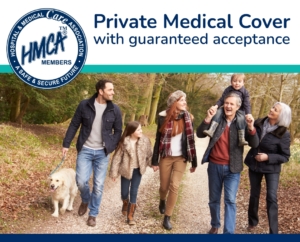 No matter how fit and healthy we are, it is inevitable that at some point in our lives we will fall ill and need medical care. And when illness does strike it is to the NHS that most people will turn in seeking a diagnosis, treatment and recovery.
The NHS has for some years been showing signs that it, too, is not in the best of health. A growing and ageing population is putting an ever-increasing strain on staff and services. A problem exacerbated by the coronavirus pandemic.
Reports of underfunding, a shortage of medical staff, noisy and overcrowded wards, cancelled operations and long waiting times will be familiar to everyone.
In England, hospital waiting lists are longer than ever before, with a total waiting list of 7.3 million people.* This is the highest number since records began and illustrates the severe pressure that the NHS is under.
Quick, private and convenient
Understandably, these lengthy delays are causing additional stress for patients, undermining their health and quality of life even further. How many people do you know whose physical health and mental well-being has deteriorated from the anxiety of having to wait months for a hospital appointment?
All this can be avoided by taking out private health insurance. Seeing a doctor in private practice used to be only for the wealthy, but not anymore as the cost of private medical cover is becoming more affordable.
A private medical plan delivers prompt access to hospital consultants, thus avoiding lengthy waiting lists. Patients can choose from an extensive list of hospitals throughout the UK; if they need to be admitted, they will have their own private room equipped with TV and telephone, and visiting is arranged to suit patient and family. A quick, private and convenient service that removes many of the anxieties associated with NHS hospital stays.
Taking control of your healthcare
However, those interested in taking out health insurance should not leave it too late. As we get older our healthcare needs increase. Therefore, as only some of the best health insurance companies provide cover for pre-existing conditions, the best time to invest in getting private treatment for illnesses you may suffer tomorrow – is today.
By acting now you can ensure your future healthcare will not be dictated by NHS bureaucracy and, just as importantly, you will be able to benefit from the widest possible cover.
Private health insurance cannot guarantee good health, but it can ensure that when you are feeling unwell you will quickly receive the best possible care, when and where you want it. The peace of mind that comes with that knowledge cannot be underestimated and is often the most important factor for people deciding to take control of their healthcare provision and "go private".
For further information and a no obligation quotation contact HMCA by telephone on 01423 799949 or visit the exclusive HMCA The Giftware Association website here: https://www.hmca.co.uk/tga
© HMCA/S PLC (trading as Hospital and Medical Care Association, HMCA and HMCA Members) is authorised and regulated by the Financial Conduct Authority (FRN:307587). HMCA/s PLC is a company registered in England, company number: 01362094, registered office: Beech Hall, Knaresborough, North Yorkshire, HG5 0EA.
*The Independent 12 March 2023
https://www.independent.co.uk/news/health/nhs-waiting-list-health-record-may-b2336891.html