 PRIZE DRAW FOR GA MEMBERS AS AMI CELEBRATES 30 YEARS

AM International Agencies Limited is celebrating thirty years of selling specially selected German toys and gifts for children to British retailers and is offering GA members and all readers of Giftwrap the chance to win a celebratory exclusive porcelain Xmas Bauble. Giftwrap spoke to its founder Mark Eckersley to find out more and to learn the secret of his company's success.
A degree in law and economics from Brunel University followed by qualification as a Chartered Accountant with KPMG isn't a particularly obvious route to a life spent selling toys and gifts and, as Mark Eckersley explains, it was certainly not his initial choice of career.
"My father had a well-established financial business in Sheffield and the intention was always that I would join him in running it. However, unfortunately, he died young, very soon before I had qualified as an accountant, so the family decided it should be sold. I then started applying for jobs in the City and was offered positions with a couple of Banks when a very good friend from childhood asked me to go into business with him."
His friend was Antony Nunn whose family owned the legendary 'Redgates' toy shop in Sheffield. This was one of the largest toy retailers outside London and was commonly known as 'the Hamleys of the North'.
"You could almost say I grew up in a toy shop," Mark told Giftwrap. " I used to spend many happy, fun-filled hours there when we were boys." Like Mark's own family business, Redgates was sold in the 1980s and Antony, who had by then married the daughter of a Bavarian doll manufacturer had decided to concentrate on selling the family's range of Gotz dolls into the British market and wanted Mark's help.
"He persuaded me to go with him to the Toy Fair in Nuremberg and once there I could see that the idea had distinct possibilities. I agreed to get involved thinking I would do it for a couple of years before returning to Plan A in the City and 30 years later here I am," he says.
The partnership lasted for around ten years before Antony decided to concentrate solely on the family doll business. This change provided Mark with the opportunity to completely reorganise the business so that all distribution was taken in-house by the companies he represents rather than AMI having to hold stock in the UK. "The large carrier firms are so efficient that it is almost as quick to ship goods from Germany as it is from England so our delivery times are very competitive," he says. "It also means we are able to offer significant price reductions to our customers as we no longer have the cost of holding stock."
Since taking over sole responsibility for AMI, Mark has represented a number of world-famous German manufacturers all of which make products for children and babies and all of which provide a top-quality product backed by an equally high level of customer support.
"This is pivotal to our whole strategy as an exclusive distributor", says Mark.
The business is the sole UK and Ireland's sales agency and distributor for one of the oldest German teddy-bear companies, Clemens Spieltiere; for Reutter Porcelain, a leading porcelain manufacturer, which amongst many other giftware and souvenir products produces porcelain miniatures for dolls houses as well as many specialist baby and christening gifts produced under licences for Beatrix Potter, Flower Fairies & Hummel. Their design team have also developed beautiful collections of products featuring Alice in Wonderland and Wizard of Oz. AMI also represents the iconic German wooden toy producer Selecta and has recently reengaged with Sigikid one of Germany's leading producers of soft toys, to work with its major UK stockists.
Whilst all these companies produce what some might class as 'toys' Mark sees AMI's market as being firmly within the gift and baby gifting sectors. AMI sells mainly to independent gift shops, luxury department stores, such as Harrods and Fortnum's, and increasingly to the educational market where the robustness, especially of the Selecta wooden ranges and the great play opportunities they offer are much appreciated by teachers.
The relationship between it and the companies it represents is clearly extremely close. "I have worked with these businesses over many years and am involved, not simply in selling their products in the UK, but also in helping them develop new lines specifically for this market."
A good example of this type of collaboration has been around this year's exciting 150th anniversary of Beatrix Potter, a brand for which Reutter Porcelain enjoys a licence. "I consulted early with some of our biggest customers, such as the National Trust, up in the Lake District where Beatrix Potter lived, to see what they felt would work best and I am pleased to say that the resulting collection of baby gifts featuring eating sets, egg cups, training mugs, money banks and a special limited edition tea set has been selling tremendously well."
Although created for the anniversary year, these items are not branded with the anniversary logo as they will have their official launch at Spring Fair, Birmingham in February.
So what about AMI's own significant anniversary? What has the business done to celebrate this? "i2i events created a wonderful Peter Rabbit fruit cake for us which we had on our stand at Spring Fair this year. We also staged a Prize Draw to win one of our more expensive collectable bears at Home & Gift in the Summer but apart from that I fear we have simply cracked on with things as usual and haven't had time to make too much of a fuss."
Will the business, I wondered, be able to 'crack on as usual' once Brexit has meant Brexit? Mark firmly believes it will. "The recent fluctuations in the pound against the Euro have obviously affected our margins, but we decided not to put up our prices this year and I am confident that everything will soon settle down and that, in the long run, Brexit won't have any negative effects: a view shared by those companies we represent. If anything it may perhaps provide us with some great opportunities and I am very positive about the future."
While he may be positive now, Mark would not pretend that everything in the past 30 years has been easy. "We've seen a number of quite serious recessions and when the banks collapsed a few years ago things were particularly difficult and we saw a number of our competitors going out of business. However, in some respects, the hard times have worked in our favour as I think consumers are now more appreciative of quality items and are looking for premium products that will be long lasting. They want nice things and if these are manufactured in Europe that is definitely a plus these days."
While its fortunes may have fluctuated one constant in AMI's thirty years in business has been its membership of the Giftware Association. "We were quite heavily involved at the beginning, and
I used to regularly attend their AGM but have had much less contact in recent years. That said I remain a loyal supporter because the Association has done great work and I believe it is important for the industry to have a body working on its behalf. It was very interesting recently to meet its new chief executive Sarah Ward, who came to our stand at Top Drawer and I was impressed by her positive attitude, her ideas for the future and the support and advice she was able to offer us."
Sarah said about AM International Agencies,"I and the whole GA team are delighted that Mark has supported the Association for so many years. It is a huge achievement to keep a company at the cutting-edge of the gift and home industry for so long. We wish him and AMI continued success for the next 30 years and will hope to establish greater collaboration going forward."
As a further celebration of its 30 years AMI is reaching out to fellow GA members with the opportunity to take part in a prize draw to win an exclusive, and highly-collectable, Reutter 3 pc Licensed Peter Rabbit Eating Set (mug, bowl & plate)  worth £43.75 at Retail in celebration of the 150 years since the birth of Beatrix Potter.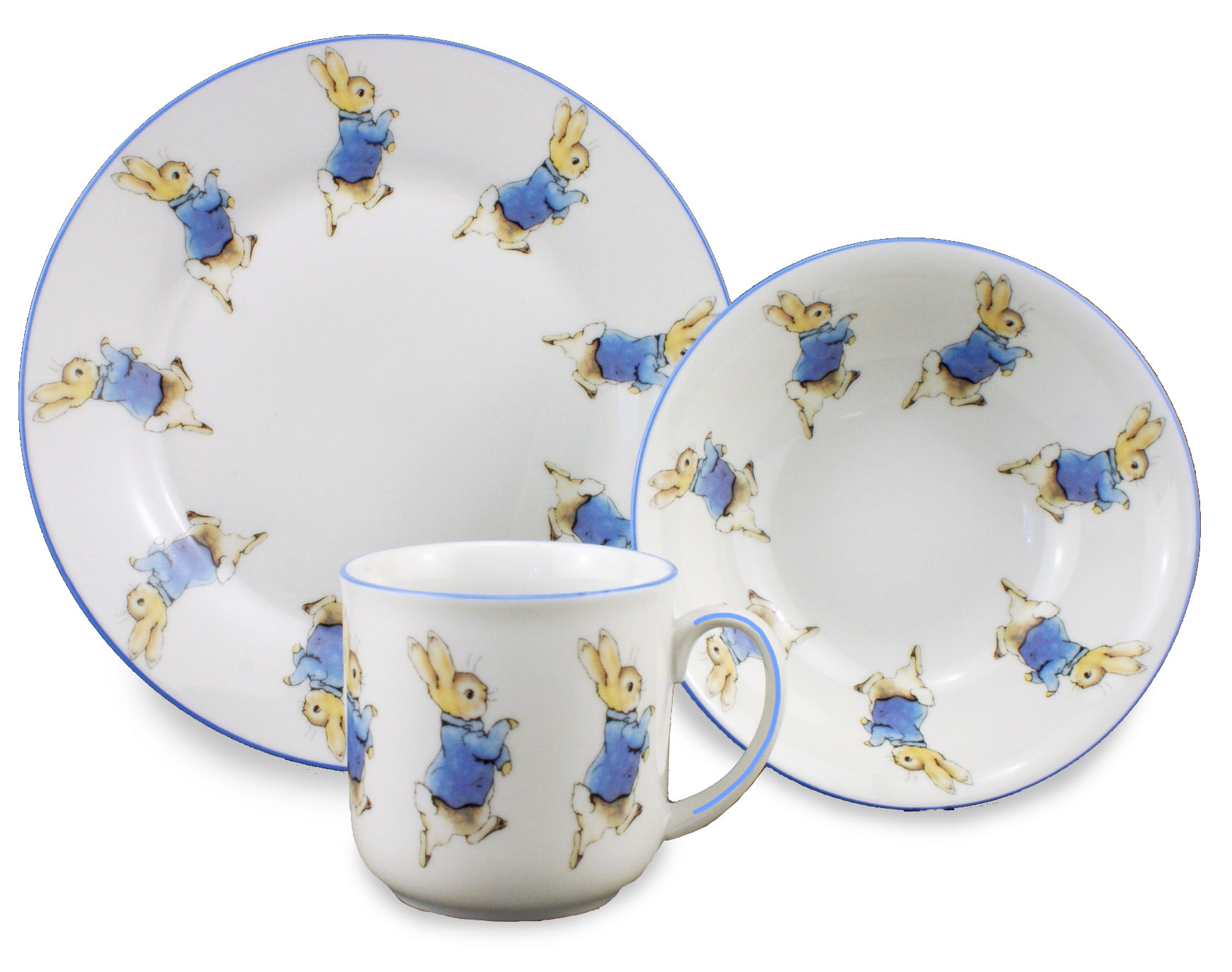 To be in with a chance, all you need do is to reply to this email and your email address will be added into a prize draw to take place on 10th March. The winner will be notified by email before 15th March.