 THE GIFTWARE ASSOCIATION AT HARROGATE

The Giftware Association team had an extremely productive time at Harrogate Home and Gift where the sun shone and the weather was glorious.
Simone Rose, Business Development Manager, said of the event "Harrogate has become a firm staple on our events calendar, as it's a nice relaxed show in a beautiful setting, and enables us to meet our members mid-way through the year to find out what they have been up to and what they have planned for the next half of the year, and following on from last year we have launched our Gift Of The year competition at Harrogate as well" expanding on the Gift of the year " We have met some great companies that will be a perfect fit for Gift of the year with beautiful and innovative products, so it's our job to encourage them  to enter and win this amazing accolade"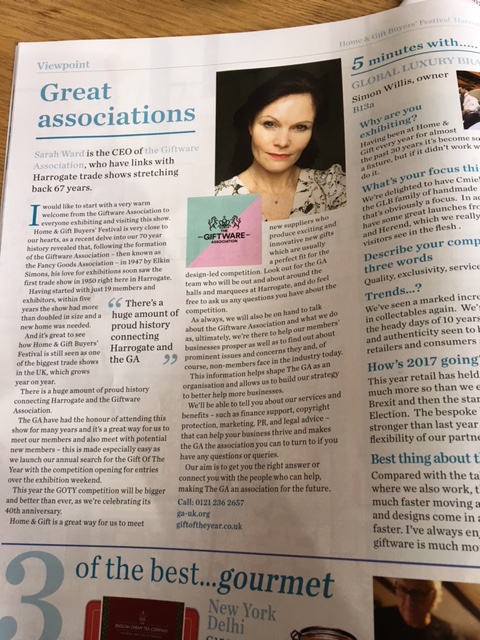 The Home & Gift show is very close to The GA's  hearts, as a recent delve into our 70 year long history revealed that after the birth of the Giftware Association, then known as the Fancy Goods Association in 1947 by Elkin Simons, his love for exhibitions soon saw the first trade show in 1950 here in Harrogate with just 19 members, within five years it had more than doubled in size and a new home was needed. But it's great to see how Home and Gift Harrogate is seen as one of the biggest trade shows in the UK which grows year on year. There is a huge amount of proud history connected to Harrogate and The Giftware Association and we are glad to represent The GA every year at the show
CEO , Sarah Ward said "The Giftware Association has had the honour of attending this show for many many years and it's a great way for us to meet our members and also meet with potential new members, this is especially made easy as we launch our annual search for 'The Gift Of the year' with the competition of the same name opening over the exhibition weekend. This year the competition will to be bigger and better with the announcement of some exciting new news. It's a great way for us to meet new suppliers who produce exciting and innovative new gifts which are usually a perfect fit for the design led competition"
[gallery ids="2167,2166" type="rectangular"]
As always we were on hand to talk about 'The Giftware Association' and what we do, as ultimately we are there to help as many of our members businesses prosper but to also find out what are the prominent  issues and concerns our members and of course non-members are facing in the industry today, this will help us shape us as an organisation and allow us to build our strategy for helping more businesses. We will be able to tell you about our services and benefits, whether from finance support Copy right protection through to Marketing and PR and Legal advice.
It's also a great chance to catch up on seminars from many of the speakers at the show with, Janet Street Porters'' the Importance of Made In Britain Products' and 'Top Trends for Christmas 2017' by Neil McLennan, a lifestyle journalist explaining the Christmas tends in 'July'. This allows us as an organisation to impart this allows the team to educate themselves and also impart tis knowledge to our members vis the blog, newsletters and social media.