 The Giftware Associations Members Evening
As you know at The Giftware Association, we like to do things a little differently and break away from the norm. So, we would like to invite everyone to our member's evening to take your mind off of your business.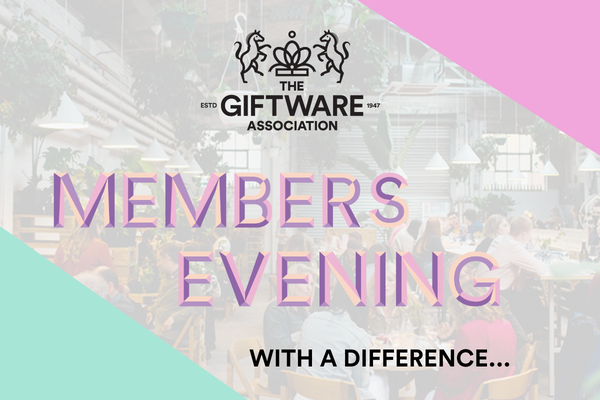 You are cordially invited to join us for a Members Evening on 3rd October starting from 5.30 at Wine Freedom, Digbeth, one of Birmingham's coolest areas. Network effectively with space for creative thinking as well as to relax, inform, and motivate. and it doesn't even matter if you are a member or not as the event is open to everyone to give a taster of the times as well as meeting the team and your industry.

This event will be the chance for you to unwind with your peers at a venue specialising in natural wine and quality food. Join your industry for a night of fun and laughter during these trying times whilst sipping on the best wines suited to your palette. This will also be paired with a fabulous menu with not a sandwich in sight…

Buy Tickets here

So, come along to sip on wine and have a whine, about the current challenges we share your experiences and the pressures of business with your like-minded peers. Let yourself unwind and enjoy our inspirational speaker for the evening who is Verity Hart. Verity is a Business Change leader who has worked with a wide range of companies to prepare them for changes in our business that are afoot. Please see below a sample agenda for the evening;



5.30 – 6.00 – Arrival Drinks
6.00 - 7.30– Welcome from CEO Sarah Ward and Palette testing and our speaker
7.30 – 9.00 – Food and networking– Enjoy the delights of a Wine Freedom with more natural wine as well as a feast of flavours from around the world
9.00 – Late – Networking and maybe a game or two to keep you on your toes.

The Venue

Based in a converted warehouse in Digbeth, Wine Freedom is an award-winning venue with a focus on natural and organic wine giving you the best taste experiences for miles around. Opened in 2007 they supply quality wines to Michelin-starred restaurants as well as hosting their own tasting evenings. You can find out more about the venue here.

The Speaker

Verity Hart is a Business Change Leader with over 20 years' experience advising, shaping, and directing business transformation in fast-paced and changing business environments. Successfully managing both pure and technology-driven business change in multiple business verticals including Retail, Consumer Finance and Digital. She brings extensive experience in supplier selection and due diligence, programme initiation and shaping, and developing delivery and governance frameworks and business blueprints.

Hotels

Please ask the team if you require us to look at any hotels for you when you complete the form. As we can check local rates and look at any partnerships.

Travel

Car – There are various car parks around the areas as well as on-street parking which is free after 6 pm - You can find out more here, or various local car parks can be located here

Train – Digbeth is a short walk from both Moor Street Station and New Street Station, if you head south towards Digbeth which should be signposted, and the venue is located on 28 Floodgate Street which has festoon lighting up it.

Price

The price for tickets is £65 and includes all your food, wine tasting, champagne arrival as well as any games. We only have 75 spaces available so please keep company spaces to a maximum of two per company, so please book here

Dress Code

Come as you are, Digbeth is super relaxed and casual environment, we want you to feel comfortable and as relaxed as you can but no pyjamas or dressing gowns, please.

Dietary Requirements

If you have any dietary requirements then please let us know and we can cater for your needs in advance.

To get your tickets, book here and we can invoice you or we can take payment via invoice, over the phone or through payment portal link.


Thank you

The Giftware Association team
Sarah, Victoria, Craig & Chris