 ANNOUNCING THE GREATS 2020 FINALISTS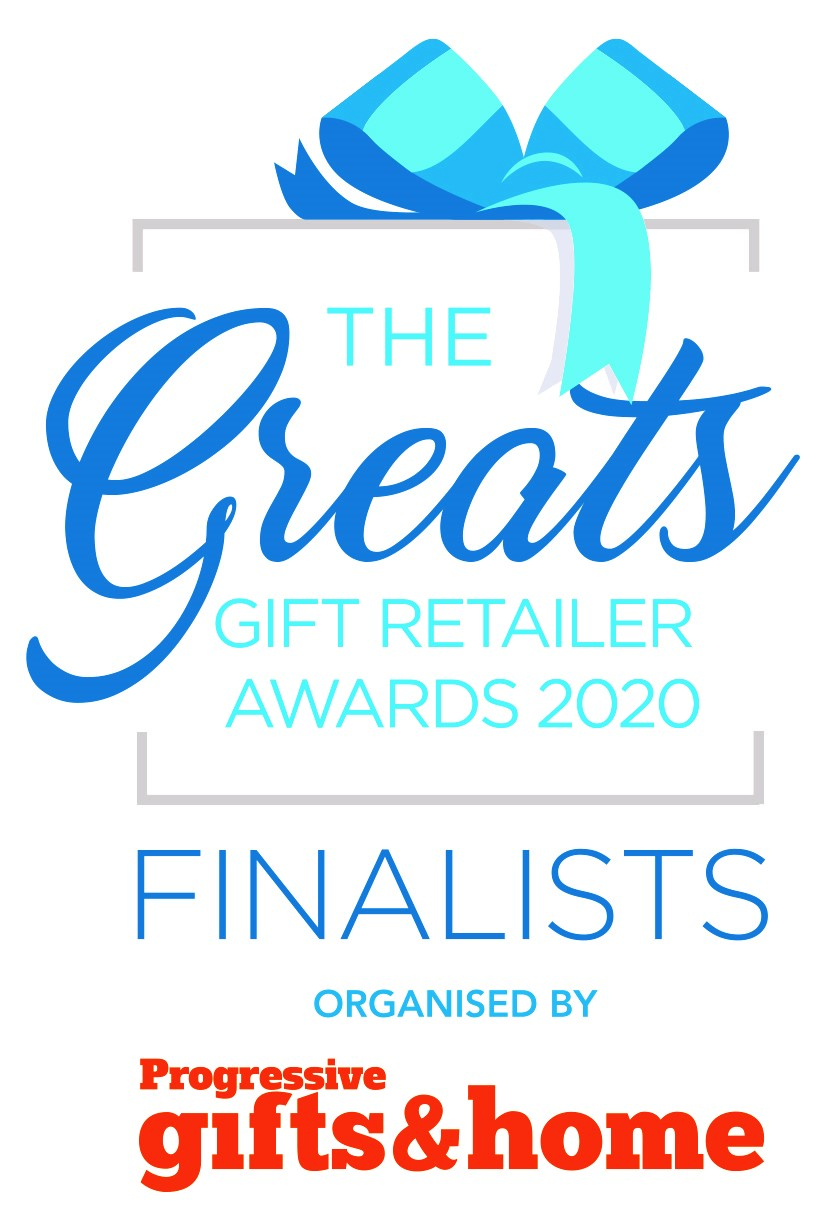 Gift retailers line up for glory at this year's GreatsGift Retailer Awards
After a nail-biting fewmonths, the finalists of the Greats Gift Retailer Awards 2020 have beenconfirmed!
"Now intheir 18th milestone year, The Greats Awards continue to go fromstrength to strength, with an exceptionally high standard of entry receivedin every category," comments Sue Marks, editor of Progressive Gifts &Home/GiftsandHome.net, published by Max Publishing, which organises and ownsThe Greats.
"Onceagain, the Greats Awards have revealed the passionate gift retailers andgift departments who really get behind their shops, their products, theirdisplays, their websites, their marketing, their social media, theircommunities and their local charities."
AddsSue: "In a tough retailing environment, they have demonstrated theirresilience, with many independents opening new shops over the past year,and all retail finalists showing their entrepreneurial flair in responding to achanging retail landscape."
TheGreats 2020 finalists are: (inalphabetical order):
RETAIL EMPLOYEE OF THE YEAR 2020
.Ella Bradbury, shop manager, Forget Me Not, Stubbington
.Rita Huston, manager, Paprika, Chippenham
.Alex Kingdom, manager, The Barn at The Hollies
.Ellie Kennedy-Walker, manager, Hand Picked by Henrietta,Chapel-En-Le-Frith
.GinaPratt, sales advisor and assistant merchandiser, Orange Tree, Darts Farm,Topsham
.TouchiPrime, area manager, Lark London
INDEPENDENT GIFT RETAILER OFTHE YEAR – LONDON (INSIDE M25)
.TheIndigo Tree, Streatham and Crystal Palace
.InSpitalfields,Spitalfields Market
.NorthwoodCards and Gifts, Northwood
.TheArk, Stoke Newington
.Temptation,Temple Fortune
.W.A. Green, Shoreditch
INDEPENDENT GIFT RETAILER OF THE YEAR – HOME COUNTIES, SOUTH &SOUTH EAST
.AllAbout Rose, Thame
.AlligatorPear, Tadworth
.BayTree Gifts, West Wickham
.Fiveand Dime, Hertford
.Metalyka,Stony Stratford and Leighton Buzzard
.Zest,Crowborough
INDEPENDENT GIFT RETAILER OF THE YEAR – EAST ANGLIA
.AbigailsLifestyle, Ingatestone
.Ark,Cambridge
.Amore,Woodbridge
.Bellsof Suffolk, Bungay
.BuyThe Light, Bury St Edmunds
.LittleBoat Gifts, Brightlingsea
INDEPENDENT GIFT RETAILER OF THE YEAR – MIDLANDS & WALES
.TheCeltic Company, Welshpool
.ChiChi Gifts, Lickey
.Joco,Nuneaton
.MOOCH, Olney, St Giles Street, and Towcester (concession: Bell)
.WonderStuff, Treorchy
INDEPENDENT GIFT RETAILER OF THE YEAR – SOUTH WEST
.TheCats Whiskers, Bishops Cleeve; Polkadot, Keynsham
.Cillaand Camilla, Beaminster, Bridport, Sherborne
.HighworthEmporium, Highworth
.LuluLoves, Stubbington
.Paprika,Bath and Chippenham
.Swagger,Chipping Sodbury
INDEPENDENT GIFT RETAILER OF THE YEAR – NORTH & NORTHERN IRELAND
.Brian Hunter, Limavady
.Hand Picked By Henrietta, Chapel-En-Le-Frith
.Hares& Graces, Hull
.KempsGeneral Store, Malton and Whitby
.PureInspiration, Ramsey
.WithinReason, Sheffield
INDEPENDENT GIFT RETAILER OF THE YEAR – SCOTLAND
.Ewe& Me + Ewe Too, Grantown on Spey
.TheKeekin' Glass, Prestwick
.TheOld School Beauly, Beauly
.LiquoriceTree Gifts, Glasgow
.Pippin,Edinburgh
.Starlings,Kirkwall
BEST NEWCOMER: SOUTH & WALES
.Bill& Berts, Colchester
.GingerNut, Lynton
.HOLD,Brighton
.Oliver'sBrighton, Brighton
.Sunshine& Snow, Bideford
.RavenLifestyle, Tavistock
BEST NEWCOMER: MIDLANDS, NORTH & SCOTLAND
.TheBean Hive, Kettering
.TheDotty House, Gateshead
.ForThe Love Of The North, Whitley Bay
.Giftiliciouswith Thorntons, Nuneaton
.PeonyLane Interiors, Wombourne
.TheWild Ginger, Ansdell
BEST SPECIALIST MULTIPLE GIFT RETAILER
.BetweenThe Lines (15 stores)
.Brocante(4 stores)
.Gifted(4 stores)
.Lark(5 stores)
.SmartIdeas (7 stores)
.Utility(4 stores)
BEST NON-SPECIALIST RETAILER OF GIFTS
.BrodieCountryfare, Brodie
.TheHollies, Little Budworth
.LaCookshop, Seaton Burn
.LanerscostTea Room, Abbey Farm, Brampton
.LochLevens Larder, Kinross
.OvertonGallery, Overton
BEST DEPARTMENT STORE RETAILER OF GIFTS
.Atkinsonsof Sheffield, Sheffield
.BarkersHome, Northallerton
.JohnLewis & Partners
.OneForty, Cranleigh
.Selfridges,London
.Strickland& Holt
BEST GIFT RETAILER OF JEWELLERY & FASHION ACCESSORIES
.BayTree Gifts, Wickham
.Bijou, Buckie
.Greenwood & Co., Saintfield
.Jewel, St Andrews
.MedusaGems, Southport
.MiMi, Hartley Wintney and Wokingham
BEST LIFESTYLE OR HOMEWARES RETAILER OF GIFTS
.Daisy Lanes, Rayleigh
.DearGrace, Colchester
.The Emporium Interiors, Clitheroe
.Orange Tree, Darts Farm, Topsham
.Skinny Whistle, Quorn
.White Rhino, Hastings
BEST GARDEN CENTRE RETAILER OF GIFTS
.Bernaville Nurseries, Cowley Bridge
.Blue Diamond Group
.Klondyke Group
.Longacres Group
.Ruxley Manor Garden Centre, Sidcup
.Smith's Garden Centre, New Denham
BEST MUSEUMS OR VISITOR ATTRACTION GIFT SHOP
.Kew Garden Gift Shop, Kew
.National Portrait Gallery Gift Shop, London
.North of England Zoological Society (Chester Zoo)
.RHS Garden Wisley Gift Shop, Wisley
.Science Museum Gift Shop, London
.ZSL, Whipsnade
BEST IN-STORE OR WINDOW DISPLAY
.The Celtic Company, Welshpool
.Cornucopia, Worcester
.The Emporium, Clitheroe
.Garsons, Esher
.Highworth Emporium
.Rhubarb Home/Rhubarb Gifts, Malvern
BEST RETAILER INITIATIVE
.Highworth Emporium, Highworth
For its Shop Local Christmas raffle and Visa ad initiatives
.The Hollies
For its two pre-Christmas visitor days
.Jo Amor, Tiverton
For its Jo-A-Story online children's bedtime storytellinginitiative
.Joco, Nuneaton
For its Christmas video and Letter To Santa initiatives
.MOOCH, Northampton, Olney, Towcester
For its cark park charges initiative
.Papilio at Heritage, Thornbury
For its Junior Retail and Makaton initiatives
BEST SUPPLIER MARKETING AWARD
.Chilly's Bottles
.Katie Loxton
.Joma
.Marmalade of London
.Stoneglow
.Wild Things
.Wrendale
BEST SERVCE TO THE INDEPENDENT GIFT RETAILER
.Ashleigh & Burwood
.Enesco
.Gisela Graham
.HeavenSends
.Joe Davies
.Lesser & Pavey
.Nemesis Now
.Straits Trading
.Widdop and Co
.Wrendale Designs
The winners of the Greats Gift Retailer Awards 2020will be announced at London's Honourable Artillery Club (HAC) on Wednesday May13, with all strands of thegift industry invited to share in this very special day for gift retail.
Tickets to the event are available from eventorganiser Clare Hollick e: clare@keystonecomms.co.uktel: 01733 294524. To readmore about being at the hottest ticket on the gift industry's calendar, visit http://www.thegreatsawards.co.uk/tickets/
An impressive line-up ofGreats sponsors include (in alphabetical order): Candlelight;Gift Republic; GiftsandHome.net; Gisela Graham; Good Housekeeping; HarrogateChristmas & Gift; Joe Davies; Progressive Gifts & Home; PremierDecorations; Progressive Greetings Live; Spring Fair and Autumn Fair; WrendaleDesigns and The Giftware Association.
For remainingsponsorship opportunities, please contact Angie Bryant on 01993 212994; e:angieb@max-publishing.co.uk