 BCTF AWARDS AND THE GA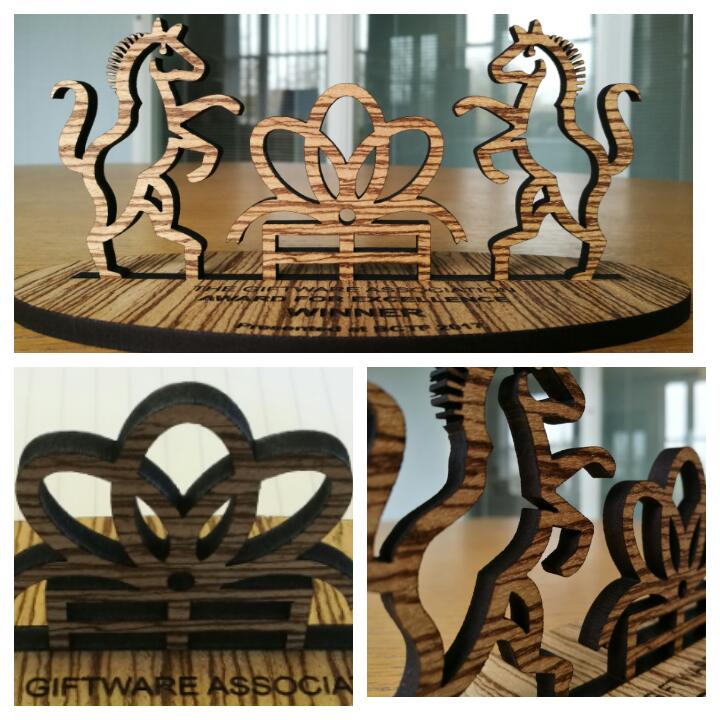 The British Craft Trade Fair awards continued with their usual high standards at their new home at The Great Yorkshire Showground in Harrogate, which was an incredible backdrop to the show as well as the awards.
The Giftware Association was once again extremely proud to present the Giftware Association Award for Excellence in recognition of well-designed products with commercial viability. The Awards taking place on Monday evening of the second day of the show, was as hard to judge as previous years due to sheer amount of talent on display. Sarah Ward, Chief Exec of the Giftware Association said "The amount of talent on display is always impeccable and this award becomes harder and harder to choose year on year from the incredible amount of creativity on display."
Margaret, show organiser for BCTF said "The brand new award winning exhibition hall, proved to be a great backdrop for the wonderful collection of British art and craft on display. On Monday evening the central avenue within the hall made a great venue for the BCTF award ceremony,  packed with expectant designer- makers all hoping to be short listed or better still winners! As always the standard of work was high making the task of selecting winners a difficult one, but winners there were and all were delighted to have been chosen"
The Giftware Association's winner this year was the excellent Cathy Hilton Artisan. In 2015 Cathy developed a unique process for printing on wood, creating beautiful designs onto a range of kitchen and houseware products. Her elegant hand printed designs caught the eye of Sarah Ward who chose the winner. Cathy Hilton on winning the award said "I am over the moon in winning this award it hasn't fully settled in yet, but to have the recognition of the Giftware Association is a great privilege" You can find more about Cathy Hilton at her website - https://www.etsy.com/uk/shop/CathyHiltonArtisan
[gallery ids="1075,1073" type="rectangular"]
[gallery ids="1085,1084,1083,1082,1081" type="square"]
The Highly Commended winners were WUD Lighting, a company who had registered only four days before the show, and this was their first trade show experience. Their innovative designs were recognised by the GA and they also won Commended in the Award for Excellence from BCTF along with Highly Commended for the 'WOW FACTOR' award. They were delighted to win an unprecedented three awards and are very proud of their achievements. WUD Lighting produce beautiful hand crafted lamps using natural oak, contrasting this rustic style with Edison filament bulbs and glass shades to create a modern contemporary product that produces beautiful mood lighting whilst flooding the room with unique character. You can find more about their products here - http://steeleandcox.co.uk/product-category/wud-lighting/
[gallery ids="1074,1070" type="rectangular"]
[gallery ids="1080,1079,1078,1077,1076" type="rectangular"]
The winners this year receive a very specially commissioned award as well as the accolade and recognition. One of the GA's own members Simon Denvers produced a very special trophy for the winner in the form of our logo and made from wood, which reflected the hand crafted and design element of what the awards are judged on.  - https://www.denvers.com/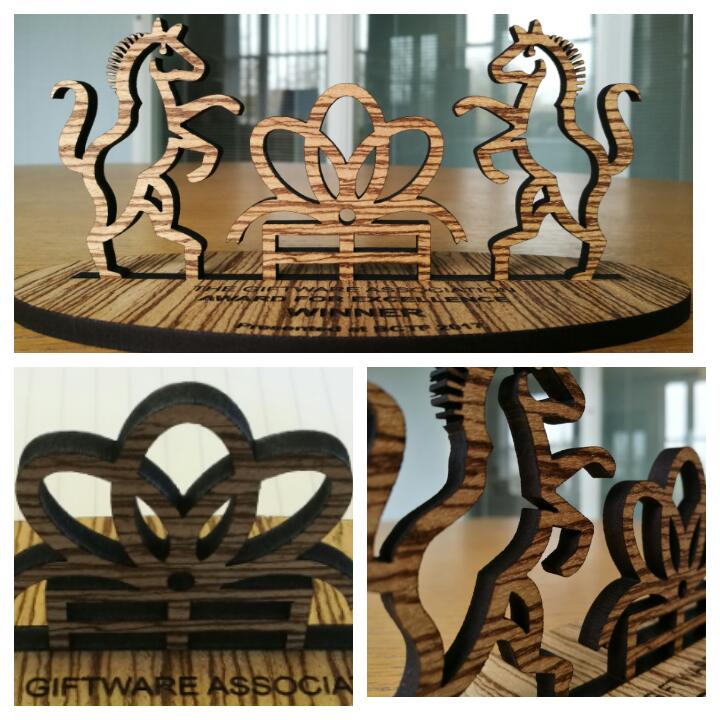 The lucky winner gains substantial PR coverage in national trade press, social media, the GA website and e-newsletter, attracting the attention of buyers. Additionally you will also receive a year's free membership with all the savings and assistance that we offer including free advice and legal help, savings on carriage costs as well as design protection with our Copywatch scheme and much more.
Please see below the full list of winners from the night:
AWARD FOR EXCELLENCE
WINNER – Jack Laverick Ceramic Design
HIGHLY COMMENDED – Pratima Kramer
COMMENDED – WUD Lighting
THE GIFTWARE ASSOCIATION
WINNER – Cathy Hilton Artisan
HIGHLY COMMENDED – WUD Lighting
NATIONAL ASSOCIATION OF JEWELLERS
WINNER – Alice Barnes
HIGHLY COMMENDED – Kathryn Williamson
HIGHLY COMMENDED – SaraBuk Jewellery
GREETINGS TODAY GREETINGS CARD AWARD
                WINNER – Dilly and Pink
HIGHLY COMMENDED – Our Funny Family
COMMENDED – Curlew Cottage Design
JUST BECAUSE – Snapdragon Designs
WOW FACTOR
WINNER –  Jack Laverick Ceramic Design
HIGHLY COMMENDED – WUD Lighting
BEST NEWCOMER AWARD
WINNER – Stephanie Holt
HIGHLY COMMENDED – Miriam Griffiths Knitwear