 Bookspeed gives hot tip for best-selling festive titles And takes nostalgic look back at its bestsellers over the past decade...

Independent UK supplier Bookspeed predicts the best-selling festive titles for 2017 and as the busiest shopping period of the year approaches, the company takes a nostalgic look back at the titles it identified as Christmas bestsellers over the past 10 years.
The top titles that Bookspeed believes will be the hottest sellers for stocking fillers and Secret Santa gifts are the latest Mr Men and Little Miss for Grown-Ups parody series: Mr Greedy Eats Clean to Get Lean; Little Miss Shy Goes Online Dating; Little Miss Busy Surviving Motherhood; and Mr Happy and the Office Party.
Bookspeed, which creates bespoke ranges of books, toys and gifts to suit individual retail need across various sectors, has a 30-year track record of spotting forthcoming trends including bestsellers.
Central to the team's market predictions is sales director, Fiona Stout, who said: "Unlike traditional bestsellers like a celebrity cookbook or biography, we look for books which are appropriate for gift retailers. This allows us to find quirky and interesting books, often published by smaller and lesser known publishers, that we believe have potential and then bring them to the gift market.
"While there are a number of strong consumer trends, such as unicorns, llamas, flamingoes and mermaids. we believe the Mr Men and Little Miss parody series will outdo all other titles this year."
Bookspeed's latest gift books catalogue showcases the company's current selection of what it considers to be the 'best of the best' – more than 1,000 key books reflecting the most popular themes and trends across the gift market from humour and children's to lifestyle and fashion.
Fiona said: "We are continually looking for the 'next big thing' and as an independent wholesaler which has partnerships with a diverse range of publishers, we have the impartiality to curate ranges for customers as a key part of their retail mix. We also work closely with our suppliers to ensure continued availability over the fast-moving festive period."
Over the last decade, Bookspeed has identified the following books as the Christmas bestsellers: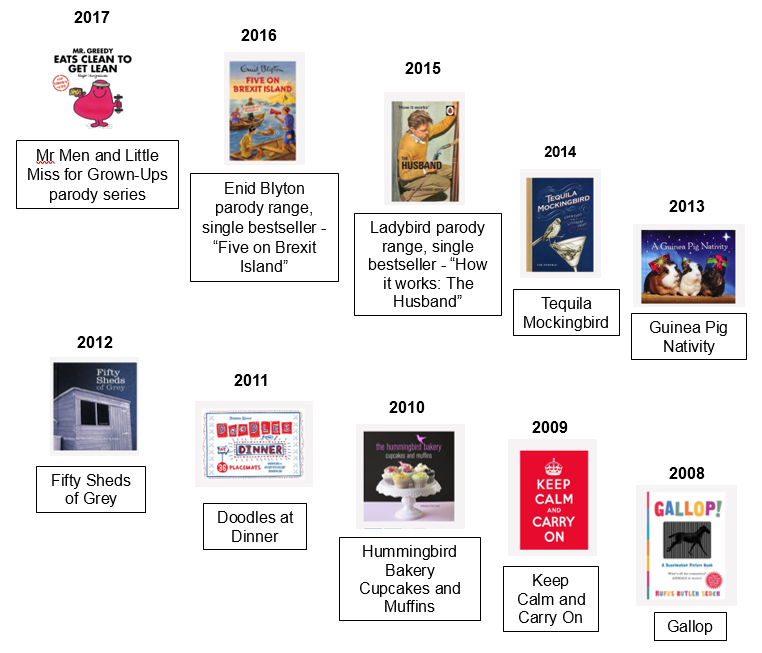 About Bookspeed
Bookspeed has carved out a niche for itself as a marketing-leading supplier of books, toys and gifts by creating bespoke ranges to suit individual retail needs - from independent businesses and multi-site national companies to heritage attractions and other specialist retail sectors.
A family-owned business for more than 30 years, Bookspeed is committed to delivering a highly-personalised and responsive service. Its dedicated teams work closely with the customer to understand their retail story and develop a themed and tailored collection to enhance its existing offering.
Through its partnerships with publishers and creative gift and toy designers, Bookspeed is uniquely positioned with extensive industry insights and a track record for being ahead of the game for up-coming trends.
The company is the exclusive distributor in the UK for some of the most sought-after gift products from Europe and beyond including the inspiring Peleg Design home and gift range, the funky array of Donkey Products gifts, the irresistible character lamps from renowned German manufacturer, Heico, and Egmont Toy's adorable children's range spanning toys, clothing and home. Bookspeed is also a UK distributor for the UK edition of the hugely popular and *very* naughty party game, Cards Against Humanity.