 FARM SHOP AND DELI AWARDS ARE BBACK FOR 2021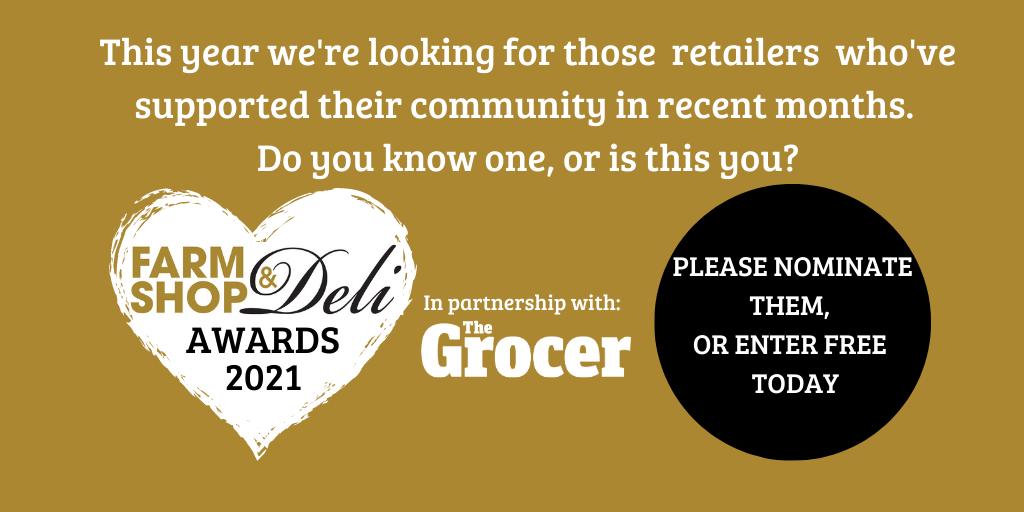 FREE to enter, the prestigious Farm Shop & Deli Awards, in partnership with The Grocer and sponsored by Garofalo and Food & Drink Wales, are renowned for supporting and celebrating local specialist retailers covering 12 categories and nine regions across the UK.
The 2021 Awards return from 1st October, but this year they're doing things a little differently by looking to shine the spotlight on those retailers who deserve recognition in their region for their community support.
Why? Well over the last few months we have heard so many wonderful stories on how retailers have gone above and beyond to help their customers, staff, suppliers and communities during the COVID-19 pandemic. These range from introducing new online ordering processes, drive-thru farm shops, home deliveries, sourcing local suppliers and offering opening hours dedicated to key-workers and 'at-risk' customers – to name just a few.
Changes for the 2021 Awards
For 2021 the Awards are placing more emphasis on how specialist retailers have adapted their business and supported their community, staff and suppliers this year, rather than focusing on financial success.
The retailers will be judged by their region, and not category.
The Awards are encouraging consumers and suppliers to nominate retailers worthy of winning via an online nomination form by 31st October, with a chance to win a foodie hamper from Fortnum & Mason.
Nominated retailers will then be contacted in November and invited to enter via a quick and easy online entry form.
They'll need to provide their contact information, upload an image of their team or shop front and answer 2 simple questions to tell the judges why they're a worthy winner by 31st December.
However, retailers do not need to wait to be nominated and can enter themselves by the same online entry form.
Both the online Nomination Form and Entry Form can be found on the Awards website: farmshopanddelishow.co.uk/awards
All shortlisted retailers will be announced in January and invited to attend the winners' announcement live from the Farm Shop & Deli Show on Monday 12th April at the NEC, Birmingham. Here the 'Commended' and 'Best in Region winners' will be revealed, culminating in a wonderful celebration of the speciality sector.
The Award's judges, headed by returning Chair of Judges Nigel Barden, food and drink broadcaster, are looking forward to supporting this year's competition, and will score all online entries in January and February.
Supporting speciality, celebrating success
The Awards organiser, William Reed, has been helping businesses succeed since the launch of The Grocer in 1862 and the drive to inform and serve their sectors flows through everything they do today. The Farm Shop & Deli Awards are no exception and, for the past eight years, they have celebrated, and supported, the speciality retail market by utilising their reputation and reach in the sector.
"I really do think everyone who took part should look back - with huge, HUGE satisfaction - over the last ten/twenty years at how we have all transformed food retail in this country. There have always been wonderful stories to tell, but now just about everyone is hearing about them - loud and clear, thanks to those such as the knowledgeable and dedicated judges on the team at the Farm Shop & Deli Awards".
Callum and Debbie Edge, Owners Edge & Son, 2018 Farm Shop & Deli Awards Retailer of the Year and members of the Awards judging team.
The Awards are free to enter. However, to be able to recognise the challenges retailers have overcome, and the achievements this year has brought them, the judges need to hear about this either from customer and supplier nominations, or directly from the retailers themselves. So, if you are interested in nominating a worthy retailer, or entering yourselves, please visit farmshopanddelishow.co.uk/awards to find out more.
The Awards are open to retailers from the below categories:
Baker
Butcher
Cheesemonger
Delicatessen
Farm Shop – Large Retailer
Farm Shop – Small Retailer
Fishmonger
Food Hall
Greengrocer
Online Business
Village store/ Local Shop