 Garden Centre Association and BosilunLife Announce Eco-Friendly Alliance
Garden Centre Association and BosilunLife Announce Eco-Friendly Alliance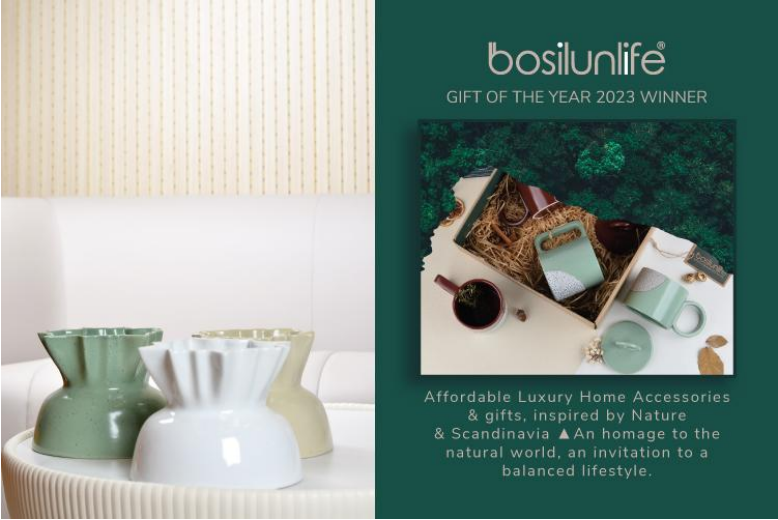 The Garden Centre Association (GCA), prominent for its commitment to sustainable and eco-friendly business practices in the garden centre industry, has announced a new partnership. BosilunLife, celebrated for its eco-luxury products and commitment to the environment, is the newest addition to the GCA's distinguished list of members.

Award-winning Homewares and Giftware

BosilunLife stands out not just as a brand, but as a vision seamlessly combining luxury with Scandinavian nature, all while offering exclusive European designs at accessible prices. Their commitment to quality and innovation has garnered them significant accolades, most notably, the International Gift of the Year 2023 award for their Nordic Tranquility Collection. This recognition of excellence is further bolstered by their recent nomination as a finalist in the esteemed Excellence in Housewares Awards.

Peter Burks, Chief Executive of the GCA, commented on the partnership, stating, "The GCA is always very pleased to welcome strong companies and brands into our organisation. The strength and commitment of BosilunLife amplify our combined potential, offering our members more opportunities to perform even stronger."

Beyond their unique affordable eco-luxury products, what makes BosilunLife stand out is their innovative Direct Store Delivery (DSD) model. BosilunLife is pioneering a change with its innovative Direct Store Delivery (DSD) model. Tailored for retailers and wholesalers, this strategy not only promises enhanced profits but also champions a reduced carbon footprint. The brand's unwavering commitment to sustainability, minimal waste, and lowered carbon emissions echoes the ideals upheld by the GCA.

As the Garden Centre Association partners with BosilunLife, the move signifies more than just a business alliance. It's an intent to redefine industry benchmarks, both in terms of quality and eco-responsibility. GCA members are anticipated to benefit from
this association, gaining insights into how best to harmonize business growth with environmental commitment.

For further details or to discuss collaboration opportunities with BosilunLife, please contact sales@bosilunlife.com or visit their official website https://www.bosilunlife.com/