 GET AHEAD FOR 2019 BY SOURCING SOME INCREDIBLE NEW PRODUCTS AT SCOTLANDS TRADE FAIR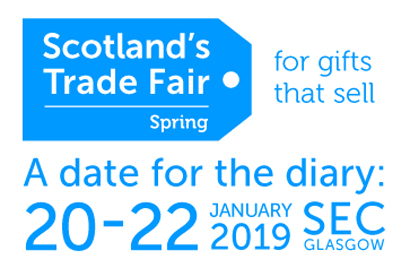 Register now for Scotland's Trade Fair from 20-22 Jan 2019 where there will be at least a third of all exhibitors who are new to the Show and many others showcasing their 2019 stock for the first time.
With a fantastic line-up of companies this is a 'must visit' show as it is the only chance in Scotland for sourcing gifts, homewares, crafts, jewellery, fashion accessories, textiles and clothing, and food and drink together in one venue.
To be launched at the Show is 'Nessie's Den' where 3 prominent retailers – Nancy Smillie from Glasgow, Yvonne Carr from Visit Scotland, and Helen Crawford from the Old School in Beauly – will evaluate selected exhibitors' products in a light-hearted session on Mon 21st, and another session for food producers with food retailers in the 'Den' on Tues 22nd.
Other workshops and seminars include social media to grow your business by Tuminds Founder Rene Looper; Ian Retallick on How independents can take on the giants and win; Harnessing the power of digital influencers by O Communications; Visual merchandising by Lynda Murray and many more.
The array of new exhibitors ranges from large, household names to niche producers but all will have dazzling displays. New for 2019 are Wrendale Designs, Galleon Jewellery, Channel Jumpers, Tartan Centre Wales, Susie Wright, The Highland Soap Company, James Galt, Sophie's Wild Woollens, Pretty Pens, The BiGroup and Blue Eyed Sun with so many innovative products that will sell well.
Launching to the trade in the specially created Launch Gallery are Cubby's Salve, Blackwater Barn Designs, The Divine Hag, Clarabella Christie, Midge Solutions, Urban Caledonia and Bart's Balms.
The Craft Gallery, in association with Craft Scotland, has some truly creative exhibitors such as Kirsti Brown Ceramics, Helen Ruth Scarves, Tessuti Scotland and Vivienne Sillar Ceramics.
For the best in the Show, awards will be given on the opening morning. This year's judges are Rhona Henderson from Gretna, Julie Pearson from Cloudberry Gifts in Edinburgh and Anne Boyd from Dornoch Jail. The winning products will be on display in the centre of the Show.
Adding a personal touch to your retail offering, whether its sourcing local products or giving the story behind it, will help attract customers and encourage purchasing. Becky Walker from The Green Gallery in Stirlingshire said: "It's really important to keep changing stock and we find we thrive by adding a personal touch to our business through individual consultations or sourcing work for customers. We love finding new producers so we always feel the trade fair is a 'must see' twice a year for sourcing."
Show Director Mark Saunders adds: "As we enter the most important trading period, everyone is hoping the year will close on a high with strong festive season sales. This would be the perfect backdrop for the show in January and retailers can start the hunt for new ideas with confidence off the back of a successful 2018. Whatever befalls we know that we are offering them a fantastic array of interesting and creative exhibitors."