 Handmade at Kew: The International Contemporary Craft Event - 6 – 9 Oct 2016 | Royal Botanic Gardens, Kew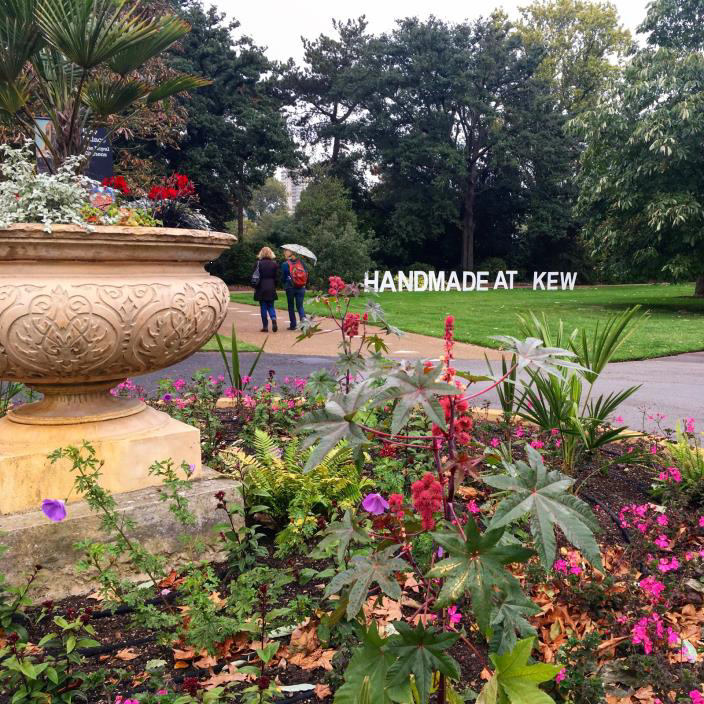 Following on from last year's success, Handmade in Britain returned to the Royal Botanic Gardens, Kew for the second edition of the four day craft spectacular, Handmade at Kew.
Housed in an elegant outdoor pavilion next to the picturesque Kew Palace, the spectacular Kew Gardens played host to this innovative, global craft fair in Handmade in Britain's most ambitious event to date. With innovative design alongside exceptional craftsmanship, visitors enjoyed an impressive variety of form, function and style from over 200 international makers.
[gallery ids="769,770,771" type="square"]
Fast becoming London's leading international craft event, Handmade at Kew has found its perfect complement amongst Decimus Burton's glasshouses, a feat of Victorian engineering and British craftsmanship. Visitors to the event not only enjoyed the work of over 200 makers but also the whole of Kew Gardens in all its autumnal glory. The event's prime location in the heart of the gardens allowed visitors to soak up the delights of the world's most famous botanic garden with its fine glasshouses and rare blooms, whilst browsing, buying and commissioning work directly from internationally renowned craftspeople and artisans.
Over 200 Exhibitors
Handmade at Kew grew this year with over 200 UK and international makers exhibiting an exceptional standard and variety of work from Columbia to Germany. Disciplines showcased included glass, ceramics, jewellery, furniture, fashion accessories, sculptures and home textiles.
[gallery ids="773,772,774" type="rectangular"]
Leading glassblowers Bob Crooks and Adam Aaronson represented the breadth and strength of the discipline alongside talented fused glassmakers Jo Downs, Aline Johnson, Joanna Lloyd and hot glass artist Julie Johnson and her intricate compositions of birds, flowers and fruit. Ceramics were well represented by Norman Yap and Wallflower London who both returned for a second year alongside sculptural artists Martin Pearce and Samantha Bunn. Jewellery highlights included Yen Jewellery, Simone Brewster, Maya Selway and Michael Berger with his intriguing kinetic rings. Delectable silverware was on show by Zoe Watts, Rebecca Joselyn and tempting bronze sculptures from Mallon Foundry. Striking textiles for fashion and interiors could be seen from an array of talented exhibitors including Leto & Ariadne, pieterSzoon and Sarah Tyssen.
A number of groups and galleries took part in the event including Gallery Top and Inspired 2016 both of whom brought varied collections of beautiful contemporary pieces across all disciplines. Organisations Design Factory and Craft Central also showcased a smorgasbord of contemporary craft and design from a range of well-known names. Arts Thread returned to curate an Emerging Talents showcase of some of the brightest new graduate talent in contemporary craft and design. There were live demonstrations of contemporary craft practices from In The Window throughout the event.
Over 8,500 visitors
Handmade at Kew attracted a broad range of customers including many returning visitors. The event was very well attended with over 8,500 shoppers visiting over the four public open days of the show and the Private View evening.
Visitors included Friends of Kew, affluent consumers and local residents, alongside influential trade buyers from major retails stores, galleries, independent boutiques and online platforms. Buyers and galleries from the UK and abroad attended, with key representatives from well-known UK based stores. As a results of an extensive Marketing at PR campaign, the event reached new audiences and introduced them to the world of handmade craftsmanship.
Handmade at Kew once again drew a fantastic response, with both visitors and makers praising the high standard of the work on show and the professional look and feel of the event.
For further press information and visuals, please contact Sarah Ward: sarah@handmadeinbritain.co.uk / 0203 1051 682.
Handmade in Britain exists to support, promote and celebrate extraordinary craftspeople who create their work in England, Wales, Scotland and Northern Ireland. We increase accessibility and visibility, create market opportunities and maintain high standards in the craft sector whilst providing a comprehensive support programme towards a bright future for British craft and design. Our work provides a platform for design and craft talent through both our own events and collaborations with other organisations, alongside a mentoring programme and membership scheme.
Handmade in Britain
handmadeinbritain.co.uk
Studio 31 | 21 Clerkenwell Green | London | EC1R 0DX