 HANDMADE FROM KEW AND HANDMADE FROM CHELSEA

Handmade in Britain was established over a decade ago by engineer-turned-designer Piyush Suri, an advocate of everything handmade. After working for a few years in the industry, he single-handedly built his initiative to support and promote British designer-makers.
Throughout its existence Handmade in Britain has provided a platform to support and promote design and craft talent through fairs, events, and pop-ups. Workshops and business mentoring are also key to Handmade in Britain's mission to support the designer-maker communities. As a company, we work hard to increase accessibility, create new market opportunities and maintain high standards in the contemporary craft sector, whilst providing a comprehensive support programme for new graduates and up-and-coming design talent. We continue to grow and expand, increasing opportunities for our members and raising our profile within the sector and beyond.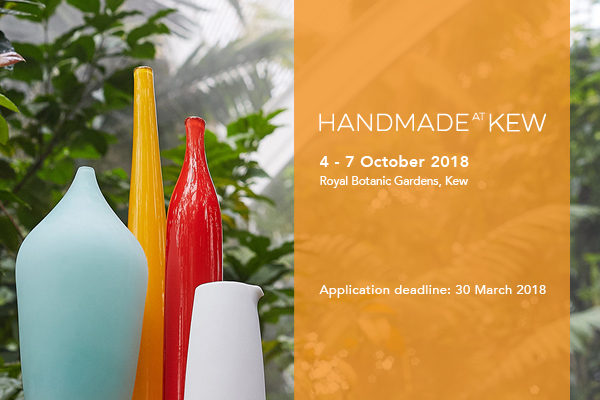 Handmade at Kew 2018
Thursday 4 - Sunday 7 October 2018
Royal Botanic Gardens, Kew, Richmond TW9 3AB
Deadline for applications: 30 March 2018
Website: http://www.handmadeinbritain.co.uk/kew
Handmade Chelsea 2018
Friday 9 - Sunday 11 November 2018]
Chelsea Old Town Hall, Kings Road, Chelsea, London SW3 5EE
Deadline for applications: 30 April 2018
Website: http://www.handmadeinbritain.co.uk/chelsea
For the past decade, Handmade in Britain's shows have become the top contemporary craft selling events in UK. Our events showcase the best high-end design and craftsmanship from hundreds of highly skilled designer-makers. The events target and appeal to an informed and highly motivated audience of local and UK consumers, collectors and aficionados as well as a select audience of professionals; including those who represent corporate and public sector buyers. The consumer audience includes local residents; tourists; shoppers and craft/design collectors. Selected press, trade buyers, media and VIPs are also invited to attend.
We welcome applications from individual makers, groups and galleries of contemporary craft working in the following disciplines: furniture, metal, ceramics, glass, jewellery, textiles, woodwork, paper and sculpture.
For more information, please visit our website at
http://www.handmadeinbritain.co.uk/kew and http://www.handmadeinbritain.co.uk/chelsea.