 INNOVATIVE BOOKS RECEIVE ACCLAIM FROM THE GIFT INDUSTRY
FROM YOU TO ME are proud to have been presented with the prestigious Gift Of The Year award at the Spring Fair last Sunday evening in front of large audience of retailers and buyers. 
They won the Cards & Wrap Category for their new rangecalled WOW!YOU'RE . . . BIRTHDAY BOOKS by post.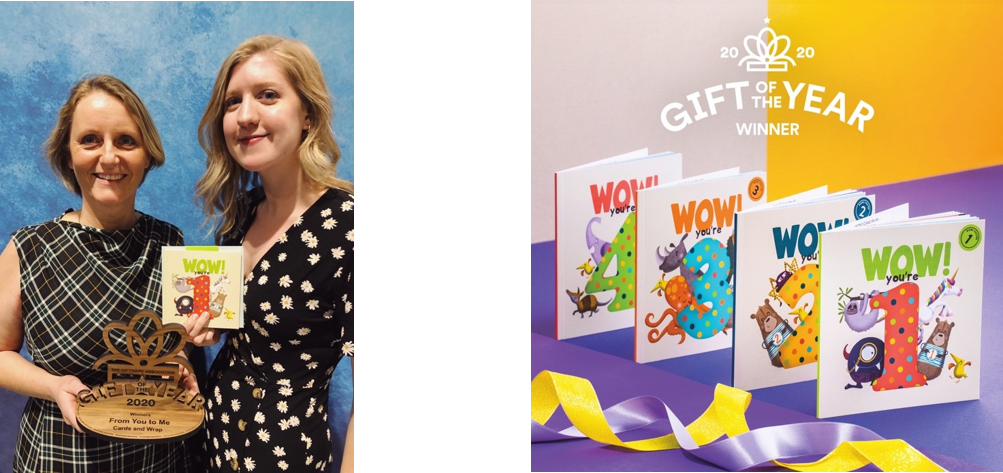 These new innovative birthday books come with a decoratedenvelope so that these gifts can be easily posted and they will stand proudlyas a birthday card or fit neatly on a bookshelf.
Having a birthday is always a big deal . . . so consumerscan now send 'more than a card' with these wonderful books that are suitable topost as a birthday card. 'Numbear' andhis pet bird are the main characters who, along with other unique animals andsea creatures, bring these creative, colourful books to life. With 28 pages full of fun facts and quirkyinformation, they help every child to be even more excited about their birthdayby getting them reading and involved in this story, discovering everything thatis awesome about their new age.
These creative little books by post will remind someonethat their birthday matters and shows that you care about them. They are a superb gift to read with any childor for them to share with friends and family.
Currently available for ages 1 up to 6.
Helen Stephens, Creative Director at FROM YOU TOME commented "We are always looking to develop books that are bothbeautiful as well as valuable for the retailers and consumers so it wasdelightful to hear the feedback from the Gift Of The Year judges about what aspecial and unique keepsake the concept of books as cards make. Something tokeep and not throw away." "We are delighted to win Gift Of The Year again it isa real accolade for our team and our authors who work so hard to producewonderful products," said Neil Coxon, Managing Director at FROM YOU TOME. "The Last time we won Gift Of The Year it also helped to boost salessignificantly across the world and I am sure this win will be the same."
Gift Of The Year isorganised by the Giftware Association, the organisation that has beensupporting suppliers and retailers in the Gift and Home industry since 1947,and the headline sponsors are the Spring Fair at the NEC, the largest UK GiftShow. Gift of the Year is a uniqueplatform to showcase new and innovative products whilst raising the profile offorward-thinking companies.
Availableat: WWW.FROMYOUTOME.COM andgift and book shops.
Launchdate: August 2019