 IOT EXTENDS ITS RANGE OF SUSTAINABLE BRANDS
IOT EXTENDS ITS RANGE OF SUSTAINABLE BRANDS TO INCLUDE JIGSAWS MADE FROM RECYCLED CARD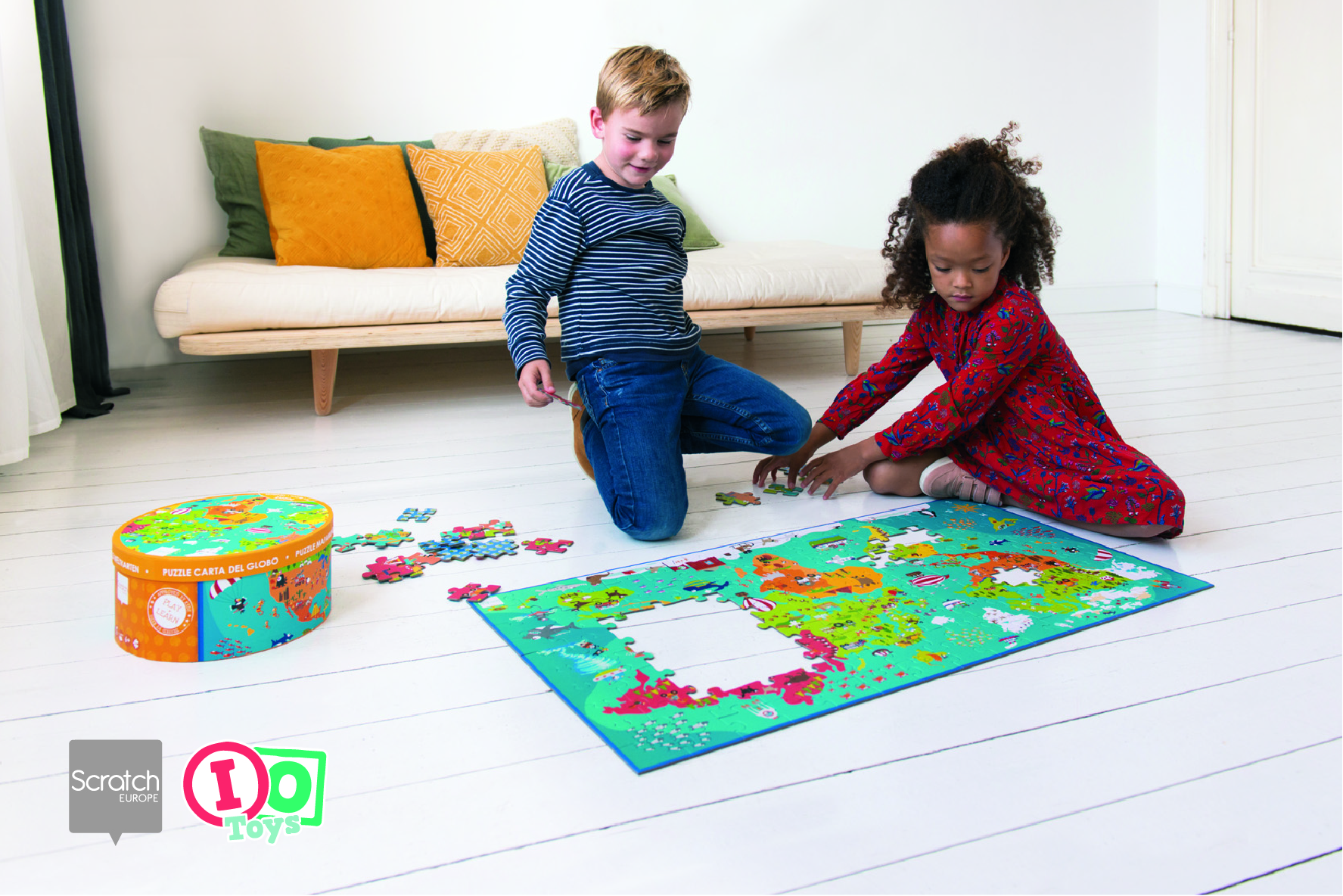 Inside Out Toys Ltd has announced that they will become the sole UK distributor of a range of puzzles and games made from recycled card by Scratch Europe, adding to their portfolio of sustainable toy brands! IOT will launch the brand at the Home & Gift Buyers Festival in Harrogate next month, when stock will be available for immediate delivery. Fuelled by its recent success at the Gift of the Year Awards with two of its brands, the family owned and run small business is dedicated to growing its business in the sustainable toy and gift market and decided to complement their existing brands by adding a range of jigsaw puzzles.
"We were approached at a trade fair by Jan (Voorspoels) as he felt that our focus on sustainability would give the Scratch brand the best chance of success in the UK. As well as using recycled or FSC card for all their products. the company is also in the process of moving to the use of soy-based inks, demonstrating its commitment to sustainability, which is key to our company ethos. We are sure our trade customers are going to love the collection and won't waste any time getting them on their shelves."– Julian Garner, IOT Owner/Managing Director.
Scratch is owned by Belgian company DAM, who have been a leading distributor of toys in France and Benelux since 1992. For 30 years their focus has been on quality and safety, driven by play value. Each of their products has a fun, unique design, in Scratch's distinctive style and come in an attractively shaped box. Perfect for gifting!
IOT's initial collection includes stacking towers, puzzles with 3D elements to extend play value, magnetic puzzle books ideal for keeping children entertained 'on the go', beautiful contour shaped puzzles, as well as some 3-in-1 game sets.

"Since 2011, Scratch has evolved into a Belgian lifestyle toy and speciality brand. Scratch expresses its style all around the world, with a presence in more than 35 countries today. With a focus on safety, quality, education, innovation, design and packaging we try to make the world a happy and safe place for children. For this reason, we are very excited to partner up with Inside Out Toys, a distributor with a heart for sustainability: a real match!" – Jan & Tine Voorspoels, Scratch Europe, Belgium
Scratch products comply with or exceed international safety standards, such as EN71, UKCA. From design to production, safety and quality always come first.
Inside Out Toys Ltd expanded their selection of sustainable brands during 2020, with a portfolio which now includes jumini and Studio Circus FSC certified wooden toys, Tikiri organic rubber and cotton baby toys, Viking Toys (including the sugarcane-based bio plastic Ecoline collection), Snails – safe nails and ReCycleMe craft kits. IOT is an approved supplier to Toymaster and AIS.
Inside Out Toys Ltd is a family owned and run toy company, established in 2012 by Julian Garner and his wife Nikki. They employ a small, dedicated team at their new premises on an eco-farm near Towcester and pride themselves in being a family-friendly employer – offering flexible working and valuing their employees. They also support as many charities as they can each year, including donations of toys to Barnardo's www.barnardos.org.uk Northamptonshire Health Charity www.nhcfgreenheart.co.uk and Giving World www.givingworld.org.uk.