 JOOLZERY: A HIDDEN GEM

The Giftware Association first met Julia, owner and founder of Joolzery at one of our Meet The Buyer events, and her products didn't disappoint with her beautiful handmade sterling silver wire freshwater pearl and/or semi-precious gemstone jewellery, including statement necklaces, bracelets, earrings and cufflinks, getting significant interest from the buyers present. With a huge amount of thought process and work going into each piece and the ethos behind the brand, it made a very interesting story in a time where wellbeing and wellness is at the forefront of society.
Julia actually works full time, with her award-winning IT Training Consultancy company, Maximum Impact Solutions, which specialises in creating business intelligence reporting solutions using Crystal Reports and SQL Reporting Services, which she set up in 2001.
The beautiful pieces that Julia makes are unique, handmade with a spiritual meaning behind them. She sources the gemstones that feature in her products herself and ensures that when combined with other gemstones that they complement each other.
[gallery ids="4710,4711" type="rectangular"]
Julia's process time from inspiration to production varies depending on the pieces and the availability of the raw materials; she enjoys designing and creating her own unique handmade products and wants to provide an alternative to the mass-produced market.
When sourcing gemstones, she looks for the more unusual gemstones, or if working with common gemstones she will source the unusual colours and/or cuts or shapes, for example when sourcing Amethyst, which is typically purple, Julia will look for the different cuts, a rough or raw gemstone, or alternatively will find the green version.
Working out of her home studio, she is everything most designer-makers are these days. Designing and making the jewellery, photographing the pieces for her website and ultimately marketing via Instagram, Pinterest and Twitter, and selling her jewellery creations via her website or at handmade craft markets. A bit of a weekend warrior Julia has to slot her daily life around her jewellery business.
Discussing her work and the issues that are sometimes faced "You work with the materials that you have, sometimes you can get a curveball in your raw materials, like the beads are too small or big for the design, that they are not the shape or size expected, or that they are not all a uniform shape and/or size but you can always work around this to create the end product, sometimes it might be the materials that you require are out of stock. You just have to change your designs accordingly and more often than not these adjustments add to the uniqueness, organic-ness and interest of the completed jewellery pieces."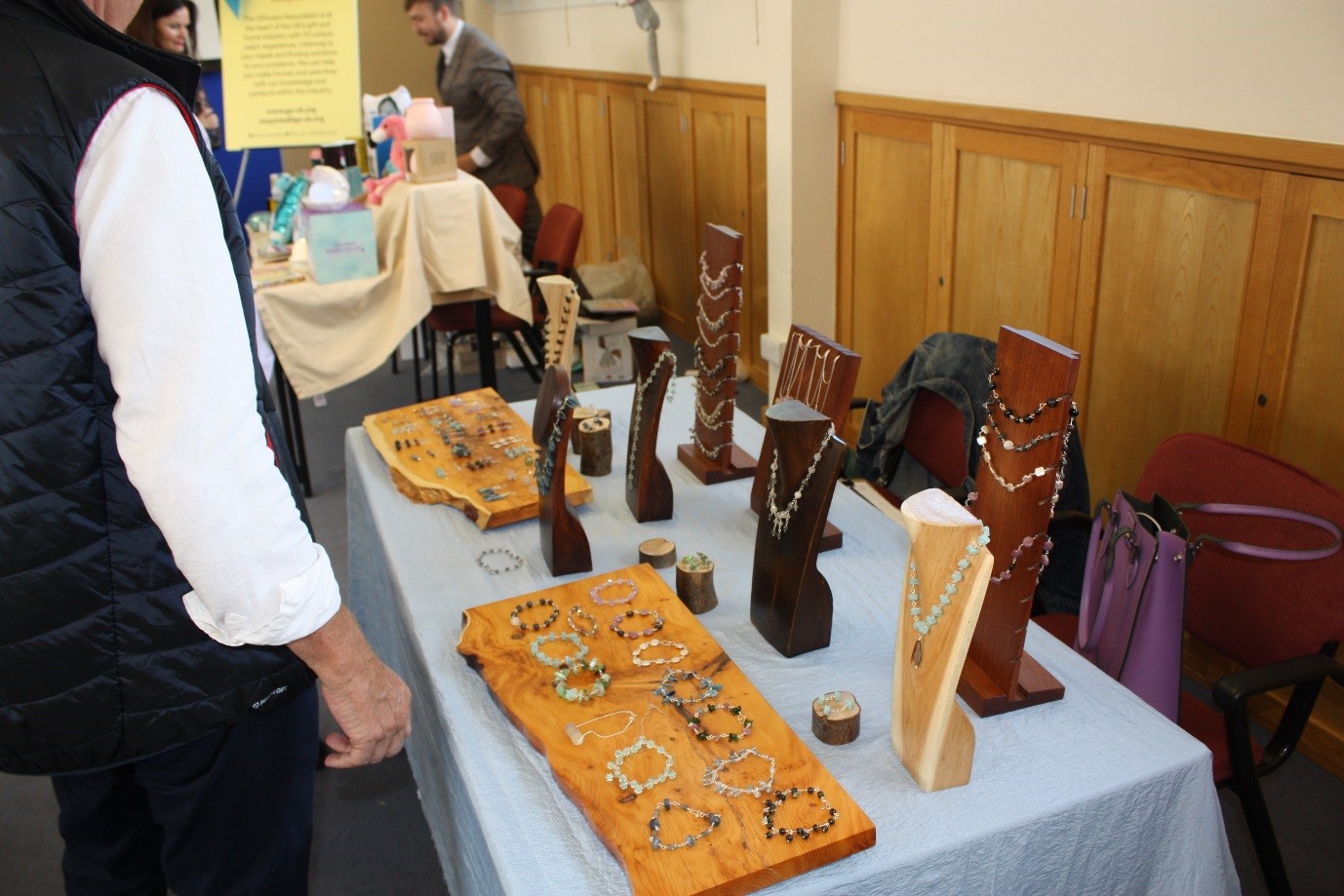 Based in Liverpool, Joolzery has a dedicated following, but Julia wants to spread her wings and leave that bubble. She is starting to explore different avenues to business having signed up to trade shows and the GA's 'Meet The Buyer' events. Julia exhibited in the BCTF and Pulse this year and will soon to attend the UK's biggest trade show Spring Fair in February 2019, but not before exhibiting up at The Scotland Trade show in January.
Julia started selling her handmade jewellery at Handmade Arts and crafts markets, initially in Liverpool, and then branched out into the North West area.
Wanting to promote her products to new audiences, Julia has attended events in the North West region of the UK that concentrate on veganism, wellness and healthy living and specific handmade trade shows, she wants to get into independent boutique style shops, galleries and hotels looking to offer their customers something a little different, as well as geological, spiritual and alternative shops as this is the audience that understand the significance of her products and who are ideally targeted to.
Julia has created a separate collection of handmade gemstone jewellery pieces for the trade, which can be accessed on the Joolzery website.
The four themes of the collections are Manifestation, Abundance, Joy and Protection, and consist of Bracelets, Pendants, Necklaces, Earrings, Ear climbers, Anklets and Cufflinks.
Speaking of her Trade Show experience, Julia said, "There need to be more specific trade shows for handmade products, as there is a lack of them in the current trade show climate, and sometimes an area in a trade show is not enough to raise interest in her specific products."
[gallery ids="4713,4714" type="rectangular"]
As we have heard from many of our members, the jewellery industry is very much oversubscribed, with a lot of the same designs being seen. It is tough out there, there is a very clear divide between the high-end market and fashion or costume market. Julia prides herself on the durability of her designs, as well as the unique character of each piece.
"It's important that my jewellery is designed and handmade to last as well as being highly wearable. I don't want my jewellery to be worn a few times and then break, only for the owner to have to get it repaired or have to go out and buy the same thing again. I want my products to be known for their high quality, durability and wear ability," Julia says.
It is clear in Julia's work that she is very hard working, passionate and absolutely loves what she does, three words to describe Joolzery would be 'Unique', 'Authentic' and 'Spiritual', and she does not disappoint.
To view Joolzery's products visit her website here - https://www.joolzery.co.uk/
Email: Trade@joolzery.co.uk
Or catch her at the following shows:
Scotland Trade Show: Stand K79
Spring Fair: 20M02