 MEMBER SPOTLIGHT - RIVER SONG HEART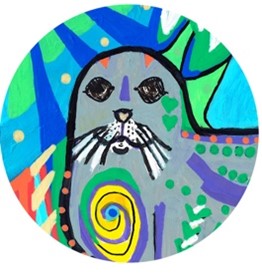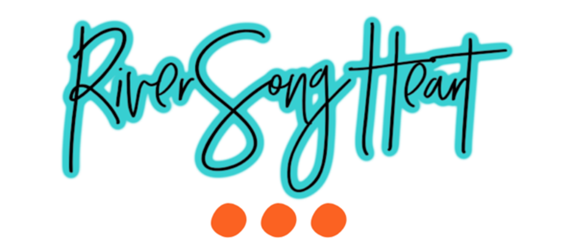 CAN YOU TELL ME ABOUT YOUR JOURNEY, FROM WHERE YOU ARE NOW TO YOUR PREVIOUS ROLES AND EXPERIENCES WITHIN THE CREATIVE ECOSYSTEM?
RiverSongHeart is my artist name and the name of my eco-aware animal art business. I've always loved working with people with vision, but I have never truly been able to find my own, until now.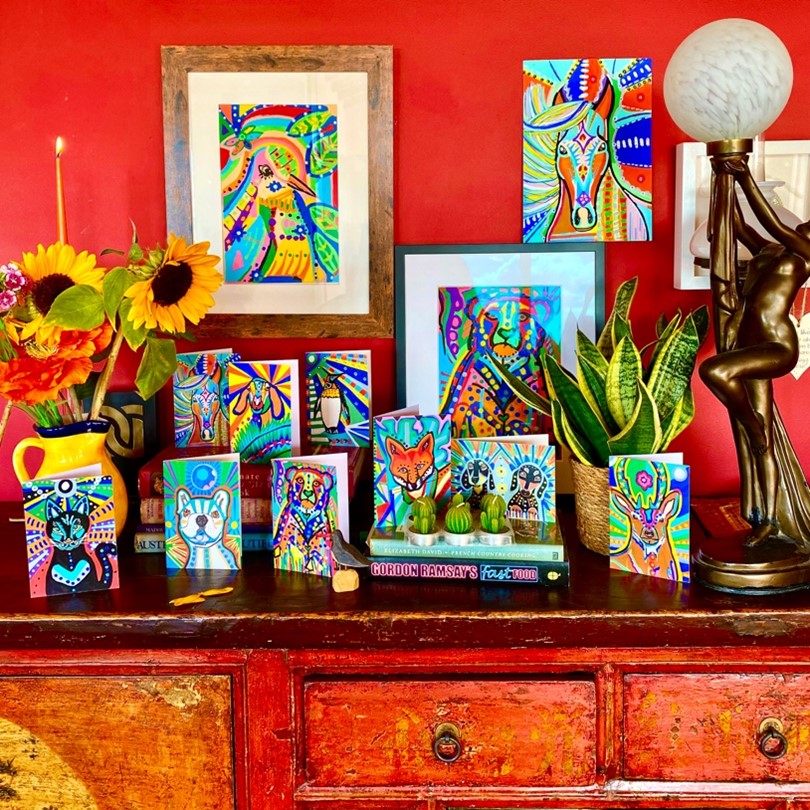 During lockdown 2020, RiverSongHeart was born out of a passion to be creative and do something that's also sustainable, connecting, eco-aware - inspiring others with a strong, kind and connected message. I wanted it to be an antidote to the news narrative. I create vibrant animal paintings that express my connection with nature and the consciousness of animals and hope my work strengthens this connection for the viewer. Some describe my paintings as folk in style, or psychedelic. I work with the animal's energy, their wisdom, before I being to paint them in acrylic and ink. From the original paintings, I create fine art prints and greeting cards on 100% recycled card with recycled envelopes, always plastic free, working with my local artisan printer in Totnes.

Both animals and nature come with their own forms of high intelligence and wisdom that humans can learn from, once we start to look at them in new (also ancient) ways. I want my work to get people thinking, feeling – especially people living in built up, urban areas which I'm used to having been born and raised in North London. It's all about how we connect with other living species on earth and how we can improve that connection for the benefit of all. Only when we are authentically connected to something do we want to fight for it. It's about reciprocity, compassion and the idea that animals and plants are our family – they are not separate from us. And when we realise this, we know we are never alone. Separation is an illusion and it's damaging us.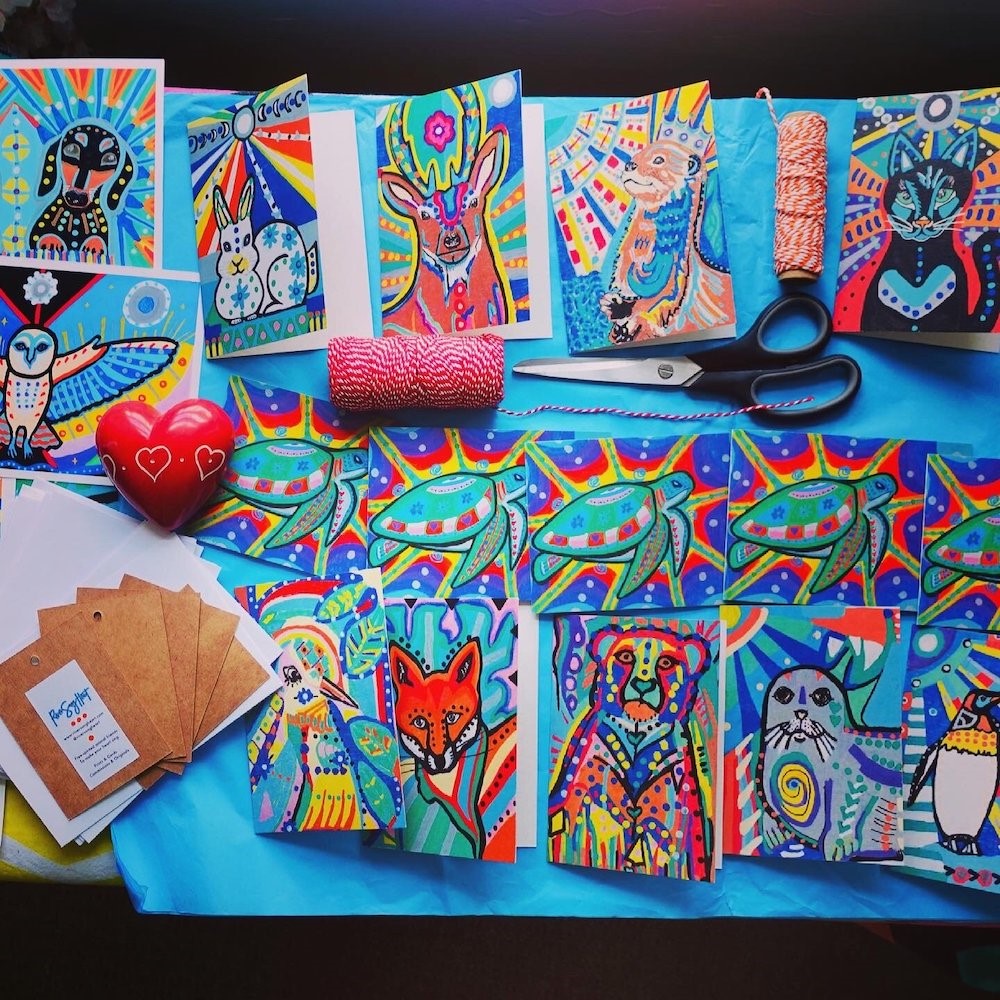 When planning the business model for RiverSongHeart, I knew I had to do something that would have a commercial angle (rent and bills to pay) as well as artistic integrity and I knew it would have to give back to nature in some way. I was influenced by a programme I took with the School for Social Entrepreneurs in Dartington. I have a background in business planning for SEOs and charities – which helped me to develop a resilient model for RiverSongHeart and embrace circular economy by deciding to plant a tree with every fine art print sold. My reforestation partners are called TreeSisters Charity and the work they do in the global tropics is brilliant. Hundreds of trees have been planted via my partnership with TreeSisters since launching RiverSongHeart less than 2 years ago.

I've worked with a lot of Social Enterprises and charities over the years. One of my biggest achievements in London was helping to set up a charity that highlighted dyslexic strengths and refocused how dyslexia is viewed. I learnt a lot from working closely with the novelist Sally Gardner, who is dyslexic. She taught me how to look at the world through a different creative lens, how to use my imagination more boldly, how to open my mind to visual thinking. I've also worked across the music and film industries, which I loved as it was so diverse, working with different communities in London. This helped me to understand and learn with many cultures in the creative space.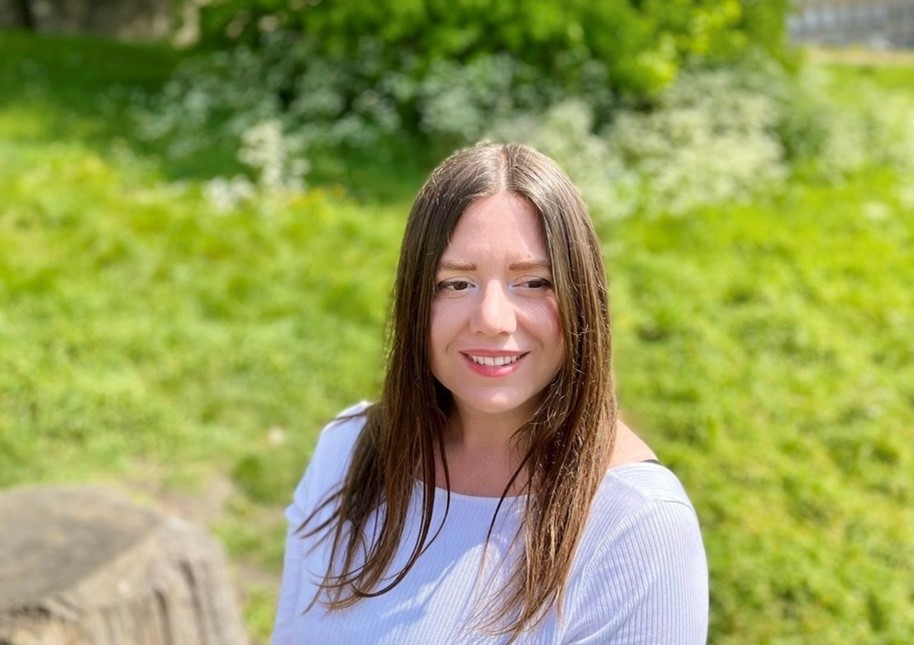 I'M ASSUMING THAT THIS WASN'T THE FIRST TIME YOU PICKED UP A PAINTBRUSH…
Painting is something I've always enjoyed as a hobby but had never done consistently before. By being made redundant at the start of lockdown, I suddenly had the time to think about the direction of life and how work choice is integral to that. My friends, especially the UK artist Helen Driver and the American artist Sonya Kleshik, really encouraged me to paint. I also have the privilege of an encouraging family – who believed I could follow my art. I don't have any formal artistic training and kept telling myself it was too late for me to change my career. I was wrong.
I used to paint when I was a child, but then my creativity transitioned into stories and poems and I followed a more literary path. I loved drawing little rat families and underground vistas. It's amazing the way that children connect with animals and land – again children come with their own form of high intelligence, just like the land and the animals do. I think animal art is an amazing vehicle for us to look at ourselves and the world. I loved watching Watership Down as a kid, it has an important message – how people's interference with the land can cause so much damage - raising awareness of the ecosystem damage and displacement we see all the time now. I also have a series of large collages and paintings created since 2015 which have not been seen by the public and are quite different from my RiverSongHeart work… one day I hope to show them.

The first pet portrait I did was in 2003, an oil pastel of an old family cat SOPHIE, who had passed away, and I gave it to my parents for Christmas and they both burst into tears! Much of my early work was painted for other people – RAINBOW GOAT was originally for my brother, as he loves goats. But it was when I painted SEAL POWER (which is now my logo) that I felt this powerful connection to the animal, myself and spirit of the natural world, a beautiful sense of reciprocity. Nature is always guiding us home.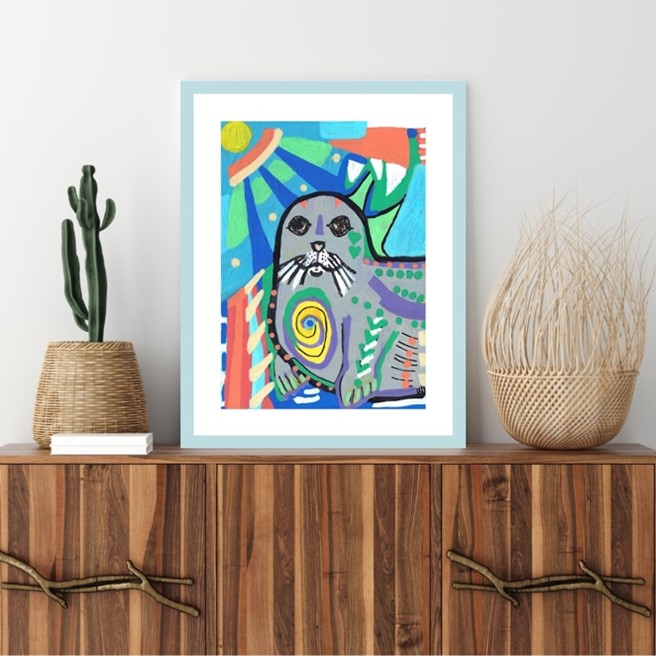 I WAS GOING TO MENTION THAT THE BEGINNING OF WATERSHIP DOWN ACTUALLY REMINDS ME OF SOME OF YOUR CURRENT WORK AT RIVERSONGHEART, THE OLD FABLED / PAGAN DRAWINGS
Thank you, I love the beginning of Watership Down and that's a massive compliment. It's so good when you can see the soul in the brushwork and the heart in the concept. I have found my work resonates strongly with children, as well as with adults of all ages.

SO, YOU FELT THAT CONNECTION FROM 'SEAL POWER' ON IN?
Yes, I had almost birthed this beautiful creature and, from there on, I knew that I wanted to do this for the rest of my life. After this moment my work really started to flow consistently. Interestingly, if you look at seals or selkies in Celtic mythology they are deeply connected to creativity, so it makes sense.

SO RIVERSONGHEART WAS BORN…
The more I painted, the more my connection with nature and animals strengthened. I really wanted to do something to emphasise the message of reciprocity with the natural world, of giving back, retaining balance - instead of just extraction and taking from nature. Every day in lockdown I visited my local river, or public garden, or the beautiful Devon countryside. I watched nature doing her thing and learnt so much, simply noticing how one place changes over time, whilst also remembering it will remain long after me. Many have forgotten that nature is our mother, which is why many of us are so disconnected from life. There is a process of remembering that needs to happen within each of us, a waking up. Central to Riversongheart is the idea that the earth belongs to no one but herself. We are borrowing this earth, to improve for the next generations, to improve simply because she deserves our respect. It's time to take the blindfold off caused by history and habit and make changes on a micro and macro level.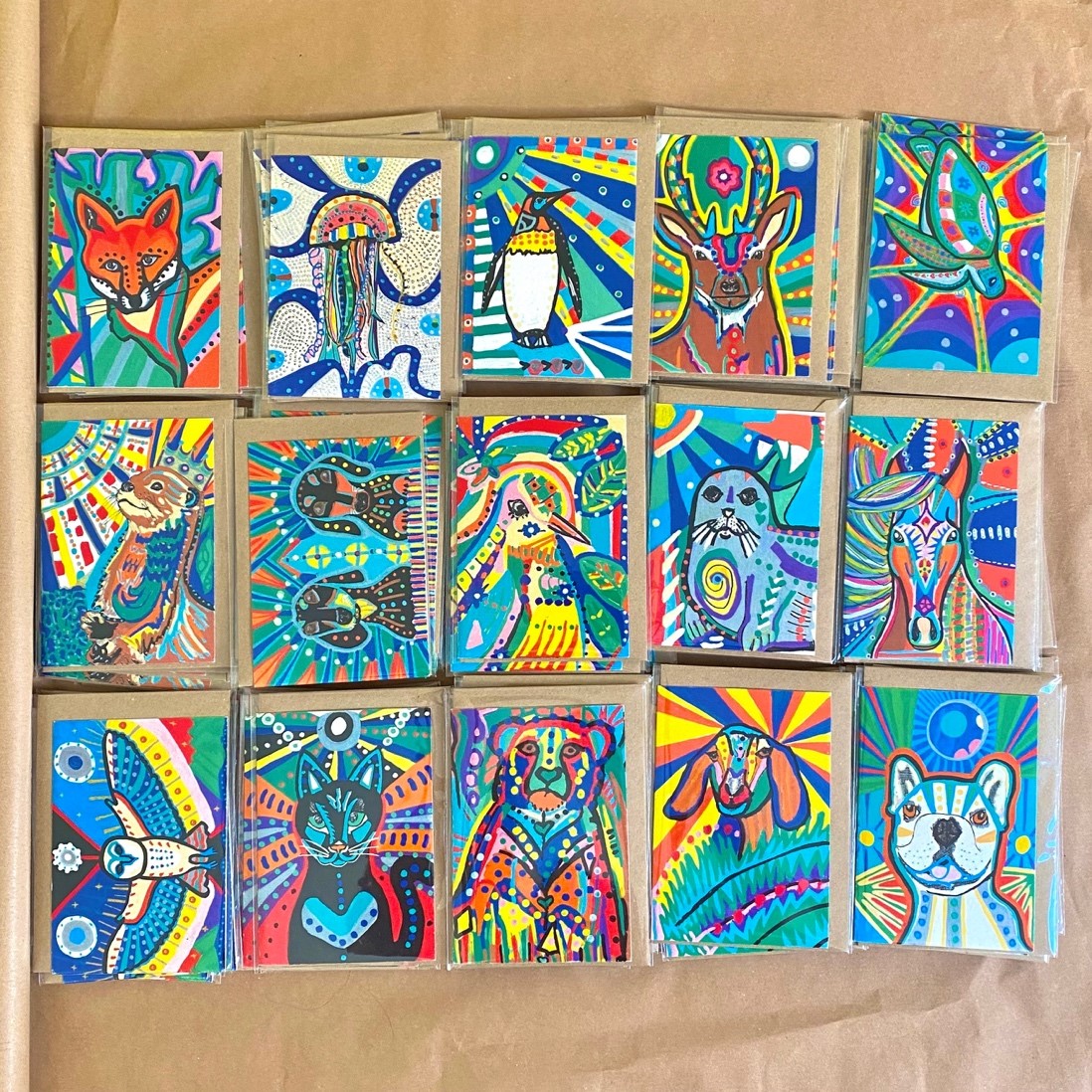 YOU PREVIOUSLY LIVED IN LONDON, WHEN DID YOU MAKE THE MOVE TO THE COUNTRYSIDE? AS YOU HAVE TALKED ABOUT THIS IN YOUR ARTICLE, PUBLISHED AS A TOP STORY BY VOCAL, CALLED "START BY OFFERING 10 MINUTES TO NATURE, EVERY DAY". I ALSO WANTED TO TALK ABOUT THE ENCLAVES OF ARTISTS THAT ARE DRAWN TO WATER/ COUNTRYSIDE IE. ST IVES, MARGATE, TOTNES…
After moving to the Devon in 2018, the hustle and business of the city was replaced with the richness of nature, which is busy in its own sense. There is a definite call to nature if you are an artist, or perhaps that's just part of being human. We forget nature is here, everywhere - especially when we grow up surrounded by concrete, as I was. I think as an artist you're more likely to be highly sensitive to your surroundings - cities can be too much with everything going on all at once. Nature can be a soothing tonic, a muse. I have loved being able to visit Barbara Hepworth's sculpture garden and sculpture studio in St. Ives, Cornwall - she used very heavy, manual tools to create her huge sculptures. But Mother Nature remains my favourite artist in everything she does… the number of greens in a single row of trees, the reflections in a river, the details in a single flower head – you can see why many artists are drawn to water and the countryside to be closer to this kind of powerful, unfettered creativity. But being close to nature is good for everyone, it reminds us of who we truly are.
You can read the Vocal article here: https://vocal.media/earth/start-by-offering-10-minutes-to-nature-every-day

IT REALLY IS SOMETHING SPECIAL WATCHING HOW A LANDSCAPE CHANGES OVER SEASONS AND I'M LUCKY ENOUGH TO BE ABLE TO VIEW MY GARDEN AS A WORK AND SO MANY GREENS
Exactly – one garden, like yours, can provide so much joy and knowledge. So many shapes and forms are there to be drawn or painted, they are catalysts for the imagination. In terms of references for form and colour, I always prefer to reference nature - rather than other people's artwork. As a visual artist one's language is obviously primarily visual, so nature can really lead form in terms of colour, shape, texture, composition. I don't have an art school background and I'm a self-taught painter – so often have different views on things from other artists, who've been taught through traditional routes. I'm less structured, more intuitive. Some could call my work 'naïve' - it is in a way. But I also see that I'm not defined by rules that I haven't learnt. I do not think institutionally. This can be problematic in some ways (my technical skillset is quite narrow, I'm not used to feedback/criticism of my paintings). But it also liberates me from expectations/restraints in other ways. One walk in nature or animal encounter can provide a decent tutorial!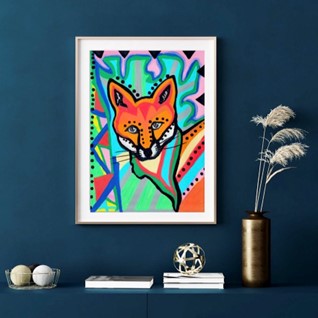 HAVE YOU FOUND THE NON-TRADITIONAL WAY OF ART DIFFERENT, ARE YOU LOOKED AT DIFFERENTLY FOR NOT FOLLOWING 'THE RULES'?
Not really – not yet anyway. The main barriers have come from my own feelings of being an imposter. But I've found that entering the market with passion for my subject and wider message, as well as an intentionally commercial mindset, has helped a lot. I've been making and selling art prints and greeting card from the outset. I had to have a very clear mindset before doing this and I worked on my business model and my mindset carefully before I launched RiverSongHeart. But there is discomfort to move through, when a piece of work is created with your heart and soul, and you then have to market it and sell it! There can be that feeling of 'selling out', by being commercial, but being partly driven by the commercial world has become a truth more widely accepted in the art community. The knowledge that my rainbow animals spark joy and connection for so many makes me want to share and thus sell. However, if I were to approach more 'traditional' galleries, I think there might be issues – for one thing, I don't have a list of industry names, industry schools or shows to assert my credentials. The rise of social media and the internet has been a good thing for self-taught artists – there are less gatekeepers that stop you being seen by an audience and that is a good factor for getting your work out there.
YES, THROUGH SOCIAL MEDIA, WEBSITES, TRADE SHOWS AND COLLABORATIONS OF COURSE.
The internet has 'democratised' art in many ways. It's good that websites and social media have spread awareness of art and made it more accessible, so many people are expressing themselves creatively, we can directly contact those who work we admire and creative worlds previously unexposed are now being shared.
But there are some negative things too with social media - in some ways art has also lost some of its integrity – work is being widely copied, and many artists now link success with likes and follows more than with real world achievements. The market seems saturated, so competitive, it can all feel overwhelming. We're also at the whim of algorithms.
I really love the real world connection of people with art and crafts. That's why trade shows, like Top Drawer, are so amazing! It was a massive privilege to be there this year, and so helpful to realise so many good people are out there doing passionate and creative work, with genuine vision. To see people's response to my art was so heartening, seeing their faces light up when looking at my collection of rainbow animals. Also it's where I met the lovely Sarah from the GA and became a member of the Giftware Association.

WHAT FUELS YOUR DESIRE TO PAINT? IS IT FOR YOURSELF OR FOR OTHERS AND GETTNG A MESSAGE ACROSS?
My work is combined with me, the energy of the animal, the energy of the earth, the energy of the viewer. It is for everyone, including myself. I want to see more compassion and sustainability everywhere, more equality and connection, more reciprocity with nature and animals. That is the core of RiverSongHeart. Ecological issues are more widely accepted and understood, now more than ever. There's been a shift away from the mainstream narrative (in Totnes anyway!). We don't need to keep hearing environmental disaster stories told in cold, scientific language - this makes nature seem separate from us and so perpetuates the problem. It doesn't encourage action but creates false feelings of helplessness.
Right now, there are growing global calls for nature and animals to be seen. For humans to see that we are nature, nature is us. Humans could become a keystone species - a species that helps the environment and other animals to thrive - but there is a long way to go to repair the damage we have caused. It's not too late. Indigenous people make up 20% of the worlds' population, yet they protect 80% of the world's biodiversity. We must stand with our indigenous sisters and brothers. Begin to learn about how many indigenous people live, for they live in balance and connection with nature and animals. What we call 'natural resources', many Native American people call 'All our relations'. We need to get to this point in our language and understanding. In our mindset. We need to understand and integrate indigenous world views. Not 'using' indigenous traditions for inspiration, but deeply connecting to indigenous knowledge so that we can put sustainability and respect into practice as a species, in order to create a better world for all.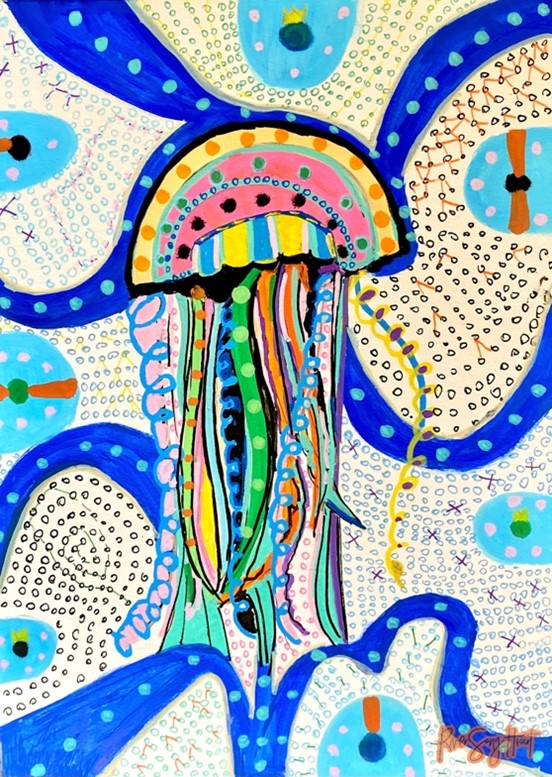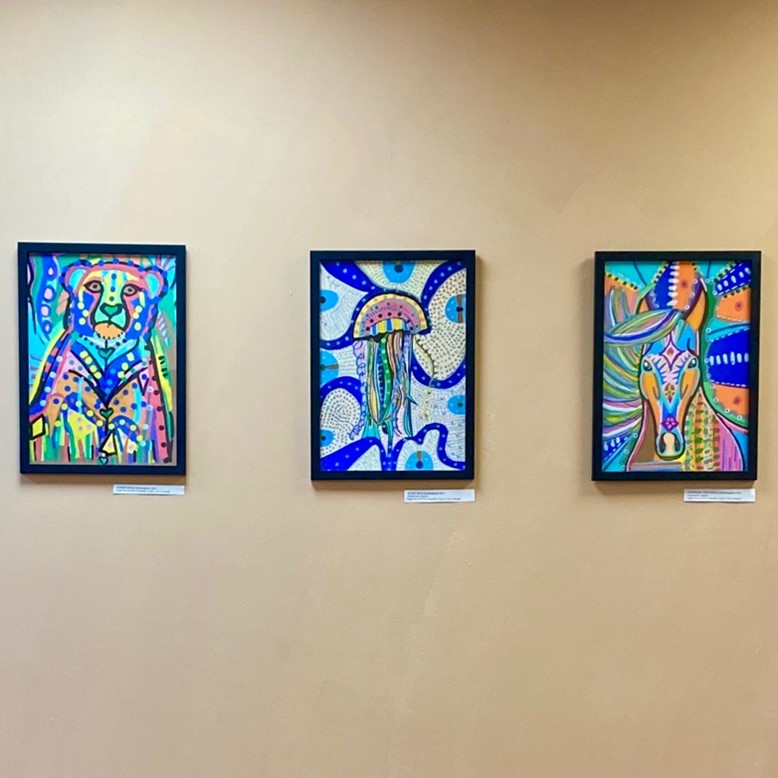 I THINK PEOPLE FORGET THAT NATURE HAS OBVIOUSLY BEEN HERE MUCH LONGER THAN ANY OF US HAVE BEEN HERE SO WE DEFINITELY NEED TO REMEMBER THAT
Exactly. Long-term thinking. There are some Rewilding and Permaculture movements at the moment that are breathing fresh air into how we look at conservation and how we look at nature. If humans step back, Mother Nature will do what she needs to heal, and we can learn a lot from that. I believe this also relates to our communal health and the rewilding of the self, of our lives. If we can trust ourselves to step back to observe, learn, grow and nurture, it can be incredibly empowering for us too. As with everything though, there needs to be balance. Growing food also needs to be thought about and talked about. I think a mixture of Regenerative Agriculture and Rewilding could be the key. Schumacher College isn't far from where I live, they're doing excellent work in this field.

I THINK WE HAVE COME TO RELY ON THE MODERN WORLD AND ITS REMEDIES MORE RATHER THAN GOING BEING IMMERSED IN NATURE
Yes, very true. That's not our fault, that we were born into certain systems and ways of life that are so detached from natural ways of being. But it is our responsibility, now that we're aware, to improve these ways of life for future generations of people, animals and plants. We need a new framework to look at nature with, a new (and ancient) perspective. Seeing nature as teacher and we humans as student. The natural world as our classroom. I've found the Native American Medicine Wheel is a really powerful framework to look at life with, the writings of Sun Bear are a good place to start. These teachings surpass the intellectual and are profound, bringing clarity and purpose to the confusion of modern life.

Holistic approaches are important when looking at the wild and what animals do in terms of rewilding influences my work. For example, beavers have recently been reintroduced into parts of Devon and the structures and dams they create from natural materials last a few days and then vanish back to into the river and land. Then the beavers build them again, as and when they need to. They improve the ecosystems they live in. I think there is lots that humans can learn from specific animals when looking at becoming a more sustainable and honourable species.
As I paint I often think about sustainability and eco-solutions. It's not just the animal energy I'm bringing, it's also the ecology behind it. Instead of looking at the separate elements of natural habitats, conservation scientists are now looking at 'eco-spaces' which take in to account the future of the interactions between the animals and the land. I love the idea of seeing everything connected and how we can support the ecosystem to thrive. Connection becomes a tool for conservation. It's quite simple (but not easy): if we were truly connected to nature, as our family, we wouldn't allow her to be pillaged or destroyed. Cultivating and nurturing this connection is paramount.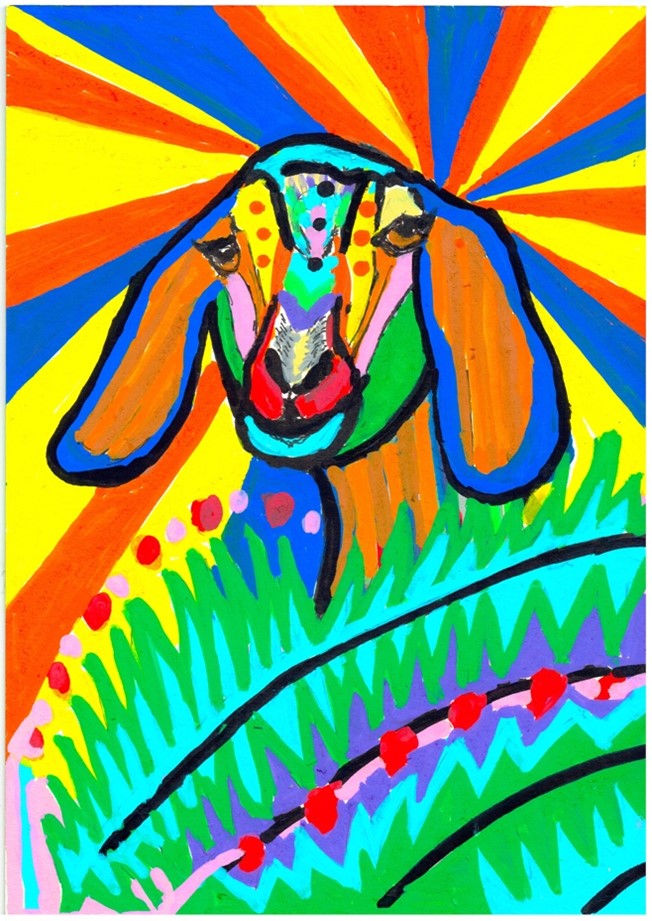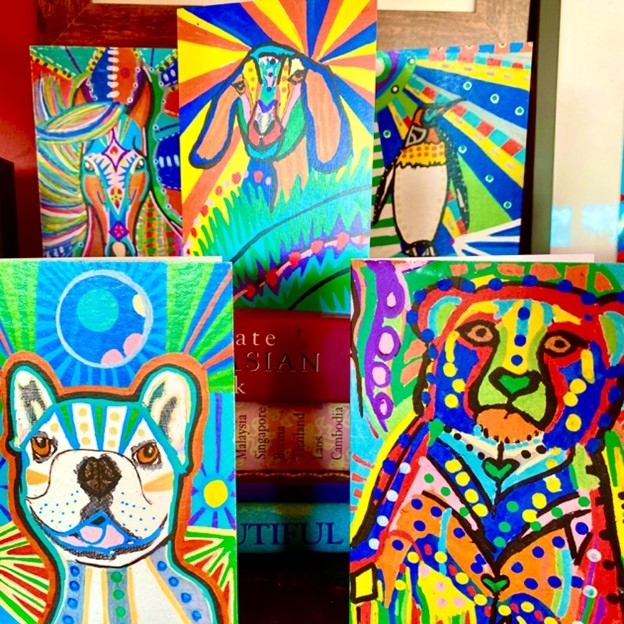 I AGREE WE ARE ALL CONNECTED - IT'S BEEN GREAT HEARING YOUR STORY AND TO LEARN FROM YOU ON YOUR JOURNEY
Thank you. I've had to shed a lot to reach the place I'm in now. Feeling disconnected for so many years in the past has allowed me to feel more deeply connected now. I was disconnected from myself and from mother nature, so the more I work on the connection now, the more information comes through, and the more I want to understand, to see through new eyes. I've still got so much to learn. But better to be an imperfect student than not to learn at all. I recently met the Native American artist Jason Wesaw from the Potawatomi Nation at his beautiful show opening at Rainmaker Gallery in Bristol. I loved when he said: "I'm not a big deal, I'm just doing simple things that I hope will ripple out."

CHANGE OF SUBJECT SLIGHTLY. COLOUR. YOUR WORK IS VERY VIBRANT AND VERY BRIGHT, HOW DO YOU GO ABOUT CHOOSING THE RIGHT COLOUR.
Colour comes very intuitively to me, perhaps partly because my parents had very bright colours and paintings in my childhood home. Now I find that I can choose the colour to match the painting without thinking too much. Perhaps the subject matter chooses the colour in the end? Photography and Digital are so good now at capturing the real colours of nature - I like to capture something different, more of the energy field of the animal, rather than their natural colours.
Some of my paintings have been influenced by certain natural events. For instance, I painted TURTLE VISION while reading about the huge ice storm in Texas in 2021. Many turtles had were cold-stunned, they to be warmed up by people in an old NASA station. The people saved hundreds of them, even though many of the volunteers had lost their homes in the storm the same day. It's a beautiful story of humans giving to nature. That's why the turtle in my painting is surrounded by yellow and orange, to bring fire and warmth to the turtles.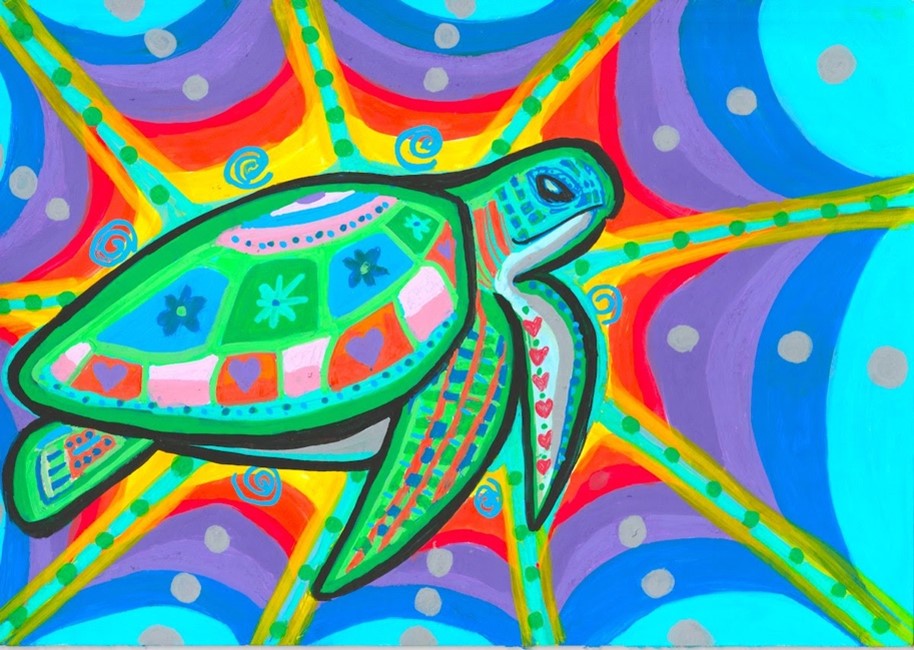 SOUNDS LIKE A FLUID PROCESS FOR THE WHOLE DRAWINGS, ARE THERE ANY ROUGH SKETCHES, WHAT IS YOUR PROCESS?
Yes, my process is fluid. Sometimes when I think of the animal I'm working on, the animals themselves guide me to the colours. This might sound quite odd in our culture, but this makes clear sense in many other cultures. Other times I can get into a Flow State, a fully connected state, where I automatically pick the colour, without 'thinking'.
For the painting of an eagle that I'm working on at the moment, it could take weeks before I actually start to paint it. I will let it wait, for want of a better word, marinade in my head – choosing colours, composition. I will meditate on the eagle. I will daydream about the eagle. Then I do a lot of research online, look at many photos, read a lot of articles and create a composite of what I want to achieve. I don't look at other people's paintings of the animal, or else I might subconsciously paint what they're painting. Originality is important to me. Originality is authenticity, isn't it? Honouring the animal is also very important to my process. I don't often do rough sketches. Once the animal and composition is clear in my minds eye, and when the moment is right, I will start with a line drawing in ink, with the eyes, before painting the colours.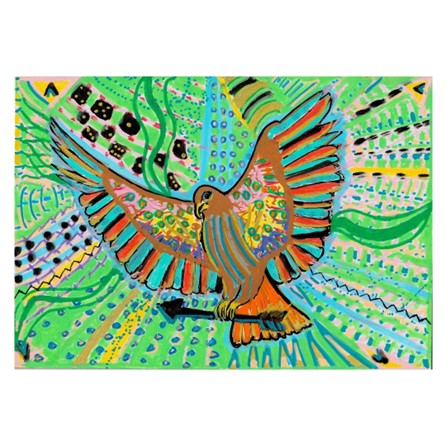 FANTASTIC. WHAT OHER PROJECTS ARE YOU WORKING ON AT THE MOMENT?
My focus is having my sustainable greeting cards available in more places, building little animal bridges to connect people with animals, nature and each other. I'm also creating an exciting new range, based on my rainbow animals, in collaboration with Sheffield artist Henry Roberts, it's called KALEIDORAMA. From November I'm going to have some of my work on show at Words and Pictures Gallery in Teignmouth. And I've been invited to an artist residency in Holland in 2023 - to honour the animals there and have a show. Lastly, I will be continuing my work with Eco-Network as a goodwill ambassador. Eco-Network is a global non-profit and youth-led organisation that works for sustainability through education across 23 countries.
Interview with Rosa Weber – Artist & Founder of RiverSongHeart

IG @riversongheart
FB @riversongheartuk