 NEW MANCHESTER STATIONERY SHOW KICKS OFF IN STYLE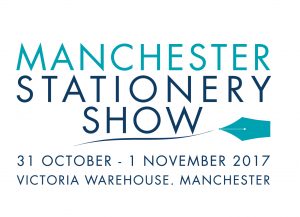 The new stationery trade show, which ran last week in Old Trafford, Manchester, kicked off in style as exhibitors and visitors alike were introduced to a new venue, which was variously described as 'intimate', 'quirky', 'edgy' and 'boutique'.
Show organisers Ocean Media Group, who also run the London Stationery Show, were delighted that everyone involved embraced the industrial style of the Victoria Warehouse, with its concrete floors, huge red brick walls and exposed beams and pipes.
With 40 exhibitors representing 70 leading stationery brands, the new show attracted buyers from as far afield as Penny Black Glasgow, Klondyke Garden Centre, Falkirk, Pencil Me In from Elgin and Scottish Trade Stationers from Alloa, to local leading craft retailer Fred Aldous and The Co-operative Group.
[gallery ids="3162,3161" type="rectangular"]
Other regionally based visitors included Marple Stationery Supplies, Utility Retail, Austin & Co, Ryman, OPen Office Solutions, Castlegate Stationery, Art & Toys, B&M Retail, Celebrations of Stourbridge, Budget Greeting Cards, Hunkydory Crafts, Poundland, The Crow Emporium, The Little Stationery Shop and Write Here.  
In addition, buyers from TJX Europe, Accessorize, Paperchase, notonthehighstreet and Sainsbury's visited the show.
The show's seminars and Creative Stationery workshops were well attended, and exhibitors confirmed that they had picked up good leads.
ExaClair, the UK supplier of Rhodia, J Herbin, G Lalo, Brause, Exacompta and Clairefontaine, declared the show 'a roaring success', saying it had delivered higher than expected visitor numbers for them, and positive interest in its premium notebook and calligraphy brands.
[gallery ids="3159,3158" type="rectangular"]
Clement Rouillard, marketing manager at ExaClair, said, "The venue choice was good in terms of space, layout and feel, meaning we were able to showcase our products to great effect. It was well attended by key customers in the boutique stationery market and so a positive experience for us."
On the visitor front, the show's twitter feed was busy with comments including, from Toad Diaries, 'Interesting day at the Manchester Stationery Show. Phil Pond's seminars never fail to amaze us – great talk and inspiration!' and 'Great visit to the Manchester Stationery Show. Can't wait to add calligraphy products to our Xmas range coming soon.' from Sarah Sibley, founder of online business Got2Jot about exhibitor Manuscript Pens.
"The stationery industry is a creative and fashion-led sector.  We want to tap into this creativity and stage events that inspire and inform," says the show's marketing director Vanessa Fortnam.
"We are already planning how to encourage more suppliers to take advantage of this new industry event to network with customers and new contacts in 2018.
"We will also address the issue of visitor parking for next year. Many visitors were frustrated and delayed on the first day of the show as the show clashed with a Manchester Utd Championship League home game.  We hope our decision to pull the show forward to the beginning of October next year will help with this."