 PULSE 2017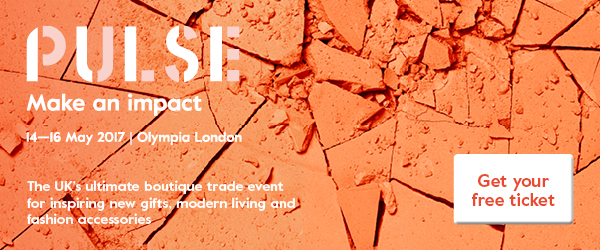 Pulse is a beautiful curated, boutique trade event for inspiring new gifts, modern living and fashion accessories taking place 14-16 May at Olympia London.
It is designed for busy buyers who are searching for the next must-have product or the freshest design talent.
Held at a less hectic time of the year Pulse has a strong emphasis on emerging designer-makers, unseen international brands and new launches across all product sectors, allowing you to source extraordinary products in one easy, buying location.
2017 will see the launch of Makers, the first trade event dedicated to emerging creative talent and Brands, a must-attend edit of exciting new launches from 30 of the industry's leading brands.
Pulse is all about making an impact so there's no doubt you will find great products that will do really well in your stores.

What's happening at Pulse 2017?
New products from your favourite brands
Featuring 30 of the industry's leading brands, presented like you've never seen before, our new sector 'Brands', is a must-attend edit of exciting new launches from your favourite brands, in one ultimate buying location. It will feature brand new launches from Bombay Duck, Bronte by Moon, Canova Gifts, Cubic, Gentleman's Hardware, Helen Moore, Ian Snow, Men's Society, Newgate, Nkuku, Notable Designs, Present Time, Sass & Belle, S-C Brands, Tatty Devine, U Studio and more…
Makers
New for 2017 is the launch of Makers, the UK's first retail event dedicated to emerging creative talent. Taking place at Pulse 2017, Makers unites a fresh new wave of 150 up-and-coming designer-makers and takes place for the first time at the 2017 edition of Pulse. Some of the fabulous designers exhibiting in makers this year include Bhavin Taylor Design, Promises Promises, Jacqueline Colley, Bird Brain and James Barker, to name just a few
FOUND
Discover FOUND, an exciting sector at Pulse dedicated to bringing you 50 never-seen-before international brands. Whether you are looking to buy fashion, homeware or giftware, FOUND exhibitors represent the very best in unseen design from around the globe.
Undiscovered brands in the FOUND section at Pulse include French stationery brand All The Ways To Say, Spanish jewellery brand Nathnit, Japanese giftware brand Shibaful and Swedish home décor brand Lykalia K.
Shoptalk
Shoptalk 2017 brought to you by 5X15, curators of inspirational talks and workshops will deliver an insightful Shoptalk programme for you at Pulse 2017. With sessions such as 'Embracing the dawn of the social shopper', 'Running a business on a shoestring', and 'Getting the media on side', Shoptalk is created to help you get the most out of your business.
Keep an eye on the amazing line up here https://www.pulse-london.com/show-features/shoptalk#/
Trends
Brought to you by an official expert panel, including trend agency Unique Style Platform, design journalist Katie Law and trend forecaster and fashion designer Geraldine Wharry, Pulse Trends offers you exclusive and expert trend predictions for the seasons ahead in the form of blogs, trend forecasts and trend feature areas at the show.
Secret Emporium
Pulse have partnered with design talent scouts, Secret Emporium, to bring together the newest and most innovative fashion and accessory designers at Pulse in May.
Secret Emporium is an incubator for young designers, creating opportunities for them to sell, experiment and be exposed to buyers. Check out the newest and most innovative fashion accessories including independent East London fashion designers.
UAL Now
UAL Now, by University of Arts London offers the next big thing, undiscovered design talent that will give you the must have products of the future. UAL Now at Pulse will be revealing an unseen line-up of the industry's freshest emerging design talent handpicked for their innovative, cutting-edge and commercially ready brands. The most inspiring young designers bring you design like no other.
Custom Trail
Looking for original, one-of-a-kind gifts can take hours of your precious time. The Custom Trail at Pulse allows you to spot these brands with collections that can be customised exclusively to you.
Christmas Trail
The Pulse Christmas Trail gives you more choice than ever before so you can plan for a profitable festive period. All your buying needs are covered – you'll find decorations, gift wrap, cards, gifts, homeware, interiors, fashion and much more – seen first at Pulse!
New Product Trail
Pulse has made it easy for you to spot brand new, unique and cutting-edge products and collections with their New Product Trail.

The team at Pulse believe that mid-season is the time to invest in being different. Where better to do that than at a boutique trade event expertly devised for the retailer who really wants to offer that unique retail experience with so much to offer.