 REGISTER NOW FOR JANUARY'S TOP TRADE SHOW - SCOTLAND'S TRADE FAIR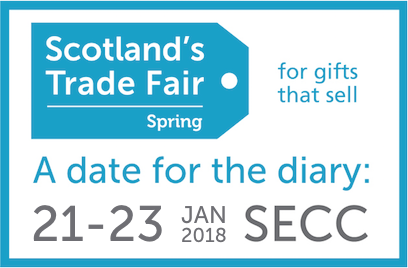 Its time to register now to attend Scotland's Trade Fair Spring, which is bursting with new innovation, fantastic products and exciting exhibitors. Taking place from 21-23rd Jan at SEC in Glasgow, this Show is the main buying platform for retailers in Scotland and the north of the UK.
Here's every reason why this Show must not be missed:
A third of all exhibitors are new to the Show such as Cape Mohair, Berber Bags, Ablekids, Cardology, House of Tweed, I Drew This, Noble Wilde knitwear, Steiff teddy bears, Oubas knitwear, Tif Tiffy and Neon Magpie.

A new layout gives greater prominence to the Launch and Craft Galleries, as well as Showcase Scotland and allows easier navigation around the Show for buyers.

Launching themselves in the Launch Gallery is a group of young, innovative companies chosen for the quality and originality of their products. These include Hey Ewe cards, Bangin' Beards, Nutdust, Iris Artisan Jewellery, ISLES Scotland maps, Sandra Vick gifts, Love Scottish Candles, Neon Gray, Slated and Truly Scotland.

Textiles and clothing are particularly strong this year with newbies Cadenza Italy wraps and jumpers, Noble Wilde New Zealand, as well as new ranges from companies such as Eribe knitwear, Black Yak, Glencroft, BAKKA, Outdoor knitwear and Lona Scott Cashmere.

The Craft Gallery, with its new more prominent location has a spectacular line-up of craft exhibitors such as Olive Pearson Designs, Carla Edwards, Kathryn Williamson, Mixter Maxter and Beastie Assemblage.

This Show is traditionally the place where many companies unveil their new season ranges. Established exhibitors include Isle of Skye Candles, Siabann toiletries, Sea Gems, Brook Taverner, Bookspeed, Selbrae, Ashleigh & Burwood, Snow Paw, Belltrees Forge, Brook Taverner and Xystos. In total there will be about 500 exhibitors across Home, Gift, Fashion and Craft.

Independent research has shown that Scotland's Trade Fairs is one of the highest performing trade gift shows in the country with visitors particularly impressed by the high quality and range of products available.

The Orkney Aisles – a huge group of producers from the Orkney Isles including Sheila Fleet, Ortak, Quernstone knitwear, Aurora jewellery, Hilary Grant and Hume Sweet Hume will have a specially designated 'corner'.

Learn something new with a very comprehensive programme of talks, seminars and workshops. These include social media for business, getting good Trip Advisor reviews, how to become digitally-savvy, Brexit and Retail, motivating customers to buy through clever selling techniques and a practical look at using video to promote your business, as well as many more relevant topics.

Best Product Awards will be given to the best in Show, with judges Anna Taylor from Brodie Countryfare, Gemma McQue from NTS and Jenny Morrison from Top Drawer gifts..

Find fine food too – Scotland's Trade Show is run in conjunction with Scotland's Speciality Food Show where about 150 top fine food producers will be on display, allowing buyers a 'one-stop' buying platform.

Held at the SEC, in the centre of Glasgow, it is easy to access from motorway, train and airport with many large hotels close by.

One large hall houses both Shows in a clear block layout makes for a more enjoyable visitor experience.

As Scotland's only gift and accessory trade Show many exhibitors from Scotland and the north of England will only exhibit at this Show so it is a unique place to source some artisan products.

This is the first opportunity in the year for many buyers to see the new ranges and place orders before the big southern UK shows.
Wendy Ross from Ruby Red and Driftwood in Glasgow said: "I come to this Show to find my little gems that are perfect for my shops. I'm now not going to any other Shows as I find it all here."
With so many good reasons to attend make sure you register now for free entry –