 The Crown Jewels on display as the King is Just Around the Corner
The Crown Jewels on display as the King is Just Around the Corner

Brick Lane was a flurry of activity as Juls Dawson's trade event, Just Around the Corner opened its doors on Wednesday for it's London edition of AW23 as it coincided with a visit to the Brick Lane area from King Charles.
Attendance numbers broke previous records set by the event hitting nearly 1200 buyers by the close of the final day on Thursday.
Visitors included a range of keys accounts spanning New Look, Morleys, Anthropologie, Very, QVC, Frasers Group, JLP, Next, Sainsburys, Space NK, Slaters, Fenwick, Hoopers, Debenhams, Urban Outfitters and ASOS.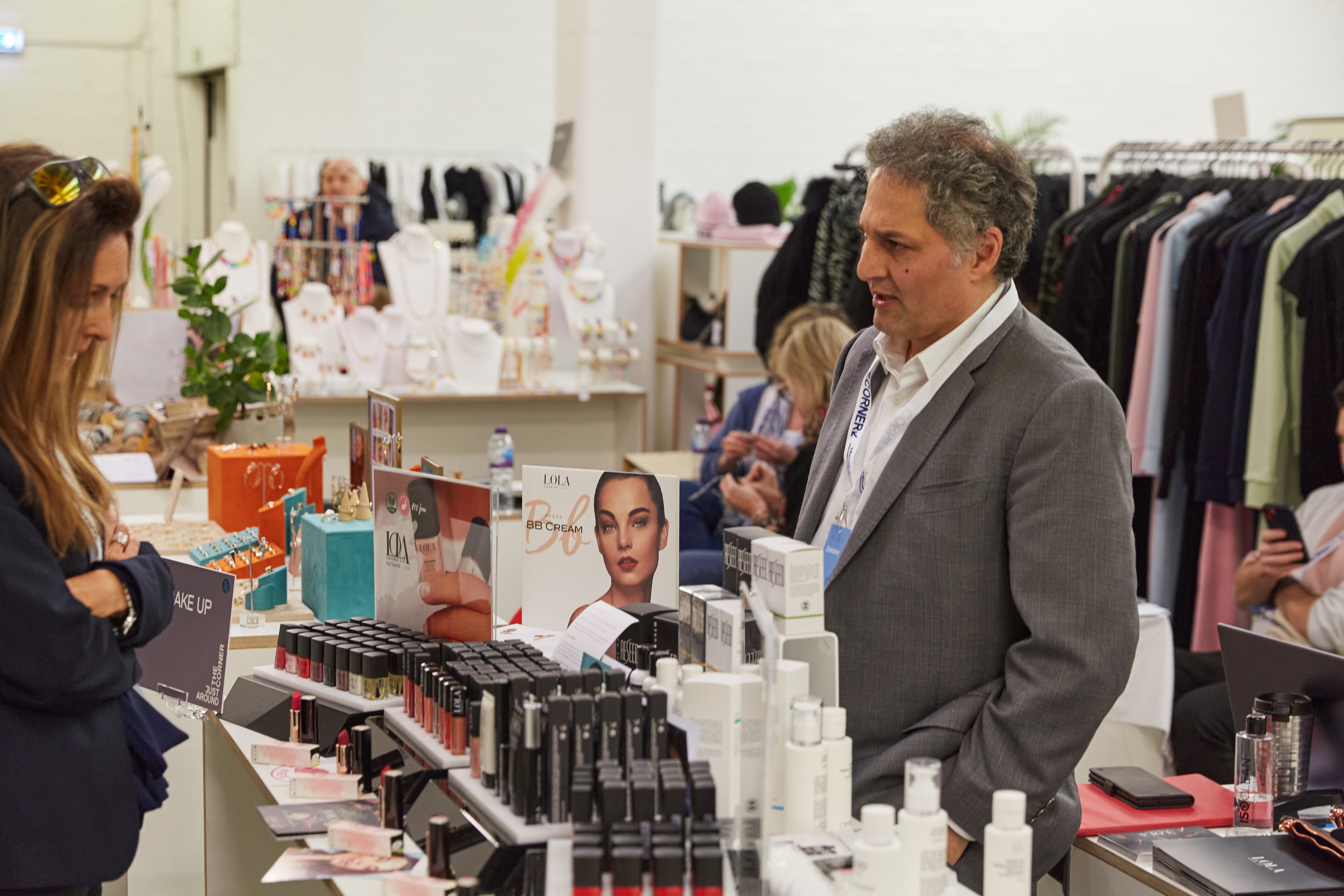 A plethora of indies from afar afield as Orkneys and Japan included The Dulwich Trader (Dulwich), Fox and Feather (Bristol), Choice (Multiple), De Gruchy (Jersey), Denny of Southwold, Doodie Stark (Horsham), Kit Lifestyle (Broadstairs), Burrows and Hare (Oxford), D Solos (Crystal Palace), Stuarts (Shepherds Bush), Mainline Menswear (online), Energy (Stamford), G23/Porters (Harrogate), Fifty 5a (Totnes), Museum of London, Jarrolds (Norwich), Javelin (Bury St Edmonds), Cockney Rebel (Worksop), Shmooz, (Orkney), HS2 (Guernsey), MA Grigg, (St Austell) and Itochu (Japan).
The event spanned the entire 1st floor of the Truman Brewery, tripling its previous footprint on as exhibitor numbers increased to X140 and each stand was provided with 50% more floorspace giving the show an airy yet considered feel.
Praise was made for the logical layout of several zones through interconnecting rooms around the perimeter of the building, encircling a central hall where the lounge area and complimentary food/coffees were provided.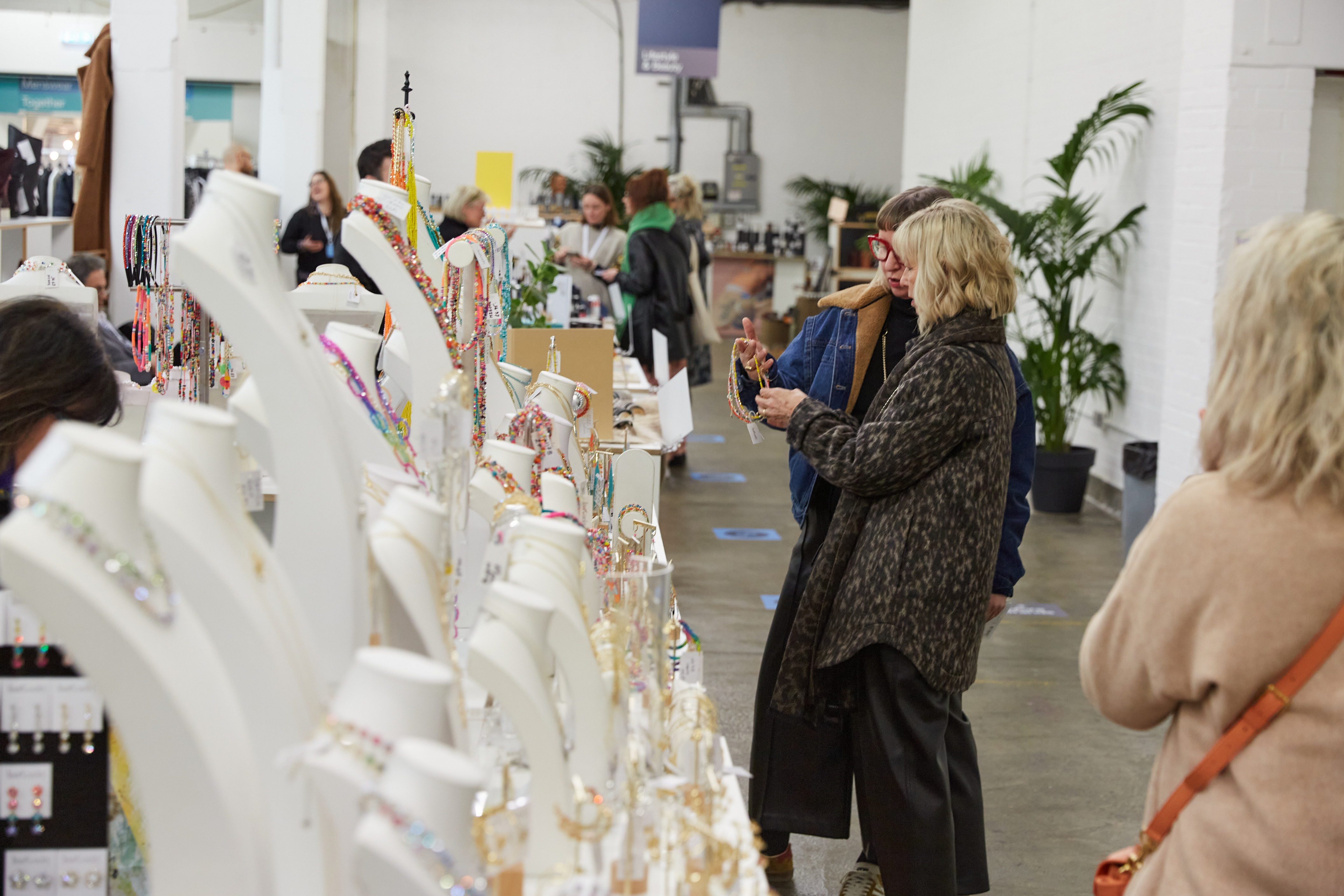 Juls Dawson, founder of the event explained "Our new Lifestyle and Beauty zone debuted at the show with brands showcasing jewellery, skincare, men's grooming, gifting, home fragrance and was an area which created a lot of attention and one which we definitely see growth on in upcoming seasons as we have had the specialist buyers here over the two days for these categories, but of course there is also so much relevance to our existing fashion buyers' remits as retail environments now cross over from fashion into these product groups and vice versa.
Several of our brands also had the support of the Danish Embassy, Spanish Footwear Federation and French Consulate and were grouped together in the respective "pavilions" and really created a focus for brands from our European neighbours.
We also launched our "Together zone", which housed brands that were genderless or dual gender, reflecting the change in consumer buying patterns.
The mood of the show, from exhibitors and buyers alike was upbeat overall, despite several that I spoke to reporting a tough January trade wise. There was also currently an underlying feeling towards buyers playing it safe and looking for sharper price points given the cost of living crisis, and with our brand mix, we are a show perfectly positioned to satisfy this this trend"
"It was my first visit to a trade show since Covid and it was great to see a buzz again at the show. People wanting to see new brands and product even though it has been a tough couple of years. I think I have over looked the practicability of virtual appointments compared to actually looking at the product you forget how important that is even if like us being an online retailer" Dan Ringer, Stand Out, MD
"Today started off well with a flurry of customers on the Guess stand immediately when the doors opened. It's been great to see familiar faces, as well as several retailers who are new to JATC.
We've found the partnership between JATC and the Danish Embassy has proven to be a fantastic opportunity to promote Nu Denmark for us with orders being written throughout the day. This is also the first time we have presented Karl Lagerfeld Jeans at a show, and we've been happy to see buyers responding well to the launch of this diffusion line from the brand."
Charlotte Woods, Love Brands, Head of Womenswear and Marketing
"JATC is fast becoming the only trade show we need to attend. It improves every season and loving the complimentary refreshments in the chill out area."
Tim & Soly, Ju-Ju (Brighton)
"Great to see a show expanding and lively and with a good emphasis on sustainable brands, you also felt looked after which some shows forget about." Debra McCann, Mercantile, (Shoreditch)
"Dropped into JATC at the Truman Brewery today while buying around the area and so glad we did. Lots of great brands on both womenswear and menswear, some good accessories and a lively vibe around the place. Add tasty food, coffee and cocktails free of charge and you can only leave feeling well and truly satisfied!"
Bob Kennedy, Owner, G23/Porters (Harrogate).
"What an enjoyable show for us. Perfectly executed and we got to show product to buyers from retailers that were on our target list. The team at JATC kept us well informed introduced us to some key accounts we never knew we needed." Lewis Davis, Candlemeleon
"It's great to have a trade show on your doorstep that you can visit in an afternoon, especially one that has a good offering of young fashion brands."
Jon Doran, Senior Buyer, ASOS
"JATC was a very positive show. In particular Wednesday was superb with new and existing customers visiting to enable us to have a very productive day. New customers are key at a show, and JATC delivered on that" Ward Mann, Blend and Casual Friday
"Popped into JATC today and was impressed with the brands there and nice to have a decent show back in London too", Ravi Grewal, Stuarts (Shepherds Bush)
"What a great show! Our best one yet! The response on all three brands (DKNY, LEE, WRANGLER) was phenomenal. It's always been due the quality of retailers who attend, why we continue to exhibit each year, and it's safe to say that yet again we were not left disappointed - some great leads and busy days upon us!" Daniel Gray, Global Sales Director, Powerplay Brands