 THE GIFT OF THE YEAR WINNERS REVEALED...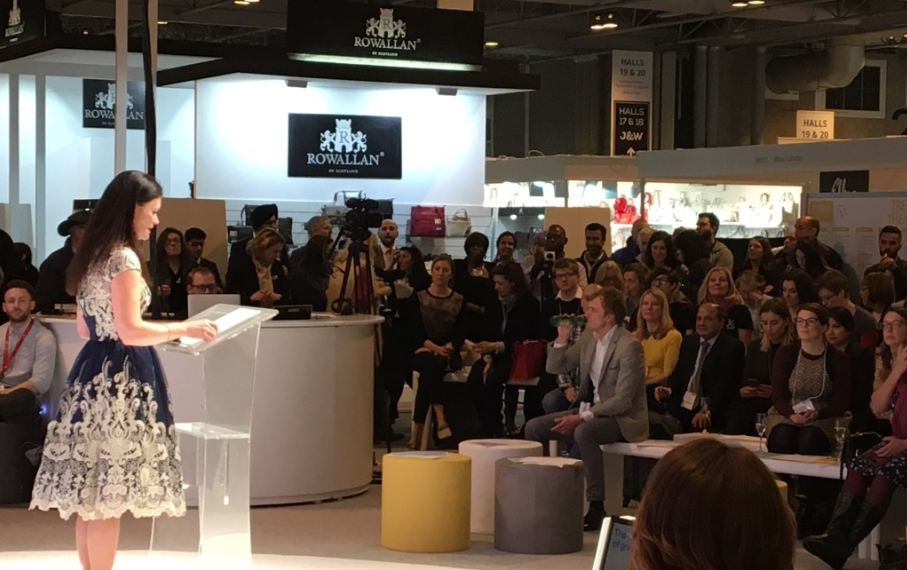 After many months of building excitement and anticipation through the various stages of the competition, The Giftware Association is excited to finally announce the winners of the highly acclaimed 'Gift of the Year' competition in an evening of celebration, on the first day of Spring Fair 2017. The presentation, expertly compered by The Giftware Association's Luke Palmer, was held on the fashion catwalk and revealed the winners in true giftware style.
Sarah Ward, Chief Executive of the GA opened up the awards ceremony with a speech reflecting back on the history of giving of gifts and the creative and innovative minds that have made this competition grow and grow, 1098 entries in 2017 compared to 2016 already impressive 759.
The various Assortment of judges were highly praise, who have helped The GA compile the lucky winners from online voting through to the exciting live judging day held in Birmingham's Illustrious Jewellery Quarter, complete with beer for dogs and 6ft Unicorns!
Sarah Ward states "We're here tonight to celebrate and recognize the achievements of men and women whose creativity and foresight are responsible for the amazing array of products that have been competing for prizes in this years competition" focusing on the sheer number of entries this year, she continues " The 2017 awards ceremony is a fitting climax to a competition that has not only attracted a record number of entries but also designers and suppliers setting the bar at a new high for creativity and innovation.
So the news that you have been waiting for, who were the kings of kings in the 2017 Gift Of The Year competition.
 Winners and Sponsors
Body, Bath & Spa – Sponsored by Bubblegum Stuff
Oh K! 12 Days of Beauty
Branded & Character – Sponsored by Gateley PLC
Personalised Ladybird Books for Grown-ups – Signature Gifts
Cards, Wraps & Stationery – Sponsored by London Stationery Show
Music Box Cards – My Design Company
Commemorative & Collectable – Sponsored by Giftscribes
British Colour Standard Mugs – Designed In Colour
Craft & Handmade – Sponsored by Sarah Hurley
Felt Rocking Horse Kit – Corinne Lapierre
Eco – Friendly – Sponsored by Fresh Thinking
Seedball – Project Maya
 Fair Trade – Sponsored by NEC
 Fair Trade Tutu – Believe you can
 Fashion Jewellery & Accessories – Sponsored by Progressive Gifts and Home
 Flower Rings – Shrieking Violet
 Fine Jewellery – Sponsored byAnchorcert
Petit Paragon – Anakao
Food & Drink – Sponsored by Farm Shop & Deli Show
The Homemade Salmon Curing Kit…Salmon – Ross & Ross Food
Garden & Outdoor Living – Sponsored by British Allied Trade Federation
Volkswagon BBQ Hamper – Fizz Creations
Home Accessories – Sponsored by LSA
10 Things I Love About You - Personalised lightbox– Giggle Beaver
Home Fragrance – Sponsored by John Lewis
Candlemaking Kit – Northumbrian Candleworks
Hot Novelty – Sponsored by I Love My Job
Personalised Ladybird Books For Grown-Ups – Signature Gifts
Kids & Teens – Sponsored by Ravensden
Dinner Winner Kids' Dinner Tray – KitchenCraft
Kitchen & Dining – Sponsored by BHETA
The Lobster Apron – Lobster Homeware
Made In The UK – Sponsored by Henri Davis
The Lobster Apron – Lobster Homeware
Nursery – Sponsored by The Baby Show
Rufus Rabbit Bunny Bonnets – The Little Dog
Occasions – Sponsored by GiftFocus Magazine
Build a Block guest book alternative – Ginger Ray
Pet – Sponsored by Crufts
Animal Adventures – Paladone Products
Seasonal – Sponsored by Premier Decorations
12 Days of Christmas Calendar – MAD Beauty
Under £10 – Sponsored by Kikkerland
LED Bottle Light Kit – Transomnia
Judges Choice – Sponsored by TH March
10 Things I Love About You – personalised Lightbox – Gigglebeaver
If you are attending Spring Fair from February 5th to 9th, You can view all the finalists in the flesh in the walkways between halls 8 and 9, look out for the giant unicorn. And you can pick up a brochure which will feature the products in more detail.
For more info please contact chris.workman@ga-uk.org