 THE GREAT BRITISH PAPER AND CREATIVITY SHOWCASE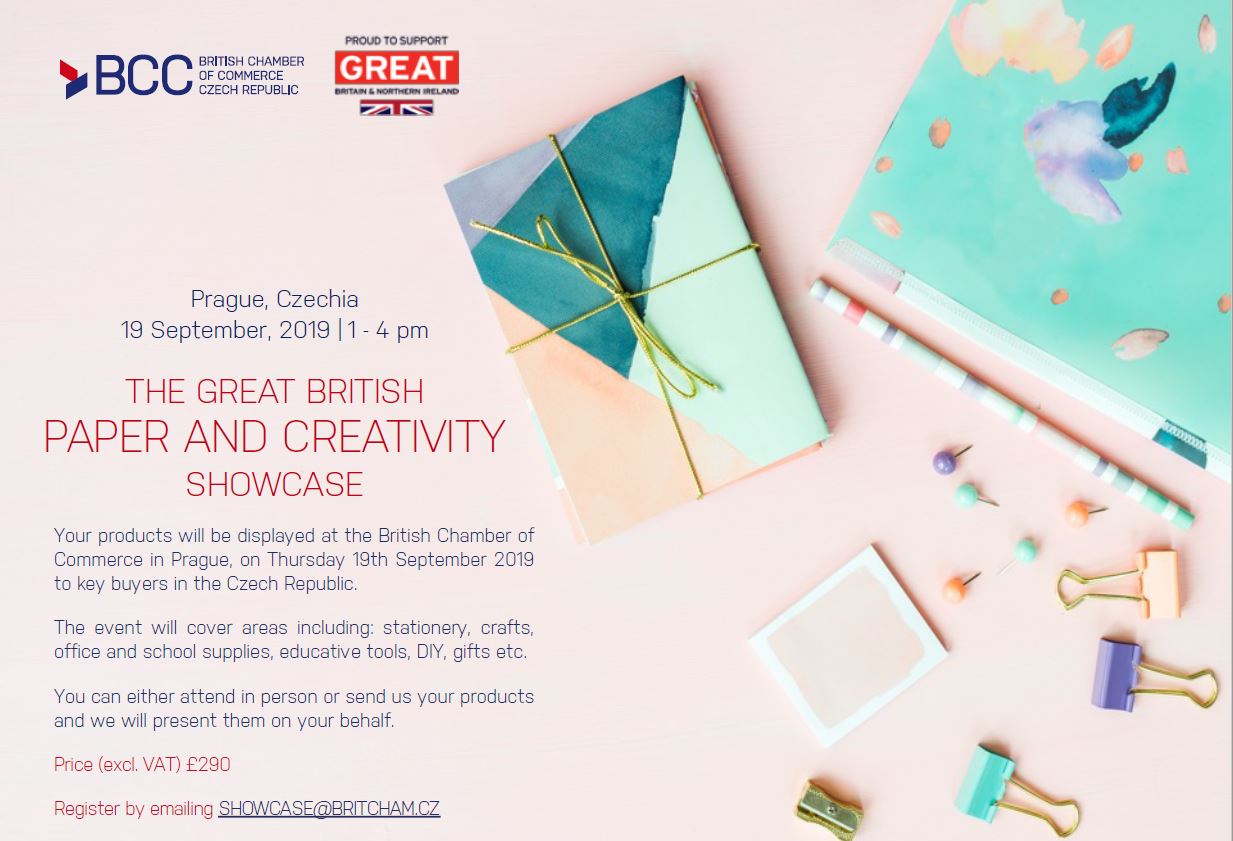 The British Chamber of Commerce Czech Republic is pleased to invite UK companies to showcase the latest trends in Paper and Creativity products. Your products will be displayed at the British Chamber of Commerce in Prague to key buyers, retailers, distributors and other relevant professionals in the Czech Republic.
UK companies can either visit the showcase in person or opt for a sample exhibition represented by the British Chamber of Commerce. You can find out more here

INSTRUCTIONS FOR EXHIBITORS
Event Timing: The showcase will take place on Thursday, September 19th, 2019 at the British Chamber of Commerce in Prague from 1:00 pm to 4:00 pm. Set up will be possible from 11:00 am and must be finished by 12:00 pm. You will have a standard table 1 - 1.5m long. Please indicate whether you have any particular storage or display requirements.

An informal group dinner (traditional Czech) for the exhibitors will take place on Wednesday, September 18th, 2019 at 7pm at Kolkovna Celnice.

The package for UK Companies consists of: half day table-top exhibition with pre-arranged meetings, company profile in the marketing materials for local companies, refreshments throughout the event and a group dinner the day before the event.

Admin Fee: The fee is £290 (excl. VAT) for companies present at the event and sending samples only. To register please provide us with your VAT number and invoicing address by the end of
June.

Samples: Attendees will expect to view your product. If you plan to send your samples to arrive before the event, please send these to:

British Chamber of Commerce, Florentinum,
Na Florenci 2116/15
110 00 Prague 1, Czech Republic

You can send the samples at your convenience but they should arrive no later than Friday, 13th September.

Accommodation: Upon request, we will be able to enquire the accommodation in a hotel in Prague with a special BCC rate. Express your interest by emailing showcase@britcham.cz