 THE LOVE LIGHT LIFE - WELL BEING CANDLE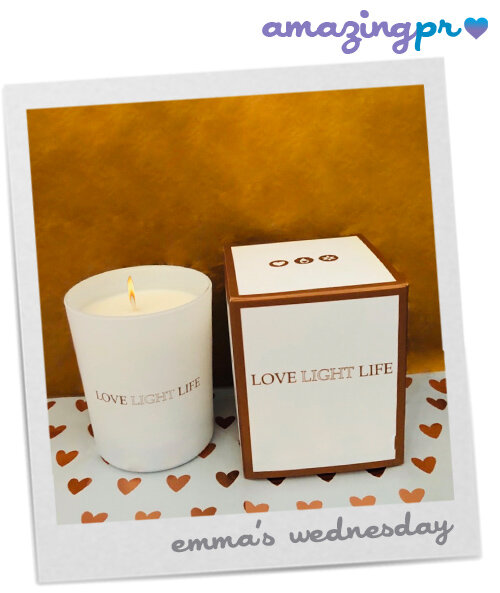 We're all mindful that Mother's Day will soon be upon us on 22 March, and it's time to put on our thinking caps and find the ideal gift to express our love and gratitude. Here at The Amazing Blog, we've certainly got one good idea for that perfect gift, meet The Love Light Life Wellbeing Candle. This candle has a delicious combination of lavender, ylang-ylang and geranium scents which your Mother is sure to love.
Founded in November 2018 by Nathalie Vanpoperinghe, Love Light Life Candles offer luxury natural candles for your wellness journey. Vanpoperinghe's background as a business consultant in spas and wellness put her in the prime position to spot a gap in the market. She noticed that most candles in the spas she visited were badly made and inconsistent with how they fragranced the rooms. Hence her mission began…
The Wellbeing Candle is the first candle to launch. It is designed and made in France with ingredients of essential oils, cotton wicks, soy and coconut wax. Unlike other candles, it does not contain paraffin wax and is free from synthetic fragrances and dyes. Something to note is that when synthetic candles are burned, they can release carcinogenic chemicals which can cause headaches and allergies. We were pleased to hear that The Love Light Life's Wellbeing Candle that was recently shortlisted for the 2020 Gift of the Year Awards in the Home Fragrance category.
The essential oils in this candle have unique properties that can combat everyday stress, anxiety, and fatigue. Lavender relieves stress, curbs headaches, and can improve short term memory. The ylang-ylang promotes relaxation, kills bacteria in the air and has been linked to alleviating depression, making this scent perfect for an afternoon pick me up. And the geranium improves circulation and concentration as blood flows faster to the brain. Love Light Life told us that they are also in the process of creating three new scented candles and we can't wait to try them. The Wellbeing Candle offers 50 hours of burn time and can be purchased for £32.00 here. So why not get your Mother a gift she'll truly love, and be sure to check out Love Light Life candles.