 TRADE SHOW NEWS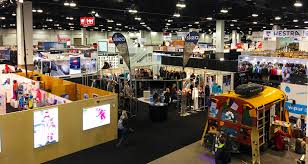 TRADE SHOWS
GIVING AND LIVING 2021
Giving & Living trade show aims to help businesses bounce back in '21
The UK tourism sector has been one of the sectors hardest hit by the Coronavirus crisis. So the leading specialist gift trade show in the South West is aiming to give the region's businesses a much-needed bounce back for 2021. The Giving & Living trade show takes place from Sunday 17th – Tuesday 19th January, at Westpoint, Exeter, and (as ever) showcases the very latest gift ideas and products for buyers to stock their shelves, get set up for the year ahead, and boost their profits
The organisers say the event has been carefully redesigned to take on board the "new normal" – including putting safety measures in place as well as running it over a shorter period to help reduce costs for exhibitors.
The show's new owners, Hale Events (who recently purchased this event from Hyve Group, having run it for them for many years), believe they have set the scene for 2021, by making this early season event more accessible to participants. The show also has a new look, with an updated identity and refreshed website.
"After the setbacks this year, we believe that 2021 will be a bumper year for 'staycations' in the UK," says Hale Events' MD Mike Anderson. "There's a real pent-up demand for holidays that won't be fully met in 2020 because of the ongoing restrictions. All the signs for 2021 are that the public will be taking record numbers of family holidays in the peak weeks as well as short breaks throughout the year."
"The South West is the UK's tourism hotspot – and so set to benefit the most. Everyone in the tourism sector will be looking for the new ideas that will pull in customers and get the tills ringing – and this show brings all those ideas together in one place. There really is no need to look further than Giving & Living."
So what will exhibitors find different about this year's Giving & Living? "We've spoken to exhibitors and asked them just how we can help them at a difficult time," says Mike, "and many of them have been looking to trim their costs as they strive to get back into profit. We've responded by reducing the show to three days as well as cutting exhibiting costs across the board. We have also extended the really popular 'Designed and Made in Britain' area, by allowing new businesses who qualify access to this trade show for just £525, for one year only, and also reducing rates for returning exhibitors. We know from our post-show research that many buyers value this area highly, as it allows them to meet producers that they might not see anywhere else, and cater for the ever-increasing customer trend for sourcing products that both support local businesses and also reflect the area they're visiting."
Concludes Mike: "We're aware that this year has been challenging for many businesses, and reducing the costs will allow more exhibitors to be at the show and meet the customers their businesses will need going forward. We're looking forward to welcoming a host of new exhibitors – as well as visitors keen to see what will be setting the trend in the year ahead. If you're looking to get next year off to a flying start, Giving & Living is the trade show that will inspire and provide the gifts that your customers want to take home with them - for friends, family, or as souvenirs of the holidays they're finally able to enjoy."
For more information about the show, to book a stand, or register to attend, please call 01934 733433, follow @giving_living, or visit givingliving.co.uk.
THE FESTIVAL OF LICENSING
First speakers are announced for the C-level thought leadership conference
· Culminating Festival of Licensing, Licensing Leadership Summit will take place October 28-29, 2020 · Licensing Leadership Summit will unite global brand leaders virtually on EST time zone · https://www.licensingleadershipsummit.com/
July 30, 2020: The Licensing Leadership Summit, which was set to take place this November in New York City, will now go virtual as part of Festival of Licensing. The Summit is the only virtual conference to unite C-level executives from the world's largest players across manufacturing, retail and brands to discuss, debate and collaborate on the future of brand licensing. The executive conference will take place Oct. 28-29. Festival of Licensing is a four-week, large-scale virtual gathering bringing together the licensing industry from all corners of the world to connect, learn, strike deals and do business on an international stage.
First speakers are locked in
Drawing from modern art and youth culture to tackle top brand licensing trends and topics such as TikTok, eSports and gaming, to evergreens like museum licensing, early Licensing Leadership Summit speakers will include:
• Robin Sayetta, Museum of Modern Art (MoMA) – Different by Design: MoMA's Modern Approach to Museum Licensing
• Lauren Winarski, Funko – I Want it Now!: Using the Fan to Expand Distribution
• Stone Newman, Pocket.watch, and Shion Kaji, Ryan's World – Influencers: Are they Delivering on their Brand Promise?
• Chris Petrovic, Zynga – How Games Ate the Licensing World
• Maca Rotter, Panaderia – Esports: The Hottest New Licensing Category
• Greg Goodfried, UTA – Session on TikTok
• Sid Kaufman, UTA, and Stevin John (Blippi), YouTube star – Digital Talent: The Future
• Max Luthy, Trendwatching – Finding Opportunity in the Overwhelm: Key Trends in Consumerism
• Connie Chang, C-Life Group, and Tonya Kirby, Retro Brands – What Do Licensees Want?
The Global Licensing Group at Informa Markets, the organization behind Licensing Leadership Summit and Festival of Licensing, is calling for additional speakers now and are asked to visit Call For Papers to submit for topics or speaking opportunities.
Amanda Cioletti, Event and Content Director, Global Licensing Group, Informa Markets, says: "As with everything, if you look in the right places, there is always a silver lining. Transitioning Licensing Leadership Summit online and bringing live broadcast content to our attendees means our event is now more accessible than ever to a truly global C-suite audience, which means more diversity of speakers,
more opportunities to connect and richer content on offer. We are excited for our speakers and content to reflect a world vision of the future of the brand licensing industry."
Anna Knight, Vice President, Global Licensing Group, Informa Markets, adds: "The Licensing Leadership Summit will bring together leaders and decision makers from around the world with the experience, expertise and influence to shape the future of the industry. They will analyze the huge, world-changing events of 2020 including, of course, the impact of COVID-19, and draw on key learnings from the previous three weeks of Festival of Licensing to drive strategic direction for this sector in 2021. It is an unmissable two-day event for all senior leaders working directly or indirectly with the licensing industry to play a critical role in ensuring this sector is fighting fit for a future beyond the pandemic."
Delegate information can be found at www.licensingleadershipsummit.com
AUTUMN FAIR
Hyve Group is proud to present Autumn Fair @HOME taking place virtually on 8th and 9th September 2020. As the coronavirus pandemic continues to affect the way we do business, this year Hyve Group's shows will be going virtual; Autumn Fair's physical edition will now be replaced by virtual forum, Autumn Fair @HOME.
Community is at the core of what makes Hyve Group's shows so special and whilst the events industry remains on lockdown, Autumn Fair @HOME has been designed to bring the industry together, even when we remain apart, providing a key hub for industry professionals in the UK and around the world.
Bringing together the key elements of what makes Autumn Fair one of the UK's most important retail trade shows, Autumn Fair @HOME will provide key industry insights, as well as a first-hand look at the latest products, trends and collections. The exclusive virtual forum has been designed in close communication with the show's brands and regular buyers to cater to the needs of the industry as a whole at what continues to be a turbulent and uncertain time.
An exclusive content programme will provide access to of-the-minute industry intel, trend insights, peer-to-peer panel sessions, and more. Among the line-up are trend experts Colour Hive and Trend Bible, Theo Paphitis, Kathy Sirl of The Naked Pantry, Samantha Gibbs of Nest, Sam Swainn of Dobbies, and many more. Key topics of discussion will include the UK Government's retail bounce back plans, the state of play for independent retailers, colour and trend intelligence, changes in consumer behaviour during and post-lockdown and the importance of local retail.
Autumn Fair @HOME will also host an impressive array of brands from across the home, living and gift sectors. Dedicated Virtual Showrooms will provide buyers with an easy and accessible way to discover new brands and see what their current partners have to offer. The Virtual Showrooms will provide carefully curated brand line-ups across the Autumn Fair website. Dynamic profiles will allow brands to put their best virtual foot forward and buyers will be able to take a virtual tour, via lookbooks, video content, rich editorial, brand imagery and more.
Another exciting development is the Product Showcase. Giving brands the opportunity to take buyers on showroom tours, or simply talk through their latest collection, the Product Showcase offers exhibitors the chance to submit a 5-minute video to be shown to buyers during a sector-specific time slot. Sector categories will include: The Beauty & Wellbeing Edit; The Gift Showcase; Greetings & Stationery; The JWF Edit; The Play & Tech Showcase; The Everyday Edit; The Summerhouse Collective; Design & Source Country Showcases; The Living Edit; and The Home, Living & Décor Showcase.
Autumn Fair @HOME is open to all buyers and takes place on 8th and 9th September 2020.   
The Spirit of Christmas
Spirit of Christmas Fair returns to Olympia, London to celebrate 20 years as Britain's leading and largest
Christmas shopping event from Monday 2nd to Sunday 8th November 2020. Created to meet visitors festive
shopping needs all in one place, the Fair is designed to enable attendees to shop with confidence in a safe,
Covid-19 compliant environment and enjoy the Fair.
Once again in 2020 the Spirit of Christmas Fair will offer festive inspiration and shopping as 800 independent
boutiques and artisan makers grace the halls of Olympia. From gifts and treats to entertaining ideas, the
expertly curated fashion, decorations, homeware, toys and food and drinks brands have all been handpicked for their quality and originality. Visitors will find gifts that are not available on the high street and sure
to impress.
New measures and precautions include temperature screening upon arrival, social distancing, hand
sanitisers and protective screens on box offices, which will become the new norm for events. Visitors are
encouraged to purchase tickets in advance, enabling Spirit of Christmas Fair to minimise queuing and
contact using enhanced technology scanners, as well as visitors making a saving on the ticket price.
Admission time slots will be allocated to provide a safer and more seamless experience.
At the show, visitors will find wider aisles, multiple entrances and specialist social distance marshals to
enable an enjoyable shopping experience with physical distancing. There will be an enhanced cleaning
regime, both during the show and overnight, as well as a dedicated steaming room to disinfect and clean
products. The ventilation system at Olympia, that draws in fresh air, will also ensure the air is not
recirculated. Food and drink sampling will be managed by food safety officers at the show, and payments will
be safer by going contactless.
Catherine Thake, Show Director of Spirit of Christmas Fair says: "2020 will be a year remembered by
historians and we all have our own story to tell about lockdown, but as we slowly and safely return to
normality many of us want to reclaim and enjoy the pleasures of living our lives. This Christmas will be more
important to families than ever before, with so many of us forced apart from our loved ones for such a long
period of time. As soon as Spirit of Christmas Fair opens its doors at Olympia, this signals the start of the
festive season, and this year promises to be a stylish and uplifting Christmas shopping experience in
celebration of our 20th anniversary. The Spirit of Christmas Fair is a favourite shopping destination for
consumers looking to get ahead early with their Christmas shopping, discover unique gifts and inspiration,
and at the same time enjoy a fantastic day out with a loved one or friend. We are huge supporters of small
businesses which means so many of the boutique brands we present are exclusively available at the Fair
and this year you will also get a warm feeling that you are helping independent, smaller businesses survive
the pandemic."
Ten NEW measures and precautions to expect at the Spirit of Christmas fair:
Covid-19 safe environment, all under one roof
Longer opening hours ensuring you still have plenty of time to shop
Advanced ticket purchase
Staggered admissions and time slot arrivals
Temperature checking on arrival
Social distancing measures and marshals monitoring visitor flow
Wider aisles
Face coverings and sanitation stations
Enhanced cleaning regime
Multiple entrances
Highlights of Spirit of Christmas Far will include:
• 800 independent boutiques to shop from
• Exclusive show offers from our unique collection of boutique brands
• An array of British, eco-friendly and sustainable brands
• Enjoy a refreshing glass of Champagne in the stylish Louis Roederer Champagne Bars
• The Food Hall, a delectable mix of leading artisans, independent producers, Royal Warrant holders
and Great Taste award-winners
• Late night shopping Thursday 5 November 9:30am - 9:00pm
• Enjoy complimentary access to Winter Arts & Antiques Fair
Tickets
All visitors should purchase and validate their ticket in advance to minimise queuing and contact on arrival.
Adult Weekday Tickets: £20.50
Adult Weekend Tickets: £22.50
Child Tickets (13-16): From £13.50
Child Tickets (12 and under): Free
Group Tickets: £20.00
Opening Times
Monday 2 November: 9:30am - 6:00pm
Tuesday 3 November: 9:30am - 6:00pm
Wednesday 4 November: 9:30am - 6:00pm
Thursday 5 November: 9:30am - 9:00pm
Friday 6 November: 9:30am - 6:00pm
Saturday 7 November: 9:30am - 7:00pm
Sunday 8 November: 10:00am - 5:00pm
For further information, high res imagery and interview opportunities with Christmas experts and
exhibitors, please contact fiona.jull@staturepr.com and yasmin.brougham@staturepr.com