 UNITED NATIONS AND THE SMURFS TO HEADLINE SUSTAINABILITY AGENDA AT BRAND & LICENSING INNOVATION SUMMIT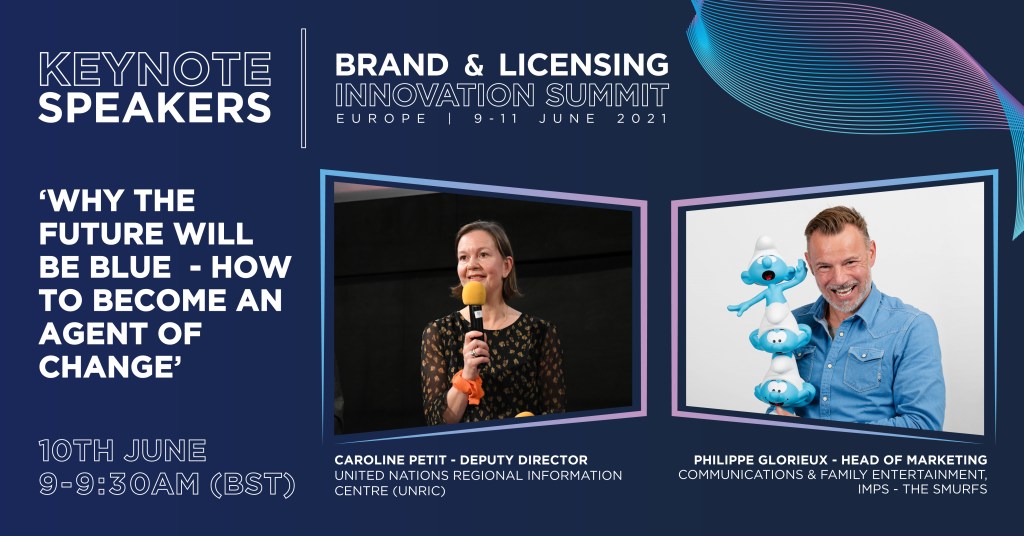 Senior executives from United Nations Regional Information Centre (UNRIC) and the Smurfs are uniting to present a joint keynote at Brand & Licensing Innovation Summit (B&LIS), which takes place online from 9-11 June 2021.
Called 'Why the Future will be Blue. How to Become an Agent of Change', B&LIS attendees will hear about the UN's 17 Sustainable Development Goals and the importance of collaborations – like the one with the Smurfs – to educate people all over the world about the importance of adopting sustainable values and habits for the sake of the planet.
The talk will also touch on the ActNow app, which is part of the UN's campaign for individual action on climate change and sustainability, and its SDG Media Compact initiative, which seeks to inspire media and entertainment companies around the world to leverage their resources and creative talent to advance the UN's Sustainable Development Goals.
The ambitious goals were launched in 2015 in 149 countries with the aim of eradicating extreme poverty, combating inequalities and injustice, and effectively tackling the problem of climate change by 2030, and the Smurfs are proud ambassadors for all 17 of them. The instantly recognisable and much-loved little blue characters have been encouraging us all to 'Think Blue' and promoting the UN's sustainability messaging through campaigns such as #EUBeachCleanup, 'Save Our Blue Planet' and the 'Smurfs Experience' educational package for primary school teachers and children.
Philippe Glorieux, Head of Marketing, Communications & Family Entertainment, IMPS - the Smurfs commented: "Why do we all have to change our previous bad habits? Because we must be an example for the future of the planet and of our children; they are the leaders of tomorrow. For this reason, and by virtue of their common values, the Smurfs and the United Nations are joining forces through the Sustainable Development Goals to change the way we consume with the sole goal to live better!"
Caroline Petit, Deputy Director, United Nations Regional Information Center (UNRIC), added: "The Sustainable Development Goals are a roadmap for a better world, but we must recognise that they can only be reached in unity, with each of us doing our part."
Caroline Petit and Philippe Glorieux will headline the CSR and sustainability agenda at 9am on 10 June, the second day of B&LIS alongside Products of Change Founder Helena Mansell-Stopher, BBC Studios Licensing Director Rikesh Desai and Natural History Museum Head of Licensing Maxine Grant among many others.
B&LIS has been designed specifically to help middle-management, business leaders and owners to navigate the changing retail, content and consumer landscape, with day one focusing on retail and trends, and day three on content and digital transformation. Early bird registration for the summit, allowing delegates to purchase three-day passes for just £175 (£158 for Licensing International members), ends on 16 April. Qualified retailers are invited to attend free of charge.
Confirmed speakers include:
Philippe Glorieux Head of Marketing, Communications & Family Entertainment, IMPS - the Smurfs
Caroline Petit, Deputy Director, UNRIC
Ruth Golightly, Head of Baby and Maternity, Asda
Rikesh Desai, Licensing Director, BBC Studios
John Friend, Head of Halo and Xbox Consumer Products, Microsoft
Stephanie Freeman, Global Licensing Manager - Outbound Licensing, The LEGO Group
Gabrielle Sims,Head of Licensing, FatFace
Dan Avener, Chief Executive Officer, MDR Brand Management
Lisa Hey, Head of Product Development, Character World
Karen Hewitt, Co-Founder, Character.com
Susan Bolsover, Licensing and Consumer Products Director, Penguin Random House
June Kirkwood, Managing Director, Nutmeg Licensing
Simon Gresswell, Managing Director, SGLP
Gary Pope, Co-Founder, Kids Industries
Graham Saltmarsh, Managing Director, Licensing International - UK
Ben Roberts, Content Editor, License Global
Claire McClelland, Client Executive - Entertainment, Kantar
Dorian Bloch, Senior Client Director, Market Intelligence, GfK
Helena Mansell-Stopher, Founder, Products of Change
Ian Shepherd, Founder and CEO, The Social Store
Emily Aldridge, Head of Global Licensing, Abysse Corp
Charlotte Delobelle,European Brand Ambassador, Fashion Snoops
Kate French, Senior Category Manager - Softlines (Footwear, Accessories, Home & Gifting), Hasbro
Steven Plackett, MD, Vista Stationery & Print (Carousel Calendars)
Dan Grant, Licensing Director, Danilo
Adriana Batty, Co-Founder, Lyfcycle
Leonora Aixas, Co-Founder, DNA Brands
Steve Cox, UK Sales Director, Keel Toys
Susan Stanley, Licensing Director, Brands In Limited
Mark Bezodis, Licensing Managing Director, Perry Ellis International
Scott Macrae, New Business and Partnerships Manager, George at Asda
Dan Amos, Head of Gaming and Esports, Difuzed
Marie-Laure Marchand, SVP Global Consumer Products and Business Development, Chefclub
Valérie Rolandez-Barrios, Vice President of IP Licensing & Partnerships, Studiocanal
Jade Snart, Senior Sustainability Manager, George at Asda
Alex Balzaretti, Senior Manager, Commonwealth Games Federation Partnership (CGFP)
Kate Gibson, Managing Director, Gibson Games
Gary Jacobson, Brand Licensing Manager, Tottenham Hotspur
Claire Bradbury, Global Account Director, PowerStation Studios
About Brand Licensing Europe
Launched in 1998, Brand Licensing Europe is the only pan-European annual event dedicated to licensing and brand extension. The London event features over 2,500 brands and more than 7,500 licensees, manufacturers, retailers, distributors, and licensing agents. Brand Licensing Europe is a part of the Global Licensing Group at Informa Markets, the licensing industry's leading tradeshow organiser and media partner. Its mission is to provide licensing opportunities around the world by bringing brands and products together.
About Global Licensing Group
The Global Licensing Group at Informa Markets is the licensing industry's leading tradeshow organizer and media partner. Its mission is to provide licensing opportunities around the world by bringing brands and products together. The following events and information products are produced for the licensing industry by the Global Licensing Group at Informa Markets: Licensing Expo, Brand Licensing Europe, Licensing Expo Japan, Licensing Expo Shanghai, Brand & Licensing Innovation Summit, License Global magazine, and License Global Daily E-News. Global Licensing Group events are sponsored by Licensing International.