 Winners announced for the Stationery Matters Awards 2022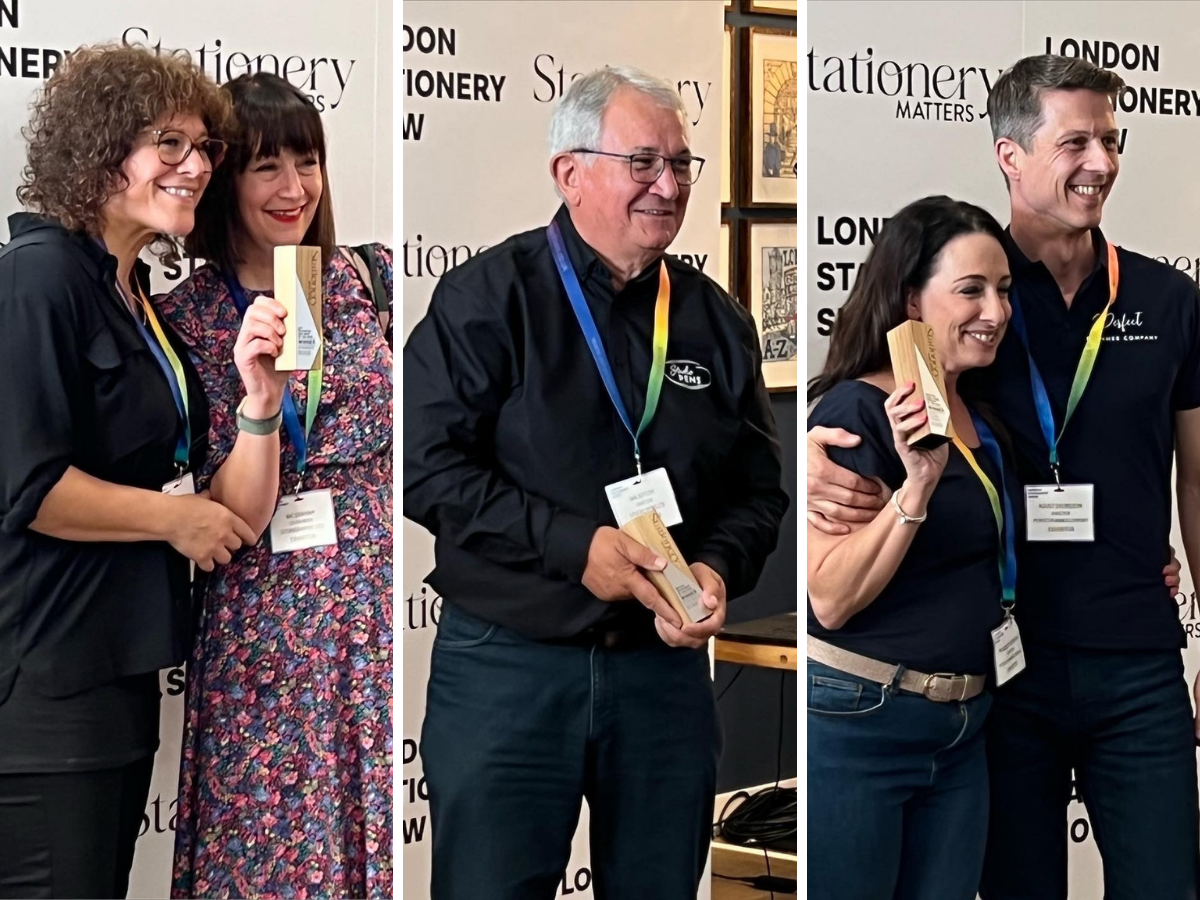 After a day of business and networking at London Stationery Show 2022, the industry came together on 17th May at the Business Design Centre to acknowledge and celebrate this year's Stationery Matters Awards winners.
The aim of these awards is to celebrate the latest and greatest products in the stationery industry and the organisers are delighted to say that the standard of this year's entries was truly outstanding. This year's judging panel was made up of individuals from companies that span the breadth of the stationery industry. This includes Ruth Burgess (B&M), Judy Bendall (Blenheim Palace), Tallie Patterson-Gordon (Coleman Group), Joe Guest (Cult Pens), Claire Marsom (Hallmark), Alanah Whittaker-Thompson (Morrisons), Kat Squire (Papier), Katherine Walsh (Southbank Centre), Anna Balan (The Courtauld), Chris Workman (The Giftware Association), Elizabeth Lovatt (V&A), Andrew Foster (WHSmith), Hannah Fisk (ZSL).
All shortlisted products could be viewed and enjoyed by visitors at London Stationery Show, as they were displayed for all to see at the Stationery Matters Hub.
Head of Marketing Ella O'Keefe remarked, "We felt it was important that all finalists were celebrated for their fantastic products and that is why we decided to create a dedicated space where visitors to London Stationery Show could appreciate such brilliant innovation within the industry."
The full list of winners can be found below:
Arts & Crafts Product of the Year
Frisk - Frisk Watercolour Hot Pressed/Smooth 300gsm Paper Pads (A6-A3)
Children's Stationery Product of the Year
Once Upon A Tuesday - Co-Parenting Family Planner for Kids 12 month
Diary/Organiser/Calendar of the Year
HELLO TIME - HELLO TIME Planner
Filing and Storage Product of the Year
CCGlobal - Spectrum Noir Universal Black Pen Trays
Gift Packaging and Wrap of the Year
Storigraphic - Op Art 3 Op Art Series
Licensed Stationery Product of the Year
Manuscript Brands - Lego Colour Pencil 12 Pcs with topper
Notebook/Journal of the Year
MD Paper - MD Paper Notebook Journal Codex 1 Day 1 Page
Novelty Stationery Product of the Year
Manuscript Brands - Lego 2.0 Convertible Ruler with Minifigure
Social Stationery Product of the Year
Sun-Star Stationery - PIRI IT' STICKY MEMO
Sustainable Stationery Product of the Year
Coffeenotes - Tailor's Collection Wirobound Notebook (Navy Wool)
Working from Home Product of the Year
Perfect Planner Company - Business & Lifestyle Planner - Entrepreneur Edition
Writing Instrument of the Year
Kaweco from Studio Pens Ltd. - Kaweco Collection Iridescent Pearl Fountain Pen
Alex Butler, Event Director of London Stationery Show, stated, "It was wonderful to see the industry come together to acknowledge and celebrate our finalists. All were so deserving of an award, and we thank them all for entering. The ceremony was a lovely way to end such a great first day at our 2022 event."
A big thanks goes to the judging panel, to those who entered and a huge congratulations to the winners.
For any further information please contact zara.meyers@oceanmedia.co.uk