 10 YEARS YOUNG FOR GIFTSCRIBES
[gallery ids="616,611" type="rectangular"]
10 years ago the world was a very different place: Facebook had only just launched to the public, President Obama had announced he would run for a second term, James Blunt was number one in the charts, and Giftscribes was not the company it is today. Growing from its humble beginnings, the husband and wife team of Howard and Linda have turned it into one of the largest wholesale distributors for personalised Christmas Tree decorations in the UK, and also being the sole distributor of the Rudolph and Me Inc. products. As of today they have over 250 designs to choose from and have also complemented their range with photograph frames, piggy banks and money boxes, all personalisable and collectable.
I recently caught up with Howard to talk about the decade-long journey to this point and how the giftware world has changed along the way. Howard, with a degree in Science earning a PhD in ceramics and Linda with a degree in hotel and catering, has come a long way and learnt a lot as they celebrate their 10th year in business. They met when Linda was managing a hall of residence at Leeds University and Howard was studying for his PhD. Later in his career, Howard was given the opportunity to swap the cold of the UK for the sunny climes of Florida, USA, where their journey into giftware began.
Howard states, "We moved to Florida with my work and, unexpectedly became friends with the owner of Rudolph and Me Inc., a company that had 28 years of experience of producing personalised Christmas goods. After hearing they were moving back to the UK, the owner asked if we wanted to be involved and maybe set up a UK operation, after much deliberation and thought we decided to go for it." And the rest, as they say, is history.
Moving back to the UK amid the financial crisis in 2007, starting a new business didn't seem an obvious choice, but this did not deter Howard and Linda, who managed to set up the business in three months, from ground zero and with no industry knowledge or history, to be ready in time for the festive season. So how did Howard and Linda start from scratch to where they are now? "The government at the time had a very useful business start-up package called Business Link, which was incredibly helpful when setting up, offering all the advice needed by a new company. This is now much harder to find though there are a few aspects of it to be found online. The Giftware Association were also a massive help, offering a more personal touch with helping the company into Spring Fair in 2008 with its 'New To Gift' area, which promoted companies new to the world of Gift; they helped us with our stands and generally promoted us at the event. I would recommend any new business or existing business for that matter, to get more involved with the Giftware Association as it's a very useful resource to be tapped into," Howard added.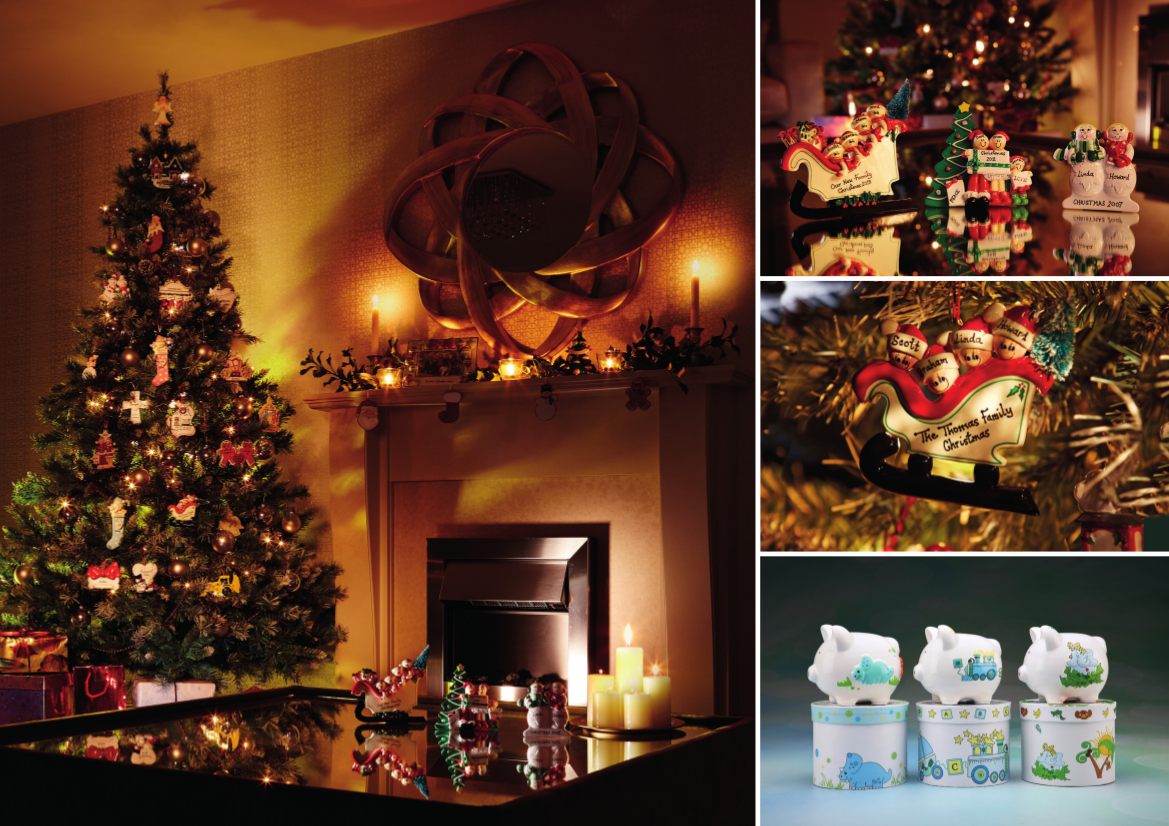 2007-2008 was the fledgeling year for Giftscribes. As well as building up a customer base and new leads at the largest trade show in the UK, Spring Fair, they also sold their product in a retail environment, utilising Retail Merchandising Units (RMUs) in shopping centres. This allowed Howard and Linda to build up knowledge of the industry and also gain personal experience of how to retail the product that they can now pass on to their customers.
In 2010, Giftscribes took the decision to go solely wholesale, allowing them to focus all their attention on their growing customer base and meaning that all their stock was dedicated to these customers. They have kept costs down by channelling most of their business through their website, which has been a major contributing factor to their success, with turnover growing tenfold through to 2016. Though Trade Shows are massively important, and from their initial debut in Spring Fair 2008, they have been every year since. "It's a great way to make new business and also to meet existing customers to make sure business is going okay. We tend to have a loyal customer base as out gifts are collectable and our customers always want to see what new products we have to add to the collection," Howard told us. This is the main conduit that Giftscibes uses with their customers, with most of their customer coming to see them at Trade Shows. They have also targeted Home and Gift at Harrogate and Autumn Fair as the shows that best suit their products and customers.
Howard is a firm believer in utilising technology in the best way he can to benefit their business, and this has also factored to their success. He told us, "The website is in its third incarnation, with the first website being a basic site compared to where we are now. Our latest website allows our customers to order on-line, which is very important these days, and now that our stock system and payment system is all integrated, we have no longer need to worry about stock reduction, and payments are made hassle free." This use of technology has also helped in the distribution of the goods, with them using a courier service has helped save them countless hours leaving more time to concentrate on the growth of their business. Another aspect of technology being key to success is the introduction of an order taking app. "We have used this app at trade shows for four years now and it is incredibly useful. We have been able to show customers our whole catalogue online, give immediate prices and process and take orders. It has been incredibly helpful and also customer focussed. Integrating this into our accounts package has also been of great benefit." This holistic approach to technology has benefited them well, with them cutting down on days of post-show order entry to be all done in a few hours. "I would recommend this technology to anyone who wants to monitor, manage and control order taking," Howard added.
[gallery ids="619,620,621" type="rectangular"]
So how have Giftscribes stayed in the game and managed year on year success? Speaking to Howard he always puts the customer first, in fact, his motto for business is 'customer service, customer service, customer service'. This hands-on and personable approach has helped maintain the great standard of customer service and actually dealing with a person rather than a machine, which so many Companies now opt for. Giftscribes customer base has continued to grow but it also sees the same customers coming back to them, as the Gifts they sell are seen as collectible, which is why they felt that their Company was a great fit to sponsor our Commemorative and Collectable category at the recent Gift of the Year awards at Spring Fair, with Howard presenting the awards to winners 'Designed In Colour'. It was a way of giving back to the giftware community as part of their 10th Anniversary.
So apart from embracing technology and Customer Service, what advice does Howard have for anyone wanting to set up in the giftware world?
"Control your costs and look after customers. These are very important and quite basic rules of business. Many companies are looking at the bigger picture and seem to forget about their customers along the way. Also to get involved in with associations such as the GA who have been a massive help to getting us up and running. The little things that you sometime don't think about, like how to dress a stand at a trade show or how to dress a shop window, they all count to getting extra business." Howard is now on the National Committee of The Giftware Association, so his views and ideas help change and shape the way we are run and ultimately to help other businesses like Giftscribes within the industry.
With Giftscribes Gifts Limited being the sole UK arm of an American company, are they worried at all about the perceived chaos of the Trump regime? "I think the key word there is 'perceived'. America will always look after itself first and they are large enough to weather any storms caused by President Trump. So I do not worry too much about our American colleagues. The key concern for us is the instability that all the rhetoric and war of words bring with it. Uncertainty will impact on the dollar exchange rate which will be a major issue for us over the coming years. Since we started we have seen the dollar exchange rate fall by over 37% which translates directly onto our cost line."
I went on to ask Howard what other issues do you see impacting on the giftware sector? "Obviously each sector will have its own issues and concerns. For me, and our products, one concerning trend is the increasing costs of product coming out of China. I get the feeling that the increasing affluence of Chinese society is filtering through to the factory workforce. This is inevitably resulting in increased cost, but also raises quality concerns, as factories try to offset increasing costs in a weak global market. "
And on Brexit… "Personally, I dislike these press generated acronyms. Give something a name and it takes on some sort of personality. Purely from a business perspective, the decision to leave the EU is going to create a number of years of uncertainty creating a very difficult environment to do business. Nothing has really happened yet, except the drastic weakening of the pound. This resulted in an interesting Spring Fair, with a mood of initial concern, due to the enforced price increases, transitioning to a relieved buoyant atmosphere towards the end as the price was not a major barrier to orders. However, there are probably going to be a few bumpy years for business. Exactly how bumpy no one knows. All you can do is keep paddling your boat and hope that you can ride the rapids that might be ahead. The weak pound is our biggest concern. I see no incentive for the UK Government to address this, especially if we have to start paying tariffs to export to Europe. The recent fear mongering of dollar/pound parity being our worst nightmare."
We would like to wish very happy 10 years to Howard and Linda in business and wish them every success in the future.
To find out more about what Howard and Linda do, please check out their website: https://www.giftscribes.co.uk/ or contact us at enquries@ga-uk.org.