 A GIFT FROM THE GODS CELEBRATES SUCCESSFUL RUN OF INTERNATIONAL TRADE SHOWS
[gallery ids="5288,5286" type="rectangular"]
 An intense global line-up has seen the distinctive accessories brand exhibit at five shows in five weeks across two continents.  
A Gift From The Gods has wrapped up an exhausting but exhilarating start to the year, closing out a tradeshow tour that has seen them exhibit across Europe and the US. AGFG visited five of the biggest buying events of the year, appearing at, Top Drawer, London; Maison & Objet, Paris, Paperworld, Frankfurt; NY Now, New York; and Spring Fair, Birmingham. This intense schedule saw the brand connecting with wholesale buyers and distributors from around the world, marking their debut on the international stage. With a flurry of negotiations and new orders arising from the shows, it has been an exciting and successful start to 2019 for the growing brand.
A Stylish International Debut
A Gift From The Gods made the decision to jump into the international trade show circuit with both feet. Head of Wholesale, Chloe Bayles, explains:
"Because most shows are concentrated twice a year and lead times are so long, together with building up your profile, we took the decision to make a start at the international shows as soon as we could. It was an exhilarating time and great to have the brand so well received. Export is a key part of our growth strategy."
And although each show has its own distinctive vibe attracting a unique crowd, the stylish display put on by AGFG enjoyed an incredibly positive reception at each event with their fashion offering turning the heads of influential buyers from around the world.
Choosing The Right Shows
[gallery ids="5287,5285" type="rectangular"]
It was vital that A Gift From The Gods chose the right shows to make a successful impact on the global stage. Maison & Objet in Paris was an obvious sister show to Top Drawer in London, with a fantastic mix of European retailers and stylish selection of brands. Paperworld in Frankfurt offered a more traditional stationery and gifting base. With a reconfiguration of the show this year to accommodate forward-thinking brands with international aspirations, it was a great way to connect with serious international distributors. NY Now was an opportunity to explore the US market. There is a passion for British brands over the pond and AGFG was in good company alongside established British names. While Spring Fair in Birmingham offered a huge mix of buyers from garden centres to chemist chains looking for fashion accessories and gifts.
Recognition at NY Now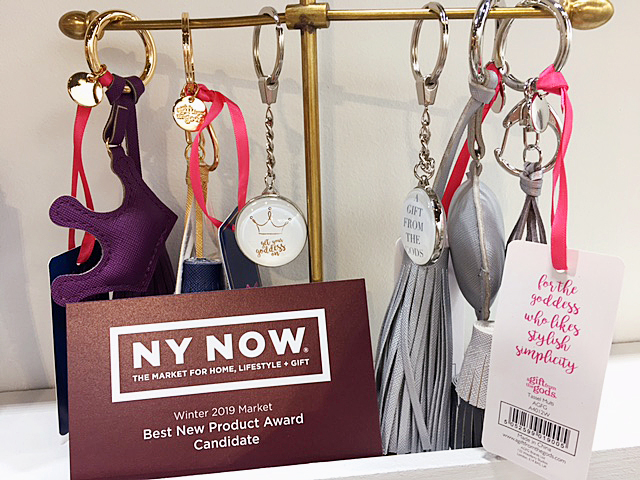 One highlight of the A Gift From The Gods international tour was a product nomination at NY Now for the brand's stylish and eye-catching tassel keyrings. It shows just how much impact this British brand is having on the big stage.
After finishing out the trade shows for the beginning of the year, the team at AGFG is now busily negotiating with interested distributors and filling orders placed at the events themselves. One thing is for sure, A Gift From The Gods is now a firm fixture on the international trade show scene.
Discover more about their impressive wholesale offering by visiting the A Gift From The Gods wholesale website.
For more information, visit www.agiftfromthegods.com
www.wholesale.agiftfromthegods.com
Find A Gift From The Gods on Facebook, Instagram, Twitter, and Pinterest.
Contact Chloe at chloe@agiftfromthegods.com to find out more.