 A GIFT FROM THE GODS SHOWCASES NEW STATIONERY AT HOME AND GIFT

Distinctiveaccessories brand to make annual return to buyer favourite trade show HarrogateHome & Gift with a bigger stand and extended range of brand-new products.
Giftware Association members 'A Gift From The Gods' has established its presence at this popular show and returns in the summer of 2019 with a commitment to more space in the form of a slightly bigger stand to accommodate more product, new arrivals and a more comfortable space for buyers.
Show-Stopping New Arrivals
Thenew arrivals in the A Gift From The Gods collection are definitely something toshout about. With show-stopping metallics, trend-led geo and graphic prints,and the introduction of bold black designs, this new-collection embraces theAGFG spirit while pushing the boundaries of stylish stationery. Buyers canexpect to fall for a new line of hardback, tabbed organisers; A5 hardbacknotebooks; and A5 sets of two notebooks with foil highlights. Created aroundthe four key AGFG design stories - A Gift From the Gods, Dream Odyssey,Calligraphy and Hearts, and Get Your Goddess On - these new arrivals representa whole new side of the brand for buyers to explore.
Gifting Potential
This year's Harrogate Home & Gift is an opportunity for buyers to start considering gifting ideas and planning their Xmas collections. And A Gift From The Gods has everything they need to shine bright come December, with stationery, accessories, gift-wrapped sleepwear, and much more, all designed to impress. Stylish, fresh and utterly unique – these are gifts that can help you to stand out amongst the competition.
Find A Gift From The Gods at stand DP1 – B55 at Harrogate Home & Gift between the 14th to the 17th July 2019.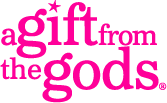 Wecan't wait to see you there!
wholesale.agiftfromthegods.com
www.agiftfromthegods.comjane@agiftfromthegods.com