 NEW MEMBER - ANGELA GEORGIOU
[gallery ids="4408,4411,4416" type="rectangular"]
Angela Georgiou's interest in crafting jewellery started at an early age. With access to her Grandmothers, or Yiayias to be respectful to her Cypriot heritage, jewellery collection and the memories and emotions that were held within them. Angela's heritage plays a huge part in her inspiration and jewellery collections today, with 'The Past Reimagined' being an underlying theme amongst her pieces with herself confirming - "I continue to push my jewellery to the limit, to capture and harness the memories and emotion jewellery can bestow. My pieces are inspired by the raw treasures given up by the earth with its natural and ancient textures. The oddities and fine tactile details make this range unconventionally beautiful."
Trading independently since 2013, but making jewellery since 2003, and having studied at the Birmingham School of Jewellery and Glyndwr Wrexham specialising in traditional silversmithing. The skill of her work is clear in her jewellery with pieces having a raw and organic feel, yet remaining impressively beautiful. Working out of her home studio and a studio in Oswestry where she teaches.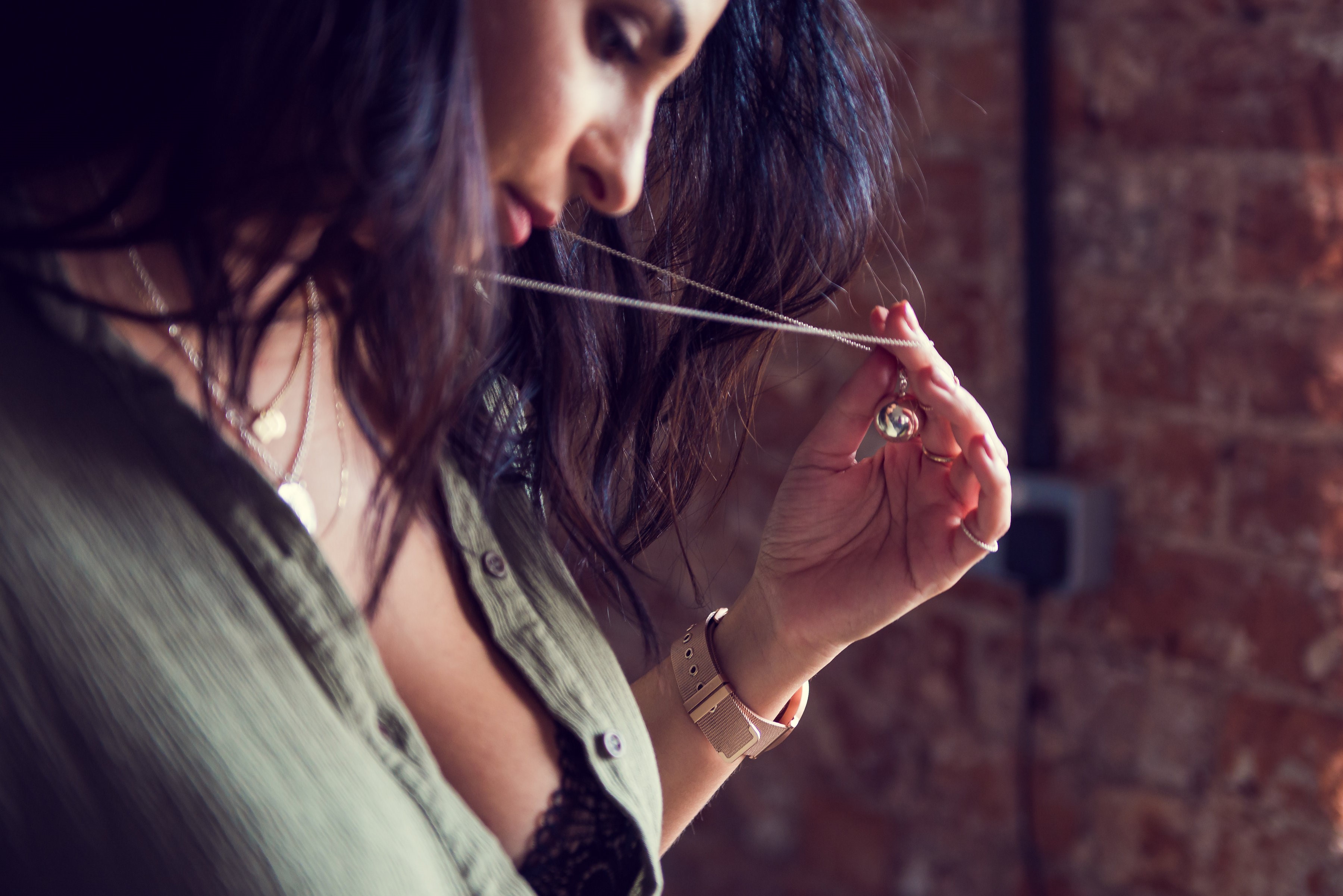 Sourcing her gold and silver from the Jewellery Quarter in Birmingham and precious stones from Hatton Garden in London. Angela prefers to work with 18 carat yellow gold as a beautiful malleable material, but equally loves the tactile nature that silver can produce. "What more can a girl ask for as her job! Working with gold and diamonds all day is any girls dream!" All her pieces actually start off in silver and can take a few weeks to a few months to develop from designs stage to creation, with each carefully planned stage of the work focussed on the end result to the beautiful pieces she produces.
She recognised a gap in her rural surroundings with teaching people the art of the craft. Angela offers courses that last a couple of hours on the introduction to silversmithing to making your very own wedding rings in just one day! Whilst also carrying out her daytime responsibilities sometimes it's a juggling act to fit everything in as a single mum of one.
Having rebranded recently she wanted to look back at her brand and her offerings, and taking a look back at her heritage as a starting point, using the Greek goddesses as a forefront. Each of her pieces are named after a goddess with a story to tell. Even her new logo has been designed to feature her jewellery being worn by the goddess Aphrodite's on the iconic swan. Taking the concept of storytelling that evoked memories to a different level. The branding company commissioned an illustrator to create unique images of the goddesses, with that as the core and with careful editing from the graphic designer, combined the jewellery to create the old with the new. The new branding represents her heritage and passion for creating beautiful objects. "The new brand has really captured the spirit and approach I have to my work. It now it feels more authentic and true to my values. It reflects my heritage and that was really important to me. Everyone involved did a great job in pulling it all together and making it come to a reality. Now my brand really stands out from the crowd! I couldn't be more grateful."
[gallery ids="4416,4415" type="rectangular"]
It's her hardworking and headstrong attitude that has got Angela to where she is selling through her website and NOTHS store. Angela has even bigger goals in getting into many of the London boutique stores, where her jewellery will be complimented with its competitors, whereas in Shropshire she feels that there isn't a market for her designs. Her three-year goal is to exhibit at trade shows in the UK and even internationally, with Top Drawer and IJL on her mind, and any shows that will suit her unique handmade pieces. With five years getting into London and showcasing at all the London boutiques and fashion forward stores such as Tom Foolery, Liberty of London and Fortnum and Mason.
As a new member to The GA and also regular partners to Buy-From Shropshire, Angela says - "GA has been great for networking, and being part of Buy-From Shropshire has been a great help in connecting me to the right people to further my business. I couldn't be more excited for my future and where it will take me and my brand. This is only the beginning…"
To find out more about Angela visit her website here -  https://www.angelageorgiou.com/