 A GLOWING ACCOLADE FOR NEW HOME SCENT BRAND FIND YOUR GLOW (F.Y.G)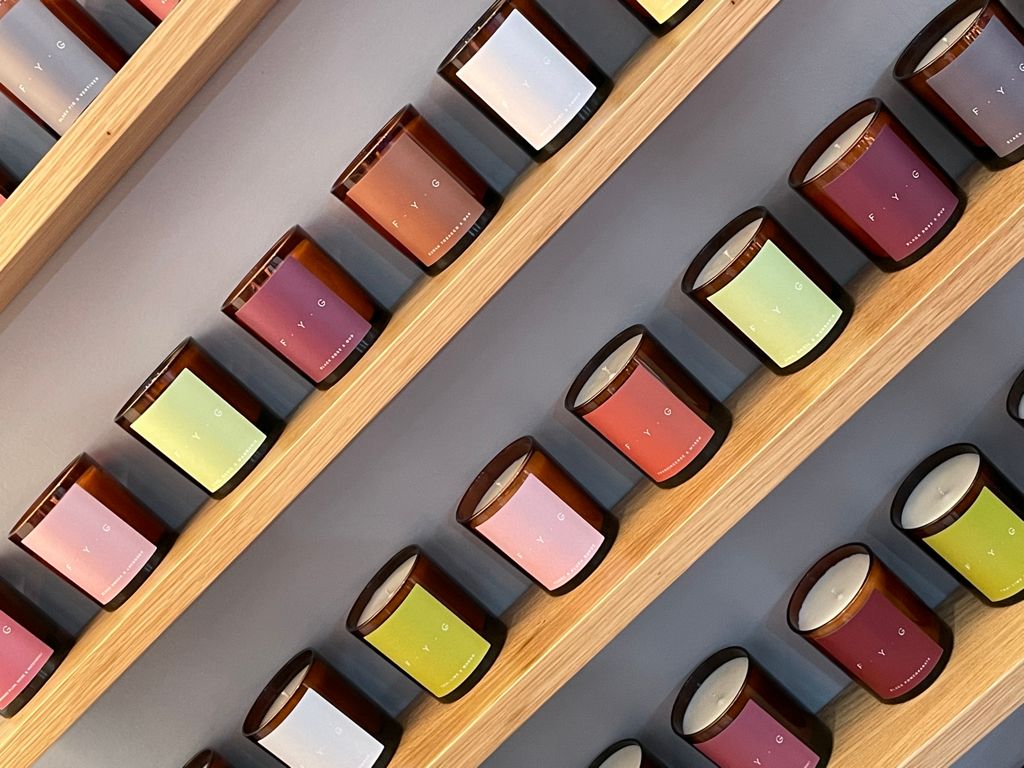 Following a successful debut at Autumn Fair, Find Your Glow is fast becoming 'one to watch' in home fragrance after scooping not one but two Gift of the Year nominations. Launched from a home office during the height of Covid, FYG was designed to enhance any living space with its core collections Back to Basics and Memories.

For a solo founded start-up brand FYG boasts an impressive list of over 40 UK stockists most notably English Heritage, Larks, Lake District Estates, Phil & Sophy and Wolf & Badger. But the glow of FYG is quickly spreading internationally with assorted EU stockists and most recently support from the Lifestyle Store Group across Dubai, Qatar, Bahrain, Saudi & Kuwait.

FYG's simple yet standout branding and packaging beautifully encapsulates a range of significant and
beautiful experiences to create a perfect ambience to your living space.

About Memories Collection

FYG's Memories scents are designed to provide an emotive and immersive experience. Each of the scents will transport you to a unique time and place, telling a story of the past. The Memories collection includes 12 250g natural candles with 100% coconut and rapeseed wax and a pure cotton wick (£35 each), with a burn time of up to 45 hours. They are hand-poured in re-usable, high quality, recyclable glass. The collection also includes 12 125ml diffusers also decanted in sustainable, re-usable, high quality glass (£35 each).

About Back to Basics Collection

Whether you are looking for something light and fresh, earthy, sweet or sensual, the Back to Basics range has a candle and diffuser to cater for all moods celebrating not only a key aroma but a distinct character. This collection consists of 16 timeless classic fragrances with a modern twist and are available in both Candles and Diffusers, each priced at £25.

Founder Demi Pendakis adds "we are so excited to have been nominated for Gift Of The Year. FYG has been on an incredible adventure over the past 18 months: what began as an idea to share happy memories and a sense of escapism at a time of national lockdown has grown to become a recognisable brand that brings joy and beauty to people's homes. We could not be prouder of this nomination."


About Find Your Glow:

Find Your Glow is a home scent and lifestyle brand founded in the UK featuring Candles, Diffusers,
Essential Oils and Soaps & Lotions.

Whilst each scent has a story and individual character to evoke memory, feeling and mood, it was equally important to create modern designs – to fit in with and subtly enhance any living space. And with all of that, FYG had to be sustainable. That is why each product is 100% natural and recyclable and to give back, FYG also plants a tree in Nicaragua for every candle sold. To date, around 3000 trees have been planted.
FYG candles are hand-poured and made from coconut and non GMO rapeseed wax. There's not a hint of paraffin wax or soy. Sustainability is also really important to FYG so each product has been specifically designed to be reused in another life. All candle and Diffuser containers are made from glass and can be reused or recycled and Hand Wash and Hand Lotion bottles are made from plastic and can be recycled. Find your scent. Find yourself. Find your Glow.

For more info, contact:
Demi Pendakis
demi@fyghome.com