 BCTF INTERVIEW

The Giftware Association caught up with Margaret Bunn from the British Craft Trade Fair to talk about the history of the show, the challenges of the current economic environment affecting trade shows and the changing attitudes of exhibitors.
CAN YOU TELL ME A BIT ABOUT THEHISTORY OF BCTF - HOW DID IT ALL START AND WHAT WAS THE IDEA BEHIND THE SHOW?
BCTF hasbeen running for approximately 45 years, with official records dating it backto 1974, the first known date of the show. Philip and I at PSM LTD took over running the event 27 years ago. The show, which has always championed Britishcrafts, had links with The Crafts Council but was looking a bit tired andneeded a new lease of life. We decided to buy the show and bring it up to astandard that represented the industry. The idea behind the show was not to beelitist but to be an all-inclusive trade fair showcasing the best of British.
Our sole criterionfor exhibitors is that their products must be made in the UK to a high standardof workmanship and design. We are the only trade show offering exclusivelyBritish made goods to the buying community. It took 4-5 years to get the showup to a standard that we were happy with, where we were featuring a strongselection of high-quality products exquisitely made by artisans from around thecountry. BCTF is now the longest running trade fair in the UK – probably theworld – devoted to promoting British products.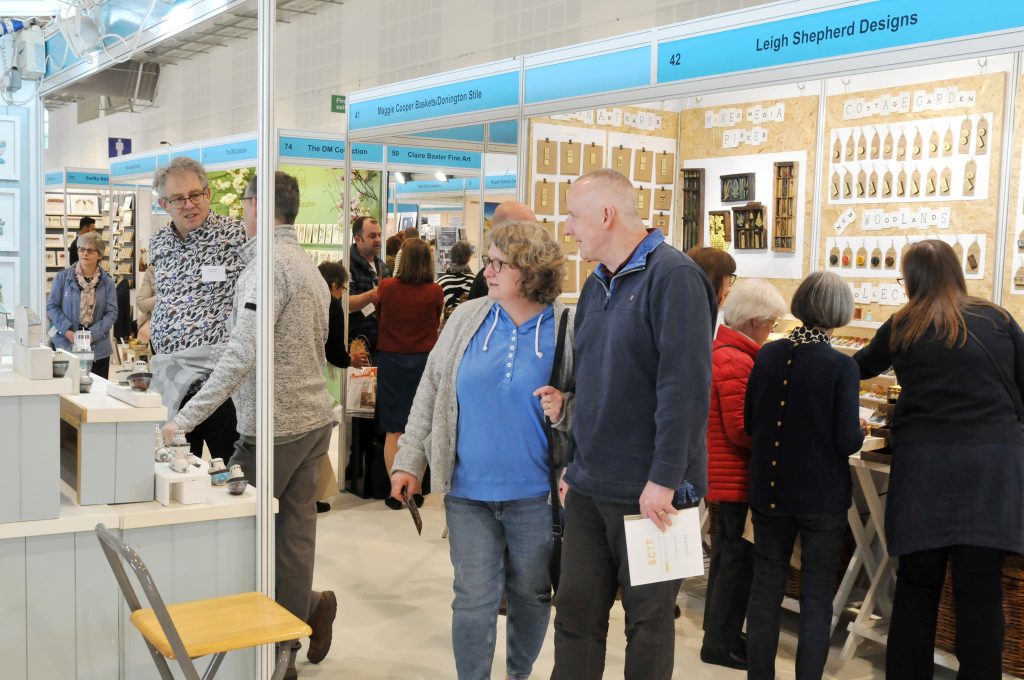 HAVE YOU GOT ANY SUCCESS STORIES FROMTHE SHOW AND ANY STANDOUT YEARS?
We have alot of great success stories and with an ever-growing, evolving creativecommunity, every show is outstanding in its own right. Some of our exhibitorshave gone on to create public pieces, win prestigious awards and open their owngalleries where they support other artists alongside their own work. Many ofour exhibitors have showcased their work at BCTF for over ten years and use theevent to launch new collections to both loyal stockists and potential newcustomers. Some of them have even been with BCTF for longer than we have and citeit as instrumental to the success of their brand.
WHAT TYPES OF BUYERS VISIT THE SHOW?
There are many types of buyers with a huge amount of scope between them visiting the show and they come from across the UK to find unique products. We have had buyers from Liberty's, Fortnum and Masons, The Royal Palaces, Kew Gardens, The National Trust and other high profile outlets, on the flip side we also attract many small independents, from galleries, craft shops, tea rooms, post offices and florists with gift offerings to interiors designers, hoteliers and the museums. The buyers love the show as they find products that are not readily available online or at other stockists. British made is becoming increasingly important to many gift shop buyers looking for sustainable, affordable and innovative collections to offer their clientele.
HOW HAS THE SHOW CHANGED OVER THEYEARS AND HOW HAS THE INDUSTRY CHANGED TOO?
Craft haschanged a lot over the years. Trends, fashion and popularity all play theirpart and now we have increased public awareness on environmental issues like singleuse plastics, resulting in surging demand for upcycled and recycled products.Locally sourced materials play a huge part in the designs of today, with moreand more designer-makers choosing to use materials close to home. Beautifullocal environments are often the inspiration behind their work in the firstplace.
Technologicaldevelopments such as digital printing, laser cutting, and computer aideddesigns also have an impact and can often allow new makers to enter thedesigner maker world directly from university and can start utilising theirskills and creativity to set up a business straight away. This new generationof innovative talent is finding new ways to work with existing materials suchas clay, glass and wood, it is a very exciting time for the craft industry.
A downside ofthis increase in new technology is that some of the more traditional skills arebeing lost. Fewer artists are taking on apprentices and it's more difficult tofind colleges that teach these traditional skills, meaning that some age-oldtechniques are being practiced less and may disappear altogether. This would bea great pity because I firmly believe – having seen at BCTF time and time again- that those traditional skills partnered with contemporary design are awinning formula creating not only well crafted but beautiful and uniqueproducts.
HOW HAS SOCIAL MEDIA AFFECTED THESHOW AND THE INDUSTRY?
The adventof social media has affected the industry greatly and has helped makers reach acountry and worldwide audience. The use of social media to promote the show andits exhibitor's products is invaluable. Charlotte Cowell, from Halcyon PR andeditor of Gifts and Greeting Review has been looking after our social media andPR for some years and the BCTF brand has grown since her involvement.
HOW DO THE AWARDS AT YOUR SHOW WORKAND WHEN DID THEY START?
The show hasrun awards throughout its history celebrating the best products and ranges fromthe exhibitors, and we have added a few more categories in the years since wetook ownership of the event. The Award for Excellence has always been a part ofthe show and the best Newcomer Award, which celebrates the exciting productscreated by emerging talent, is over 20 years old now. The Post Newcomers Awardis the most recent category to have been put in place.
It isimportant that our awards come with tangible benefits for the winners. Three ofthe awards this year were sponsored by excellent galleries - Pyramid Gallery inYork, Heart Gallery in Hebden Bridge and the Platform Gallery in the RibbleValley – which all offered prizes of an exhibition featuring and promoting thewinners' work. Greeting Today Magazine sponsors an award and offers promotionalexposure through the magazine and online for its winners. The GA, The NAJ andACID all offer their winners membership and online promotion along with othermember benefits.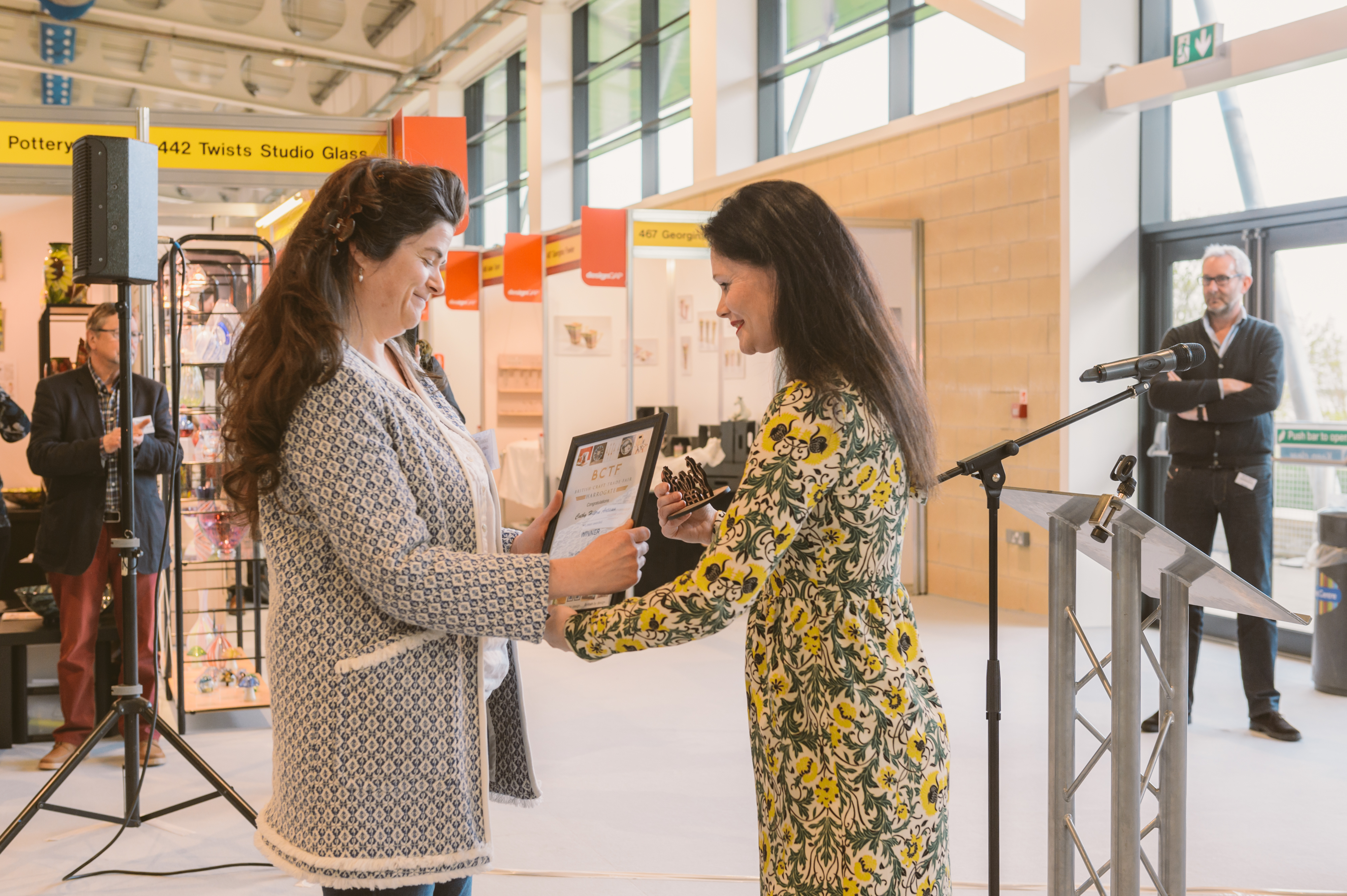 WHAT IS NEW FOR BCTF FOR NEXT YEAR?
The onemajor change for BCTF is that it will be introducing a retail day and for oneday only the general public will be invited to the show and will be able topurchase directly from the exhibitors. This development reflects changingmarket conditions and we are fortunate that BCTF has the flexibility to respondand adapt. We have found that makers are doing more consumer facing shows tosupplement their incomes in a rapidly shifting socio-economic climate. Theyneed to branch out and diversify and this one-day addition will enable them todo both. The public day will help raise awareness of the BCTF brand within thelocal area, encouraging more local stockists to attend.
Everyone inthe home and gift industry has seen how shows are changing and while change isinevitable, BCTF will always primarily be a trade event and its buyers will –as they always have been in the past - be put first. We have put in placeguidelines and suggestions for our exhibitors to help them manage the differentaspects of the show so everyone is happy and can make the most of it. Many ofthem will display different products on the retail day as they have differentcollections they produce for trade. Those with local stockists in the Yorkshireregion will be advised to direct sales to that stockist and save their new collectionsfor the trade only days.
BCTF willcontinue to showcase the largest selection of handmade British products to itsloyal and supportive buyers, all of whom are so passionate about promoting homegrown talent.
To find out more about BCTF please contact Margaret at info@bctf.co.uk or visit the website www.bctf.co.uk