 GIFT OF THE YEAR WINNERS ANNOUNCED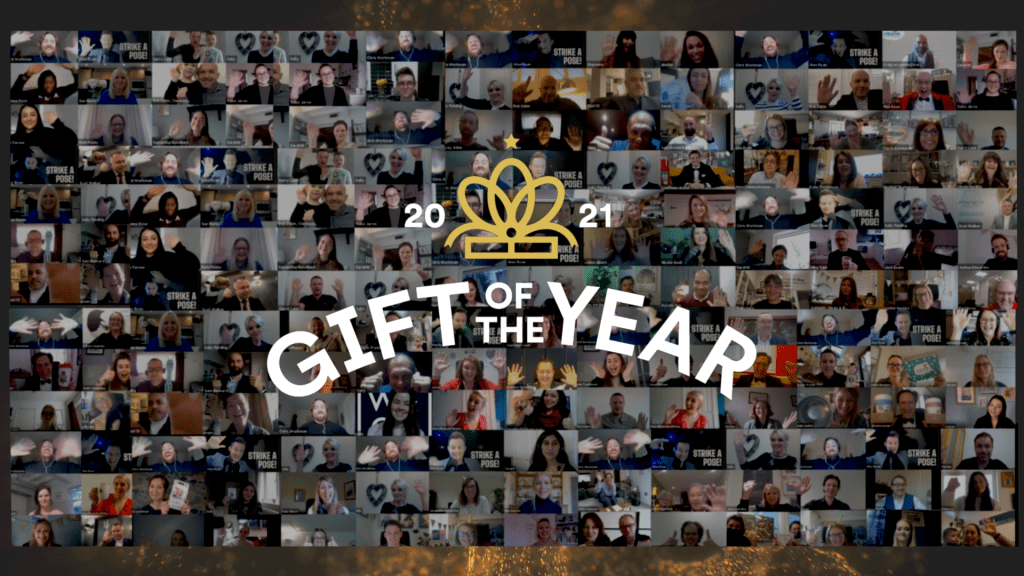 It's the moment that everyone has been waiting for…The winners of the Gift of the Year 2021 have been announced during the Spring Fair @ Home Event.
The Winners and Highly Commended were announced on Monday, Tuesday and Wednesday, along with a special Live event on Tuesday afternoon to announce the Judges choice winner and the very first people's choice winner. The ceremony has evolved with the times and each category got its own top secret zoom celebration to find out who the winners were, as well Sarah Ward hosting a live event with her annual industry speech.
A full list of the winners can be found below and on the gift of the year website. The Coveted Judges Choice Award went to Go La La with their Filthy Gorgeous Soap Range and excitingly the very first People's Choice award went to Blue Eyed Suns Bio Loco Loop Water Bottles. The Judges Choice award is awarded to the judges favourite of all the category winners and the peoples vote was voted for by the general public and the end consumer with over 6000 votes received massively raisin the awareness of the competition.
The key trends that came about this competition was the theme of care, gifts that give back and sustainability helping others and the environment have been key throughout the last year and it is evident in the types of gifts that were entered and performed well in the Awards. From jigsaws that gave back to charity, Vases that encourage us to plant more trees and gifts and kits that can be posted to loved ones for birthdays, baking and crafting. The competition is a great way to spot key trends and the move towards sustainability and ethical has flowed through all the products
Chris Workman from the GA said "From what has been a very different competition this year we have certainly seen a resilient industry, and an industry that has grown, adapted and thrived even in testing times. Its been great to see so many fantastic products entered and congratulations to all the Winners, Highly Commended, Shortlisted and everyone who entered. You are all winners in our eyes, we hope to see you all next year as we plan to grow the competition again to be even bigger and better"
Keep an eye on The Giftware Associations Social Channels for more announcements of the awards going into the year.
WINNERS
| | | |
| --- | --- | --- |
| Category | Product Name | Company |
| Under £15 | Birthday in a box | Craft + Crumb |
| Tech & Gadgets | Make Your Own Tech | Fizz Creations Ltd. |
| Stationery | Bookworm booklights | Thinking Gifts Company Limited |
| Pet Gift | Pawbles | Wren & Rye |
| Own Label | BambooCup by chic.mic | Blue Eyed Sun |
| Novelty | Filthy Gorgeous | Go La La |
| My Gift of All Time | The Flower Diffuser | The Candle Brand |
| Kitchen & Dining | Bioloco Plant Lunch Pot | Blue Eyed Sun |
| International | Julia Gash | Julia Gash Enterprises Ltd |
| Home Fragrance | The Flower Diffuser | The Candle Brand |
| Home and Garden | Avocado Vase | Ilex Studio |
| Food & Drink | The Bottled Baking Co - Baking Mixes | The Bottled Baking Co |
| Festive & Occasions | Christmas Around the World Jigsaw Puzzle Advent Calendar | Gibsons |
| Fashion Accessories | Stay Safe Sentiment Bracelets | Carrie Elspeth Ltd |
| Ethical Gift | Bioloco Plant Kids Bottle | Blue Eyed Sun |
| Design & Craft | Hyper Jungle Paper Head Lights | Fizz Creations Ltd. |
| Contemporary Gift | Bioloco Loop | Blue Eyed Sun |
| Commemorative, Collectable and Charitable | Rainbow Heroes in Aid of Samaritans Charity 500 Piece Jigsaw Puzzle | Gibsons |
| Children's, Educational and Pre-School | Passport to Genius | whiz kid games |
| Cards & Wrap | Message in a bottle pop up card | All Joy Designs |
| Branded Gift | Richard Osman's House of Game's | Hacche Retail |
| Beauty, Bath & Spa | The Burn + Bloom Candle Collection | The Candle Brand |