 BEST IN CLASS DESIGNS UNVEILED IN LONDON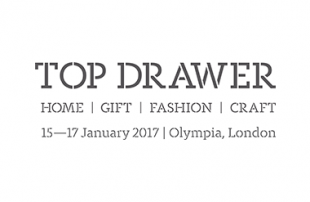 Top UK and International design-led brands present a host of exclusive new launches at Top Drawer Autumn/Winter 17 (A/W17)
A new adventure in design begins with an unrivalled world class edit of the very best design-led products across the unique worlds of Home, Gift, Fashion and Craft. An expertly curated pick of over 1,500 exceptional top brands and new talents, makes Top Drawer the destination of choice for discerning buyers this September.
More new brands, more new products, more new talent…  
The Food Emporium makes its autumn debut, adding a delicious selection of the finest 'giftable' food products from the best producers and artisans including Avlaki, Brooklyn Brew Shop, Willie's Cacao, Stateside Treat Emporium and In A Matchbox.
Buyers hunting for something totally new will find it at Spotted, offering a thrilling introduction to today's most innovative, market-ready new products and designs.  Ali Joe Design, Danny Lee Design, Leigh Bagley, Delicate Owl and Lara Quin are amongst the hot new talents to look out for.
    Ali Joe Design                          Devon Distillery                     Coggle & Bear 
HOME presents an exclusive choice of homeware from Britain's finest brands to leading global players, from the cutting-edge to the classic, new trends to firm favourites across Interior Accessories, Kitchen & Dining, Furniture & Lighting and Outdoor Living. Top names include Zaha Hadid Design, Bold Tuesday, Thomas Belmont, Frederica Bubani, ISTLONDON and Auskin Europe join Alessi, Bliss Home, Garden Trading, Wild and Wolf, Orla Kiely Home, ALSO Home, Leonardo, Parlane International and Avenida Home.
Rick Stein for BlissHome        Zaha Hadid Design           Eva Solo by FORMA House
GIFT unveils a carefully curated edit of the most original, beautifully designed products across Gift, Wellbeing, Children's and Greetings & Stationery. UK and International exhibiting brands include: True Grace, Nnuku, Rice, Sunnylife, Katie Leamon, Cubic, S-C Brands, Apothecary & Barbershop Supply Co, Castelbel, as well as new names: Aden + Anais, Wildfire Teepees, Doiy, Siabann, Grey + Lily, Bespoke Letterpress, PABUKU, Isla Apothecary and Coco Four.
Caroline Gardner                        Lonetree                                   Lund London
Fashion Spy premieres in the UK a selection of cutting-edge accessories and jewellery brands, hand-picked for their original designs. Amongst the 200 labels in FASHION, new names include Caroline Watson London, Time Flies, Also the Bison, Les Petits Bisous and Tightology, as well as firm favourites Estella Bartlett, Rachel Jackson, Ottoman Hands, Helen Moore, Nooki Design, Gecko Jewellery, Rodgers & Rodgers and Mirabelle.  UK Jewellery Collections returns with an array of exquisite designs made in Britain. And, of course, to complete this incredible line-up, unique handmade pieces can be found in CRAFT.
 Tightology                              One and Eight                                Time Flies
At CRAFT buyers can expect the unexpected with an inspiring and expertly curated selection of one-off pieces from over 150 hand-picked international makers across Ceramic & Glass, Fashion & Textiles and Mixed Media. Top names feature StolenForm, Jane Pritchard Ceramics, Claudia Biehne, Promises Promises, Chao & Eero, Materia Rica, CHELACHE, Rosanna Clare, Jo Cranston, Sarah Jane Brown, Faunart, Rosie Brewer and Sarah Cemmick Lino Cuts.
Penny Warren                                 Chao & Eero                     Jo Cranston Textiles     
Top Drawer will be held on 10-12 September 2017 at London Olympia. Trade buyers and press are now invited to register online at www.topdrawer.co.uk.
 Follow the latest news and new launches @TopDrawerLondon #AdventuresInDesign
Please contact Joanna Brightman at Good Results PR for further press information and images on topdrawerpr@goodresults.co.uk +44 (0) 7799 146557.
Dates
10 – 12 September 2017
Venue
Olympia London, Hammersmith Road, Kensington, London, W14 8UX?Follow the latest news and new launches @TopDrawerLondon #TopDrawerSS17
About Clarion
Clarion has outstanding expertise in retail industry with well-established shows including Top Drawer, Pulse, Home & Gift, Scotland Trade Fair, Internet Retail Expo and Internet Retail Conference.
Clarion Events organises over 150 exhibitions, conferences and events annually across the globe and employs over 500 people in nine different countries. More than 12,000 companies trust us with their custom each year and over 700,000 people give their valuable time to visit our events. www.clarionevents.com