 BRITISH CRAFT TRADE FAIR - THE GIFTWARE ASSOCIATIONS AWARD OF EXCELLENCE GOES TO NADEGE HONEY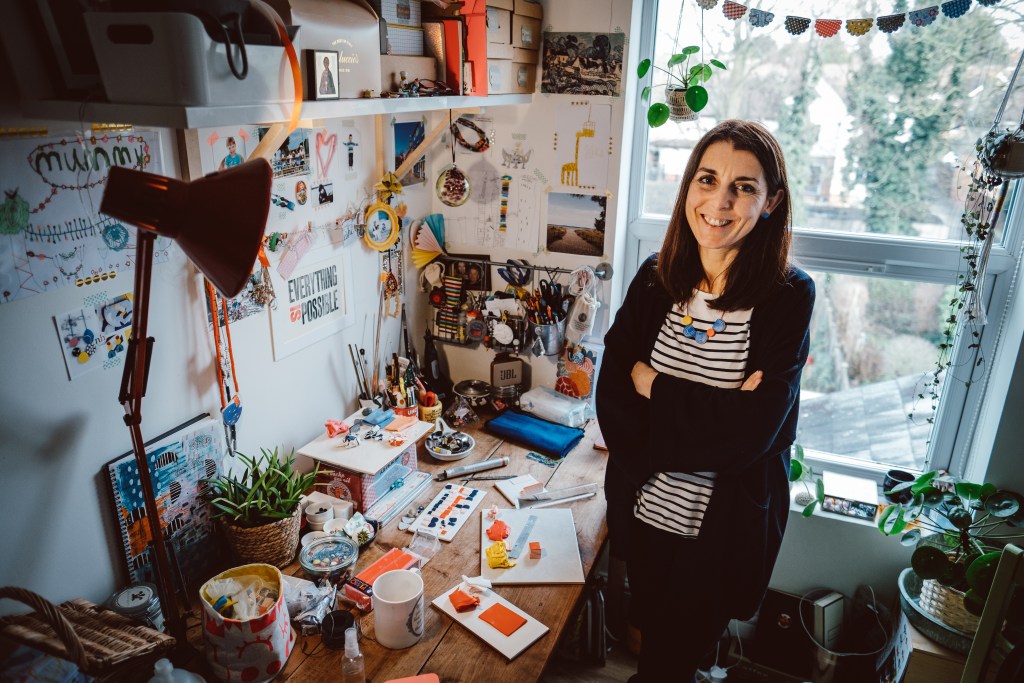 Nadege Honey at home amongst her designs
The Giftware Association has a longstanding relationship with the British Craft Trade Fair and one of the fantastic things The GA gets to do is choose one exhibitor's  company whose products really stand out and are awarded The GA Award of Excellence at the show. With BCTF in its second digital incarnation the companies exhibiting had really taken their time to showcase their products and really stand out. The eye catching colours and designs of Nadege Honey caught the eye of the judges and were awarded the coveted Award of excellence prize.
Chris Workman, PR & Marketing Manager for The GA caught up briefly with Nadege to find out more about her business, her products and inspirations for the designs.
Chris: How long have you been in business and have you attended BCTF before?
Nadege: I have been in business for 13 years designing bold contemporary jewellery with bright strong colours. I now work from my workshop in Northampton. I was originally a linguist and worked across various luxury brands, though I come from a creative family so designing and making has always been with me. I have exhibited at BCTF as well as Top Drawer, another design led show.
C: Fantastic, I guess language is quite creative and has evolved over time, can you tell me about your making process which created that beautiful jewellery that we was voted the award of excellence today
N: Having come from a creative family I have always drawn and sketched from an early age. A lot of my inspiration comes from architecture and nature and a childhood in France, which is where the Breton collection (the winning products) comes from.  I generally note my ideas down in a notepad or sketchbook and go back to them to see if they will work. I love architecture, mid century and art deco are personal favourites, which feature in my work and I try and create what I observe on buildings into my jewellery. To start the making process, I usually begin with the colour as that is so important, and a lot of my work includes bold colours that stand out.  There are always so many ideas and I try to associate those with colours that the designs will works with, such as the bright blue stripes or blocks of orange in my current collection. I then create prototypes with clay until I am happy to create the final piece. I am self-taught so it's a very organic process from start to finish and isn't rushed, if it doesn't work then it I move onto something else that I think will.  I mainly work with polymer clay and sterling silver and all pieces are individually handmade and unique.
C: You mentioned the colours there which is one of the thing that drew my judges eye to your brand and products and these bold colours really stand out.
N: Yes, I think being bold with colours is import as it makes the products stand out as well as attracting potential buyer. The collection I was exhibiting was the Breton collection which is bold blue stripes, and after the year we have had I think people need a bit of colour to brighten up their lives as well as taking me back to one of my inspirational places: France. I try to make my designs as uplifting as possible to match the beautiful colours.
C: Well it really caught our eyes with the fun playful colours. What is next for Nadege Honey?
N: My plans for the future will be to expand my range, during lockdown I started painting with watercolours and would like to incorporate some pieces using these techniques and really diversify my offering as I've seen so many business and brands adapt over the years. I also believe that my background in the luxury industry will help with growing my brand as I have the experience of both the creative side and the business side.
C: Fantastic and we look forward to seeing more from you in the future, congratulations again and look forward to seeing you in the future
You can view more of and get in touch with of Nadege Honey's beautiful jewellery at her website here or following her on the following channels
Website – https://nadegehoney.com/
Instagram – https://www.instagram.com/nadegehoneydesign/?hl=en
Facebook – https://www.facebook.com/nadegehoneydesign/
Twitter - https://twitter.com/nhoneydesign