 BRITISH ICON DIARY DIARY CELEBRATES ITS 25TH MILLIONTH SALE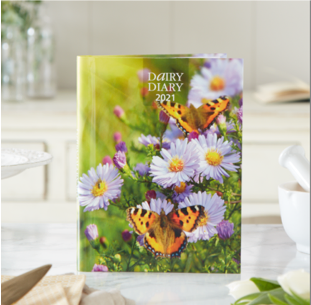 Dairy Diary; the well-known British icon achieves sales of 25 million copies.
Launched by the milkman in 1982, Dairy Diary has enjoyed a high level of loyalty ever since, with many customers owning every single edition. It's still going strong via milkmen and women, and sales have also soared in retail and online.
The essence of the book remains the same as it always has: a practical week-to-view A5 diary, perfect for planning busy life, with delicious, easy-to-follow recipes, that are renowned for working every time.
Of course, its style has changed over the years, reflecting design trends, and there have been new additions, such as a useful sticker sheet, a handy notes pocket and lie-flat binding.
Dairy Diary remains a trusted friend to its loyal fans.
The 25 millionth customer will receive a lavish bouquet along with their 2021 Dairy Diary.
For more information on Dairy Diary visit www.eaglemossdiaries.co.uk or www.diarydiary.co.uk
email enquiries@dairydiary.co.uk
or call 01270 270050.