 BUY-FROM SHROPSHIRE INITIATIVE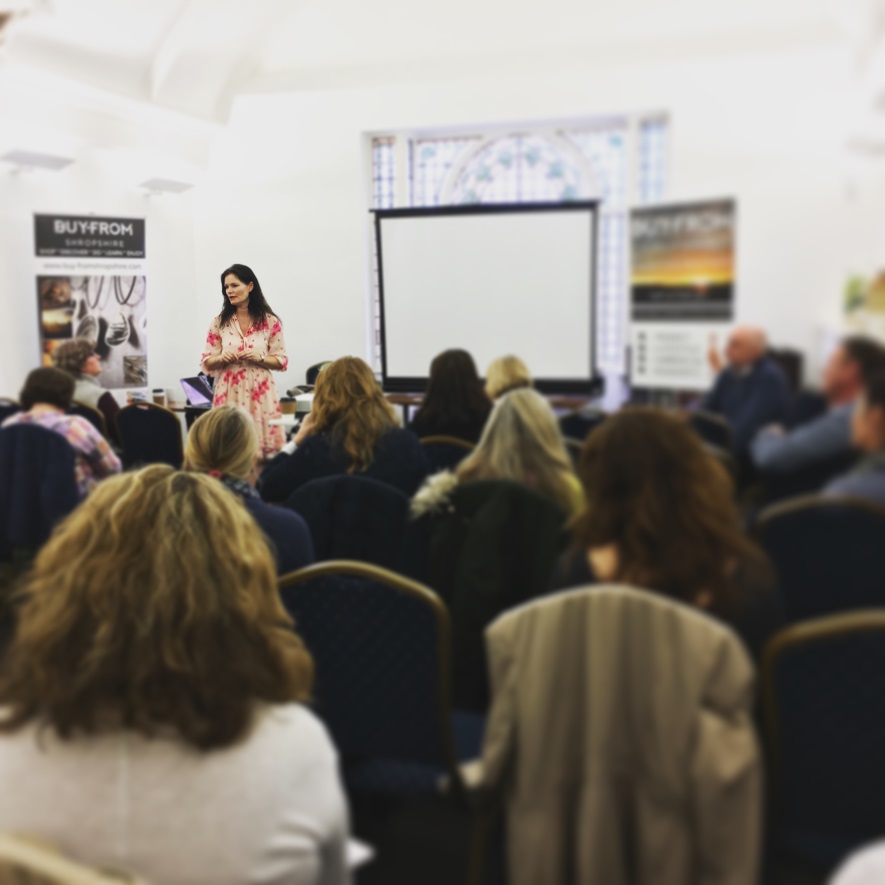 One of the Giftware Association's newest members is a company that we feel we are very aligned with. Buy From support small independent businesses, but they also connect customers to the enormous amount of business producing quality products in Britain. They help growth within small business by supporting them along their journey including video skills print, brand and design, and training from all the basics of business. We are pleased to have a like-minded business on board and we will be working closely together in the future helping out on cross over projects. Sarah Ward recently joined the Buy From team on a training seminar that they were hosting.
Sarah was extremely popular and everyone at the training talk was delighted at her appearance and guidance on some subjects. Malcolm & Lyn Evans from Lyn Evans Designs were grateful stating "Sarah from the GA was brilliant, I really believe she wants to help bring new business into the fold. It helps a lot that she has been there and knows what a small business is and the difficulties in getting seen." Emma Lawrence from Emma Lawrence Design also reiterated this by saying "It was so helpful and informative, I am even more motivated and enthusiastic than before. I thought Sarah was brilliant and she has such a wealth of knowledge."
Sarah Ward said, "The event was great with so many  people new to business it was great to see so many eager people wanting to learn more and I enjoyed imparting my knowledge and I hope it leads to great things in the future with us working closely with the Buy From team."
In this month's Giftwrap member feature we have decided to feature two up and coming Buy From clients; Ruth Gibson and Meg Hawkins.
Fixed in Fire | Ceramic Artist, Ruth Gibson
Ruth Gibson has been self-employed as an artist for over 25 years. From her garden studio in Shrewsbury, Ruth designs and creates a range of ceramic printed bowls and dishes, as well as porcelain jewellery, wall hangings and sculptures.

"My work combines my love of photography, printmaking and ceramics, to create dramatic and bold screen-printed bowls and artworks on porcelain."
Fired Porcelain has a warm soft quality, reflecting light, and when polished, the surface is very tactile, which particularly lends itself to jewellery making and small delicate bowls. Ruth seeks to enhance these qualities of porcelain and to reflect nature in her work. The whiteness of a perfectly round pebble found on a beach, the seemingly scratched patterns found in stones and the smoothness of sea-worn shells inspire the design and surface quality of her work. Ruth uses ceramic screen printing techniques to apply photographic images onto porcelain.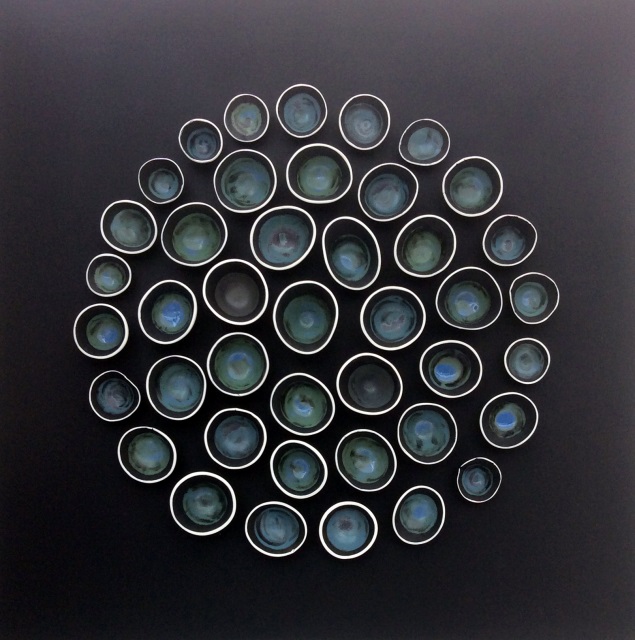 "I use ceramic screen printing techniques to apply photographic images onto rolled out porcelain. My photographs include architectural imagery, pebbles, cobwebs, water droplets, shadows, the murmurations of starlings. I look to capture strong black and white images with plenty of contrast and texture that lend themselves to this ceramic printing process. Often an image is taken as part of a site-specific project, a response to an old building, or shadows of a dinner service cast onto the museum floor, which was taken for a project linked to the Wedgwood Museum."
"As a ceramic artist, I have always been fascinated by the way in which ceramics has been used as a way of recording and learning about the past. In my current studio practice, I endeavour to capture slices of the past on clay, combining photography and ceramic printing techniques."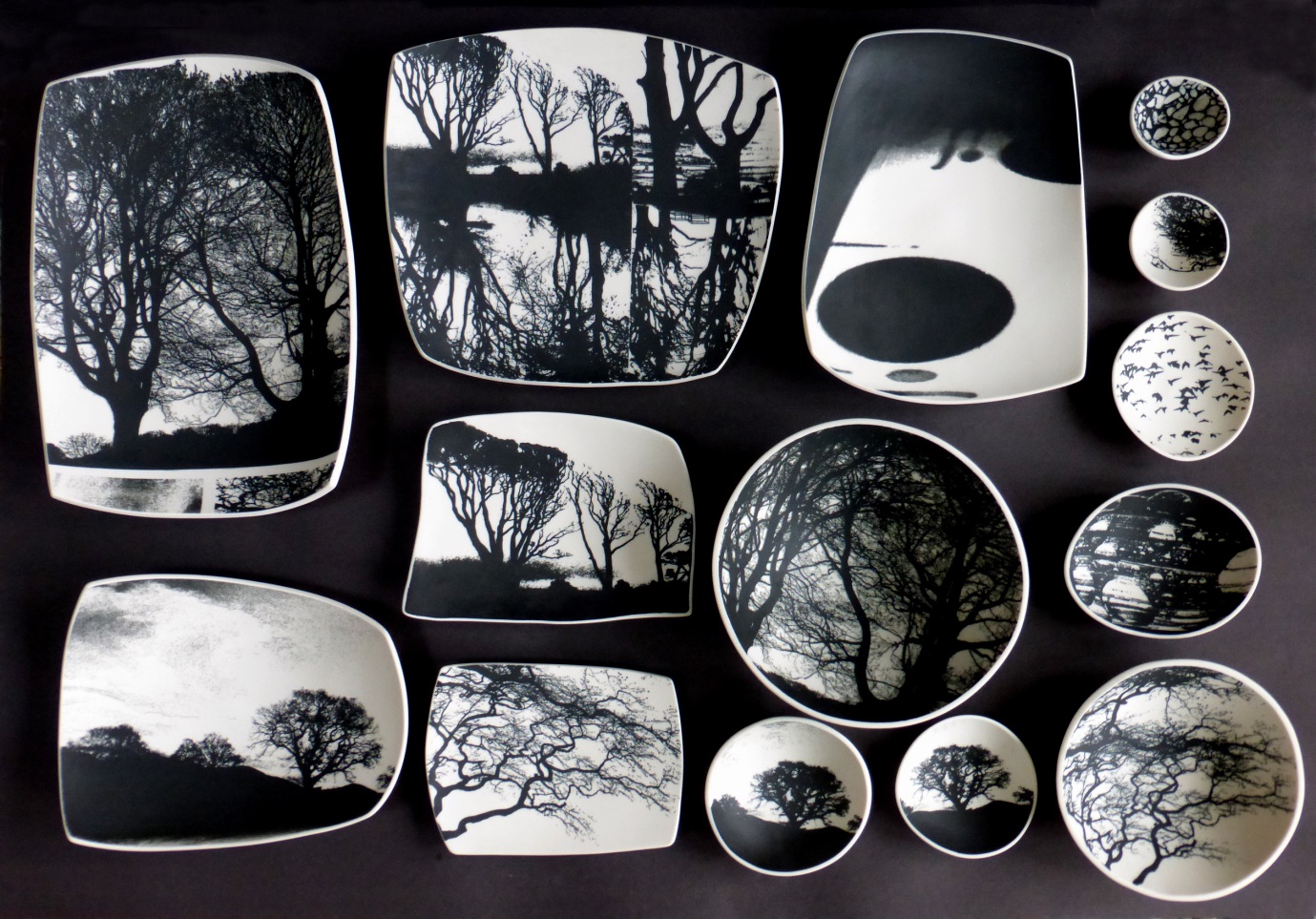 Ruth's work is currently sold in numerous galleries throughout the country as well as via https://www.buy-fromshropshire.com/Producers/creative/ruth-gibson-ceramics. Ruth is also happy to create bespoke pieces for exhibition or sale.
Ruth Gibson jewellery starts at £20 RRP for her earrings, and her small bowls start at £35 RRP. For the wallhanging ceramic art, please visit Ruth's online gallery for more information on prices: http://www.ruthgibsonceramics.co.uk/my-gallery
Ruth is currently exhibiting as part of a joint project in Korea. In the exhibition, Ruth will primarily be showcasing her impressive work, 'Tea Ceremony'. In this artwork, the artist examines some of the parallels between the Korean and English cultures of tea drinking: an important historical and social activity within both cultures.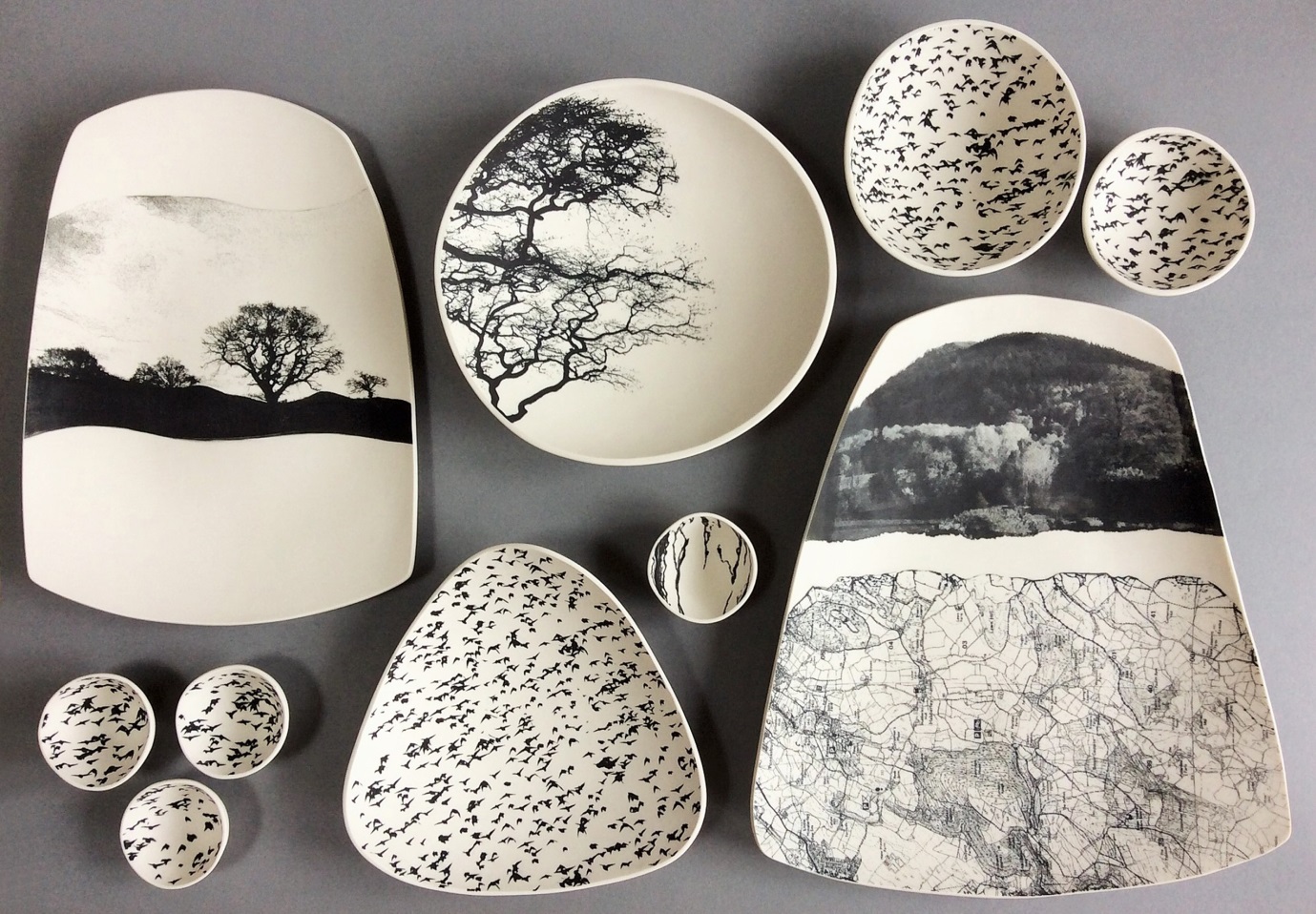 In Conversation with Meg Hawkins Illustrations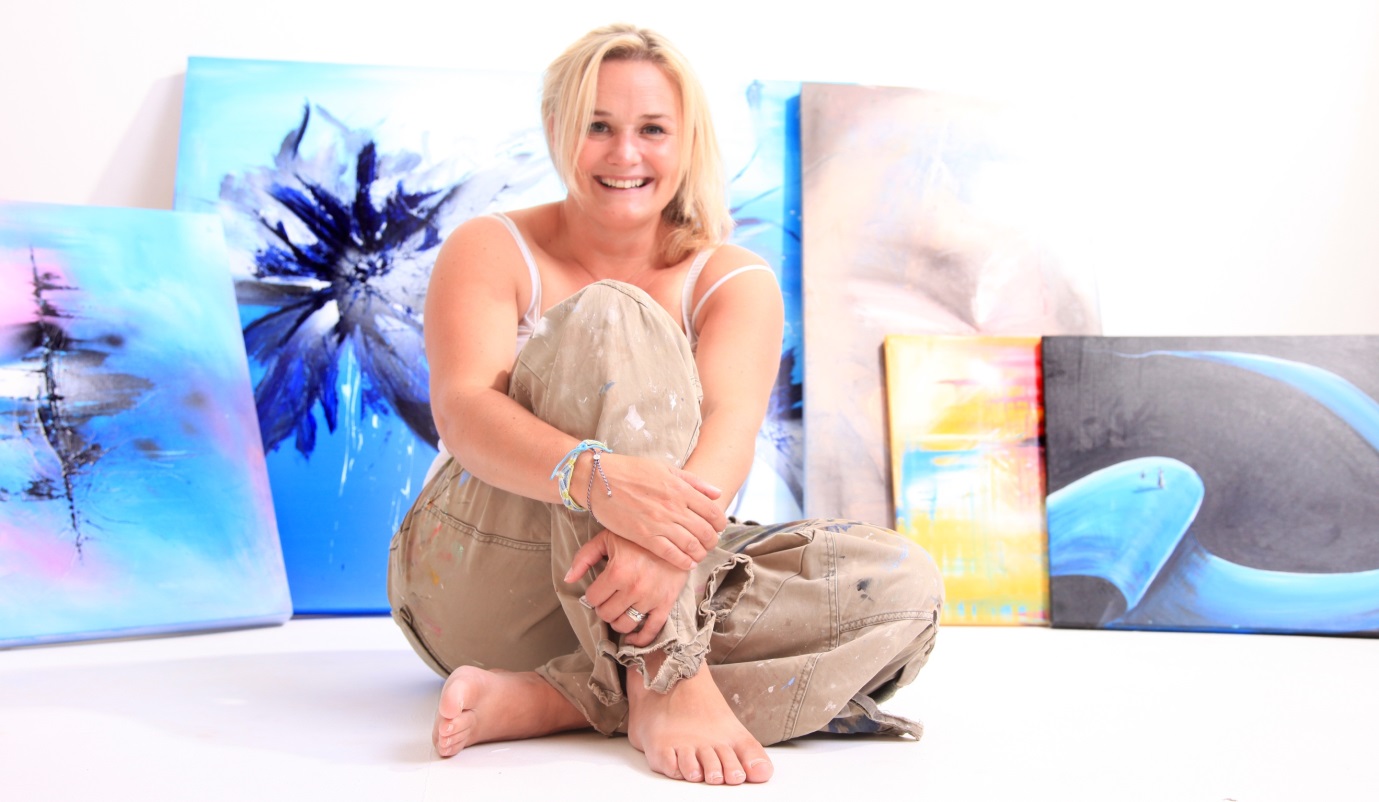 Name: Meg Hawkins 
Occupation:  Artist
 In three words describe MHI: Stylish Contemporary Art
How did your creative business start? Further to a photography career, I found I wanted something different to do, so decided to go back to my roots of drawing. Art has always been a passion of mine but when you're in your 20's and have 4 children it's not the easiest money making scheme. I started drawing again 3 years ago and actually created a selection of children's books, 'The adventures of Scratch and Hedgy', 'Georgia and the Dragon', and 'Journey to Lost Toy Island'. These proved to be popular after self-publishing them I managed to sell over 1200 in the first 12 months, so I chose to create more illustrations to see if I could sell them just as well! I began to discover what exactly appeals to the modern contemporary lifestyles of many of my customers and how I could produce art that would fit in their homes without losing my own personal style in the process.
I wanted to keep to my own 'loose' and 'free' style of artwork through watercolour and ink, resulting in creating my first collection of Indian Ink Hares. My surrounding countryside is an obvious inspiration and having photography on my side, I could paint some of my designs from my own photographs as reference, such as my equestrian range. The hare collection went down really well with my customer base, but they weren't vibrant enough for me, I love colour and very much needed it in my art.  I wanted to show that watercolours are a fantastic medium to work with, and prove that you can create bright and vibrant paintings with them; my stag collection is a perfect example of this! All of my other ranges and collections have developed from there and I am still constantly updating and producing more.

Have you got a favourite illustration? What do you love about it?
One of my first illustrations was called 'Strawberry', I guess she'd be my favourite as she was the start of all my illustrations. That said, 'I LOVE YOU' from my Twitt Twoo collection would come a close second, as I love the humour in the set of quirky owls.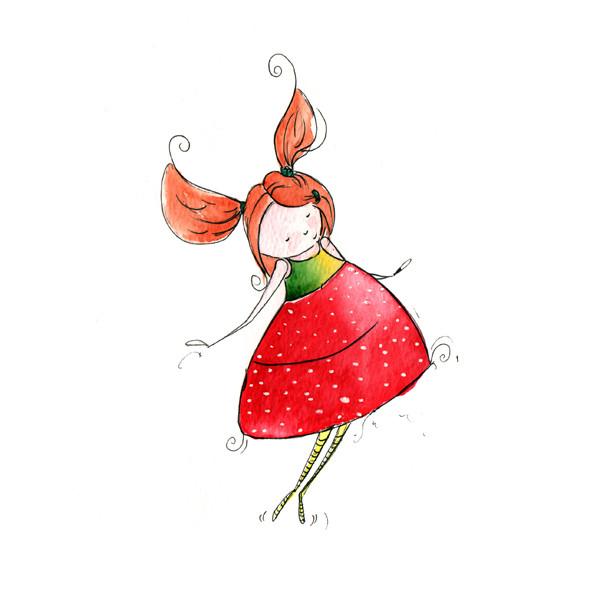 What is your best-selling Art? Why do you think this is?
I have a few; the Kingfisher 'Kev', Highland Cow 'Gertie', STAG 4, oh and Alan the black-faced sheep!
[gallery ids="870,869" type="rectangular"]
I think this is because a couple of them have humour in there, but the subject and colours are also a big factor for me. I try to paint the art so that it will sit timelessly on a wall and fit in the decor of most modern houses, yet the subjects are diverse, and are therefore able to fit in a more traditional home too.
What do you love most about running your creative business?
I love that I can achieve making a business out of what I enjoy doing the most, drawing and painting. Not many people have the chance to do a job they love, so I feel very privileged for this. It allows me to express myself through my artwork. My mum used to say she could tell how I felt and what my mind set was by the art I would produce. And looking back at my collections she was probably right!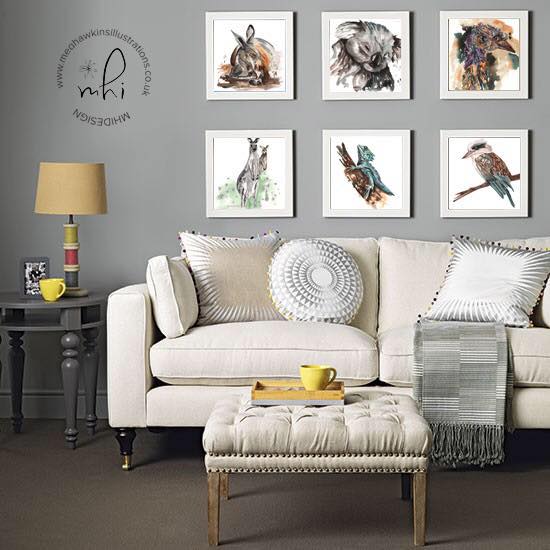 What are your plans for your business this year?
To keep evolving and creating new things, new ideas are brilliant but you have to make them work for your business, all of my new ideas have to be achievable. I have just created a range of homewares in my designs, which I am really excited about and am currently developing a luxury clothing range as well.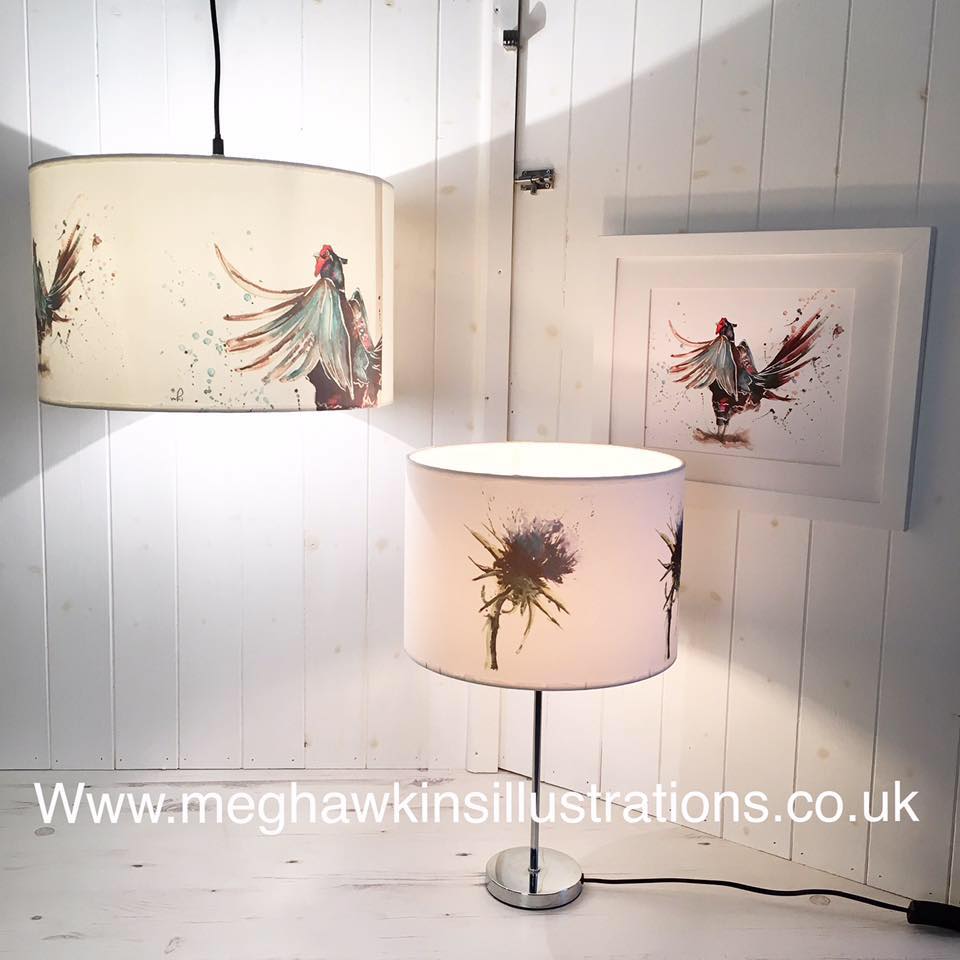 I am so pleased with my splashbacks and lamps, which are my latest additions, all of which you can buy on my website: www.meghawkinsillustrations.co.uk
For more information on the Buy From Shropshire, please visit their website on http://www.buy-from.com/ or ask us at The Giftware Association on enquries@ga-uk.org