 GIFT OF THE YEAR NOW OPEN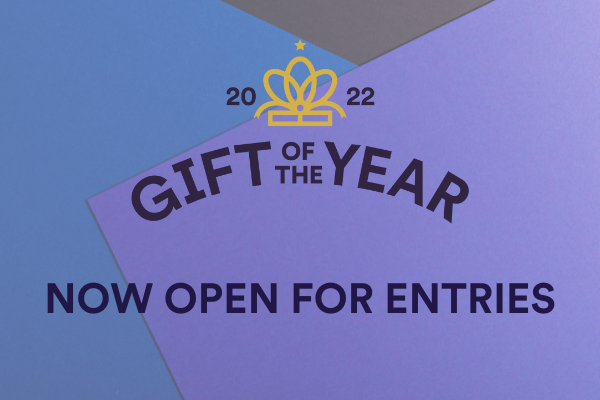 The Giftware Association is excited to announce the launch of Gift of the Year 2022 at Harrogate Home and Gift, with the competition now open for entries!

Now in its 44th year, the competition is the industry's largest and longest-running awards celebrating the home and gift industry and is your chance to elevate your brand and products to buyers and retailers. With over 20 categories to choose from, there is a place for everyone's products to really shine and be seen by a buying audience.

The coveted Judges Choice and Peoples Choice awards also return to choose the best product chosen from the category winners to the product voted by the end consumers and general public.

The GA Team will be on hand to guide you through the award process, the timeline and if you have any queries then please get in touch at awards@ga-uk.org
 Find out more and create your account now
 *Plus more benefits to be added as we continue the competition
 

 IT'S SO EASY TO ENTER
Entering Gift of the Year 2022 this year could not be easier. Its a step by step process with plenty of instruction, but one of our team will always be on hand to help you out with any queries if you get stuck

Step 1 - Create an account, if you haven't entered the awards before then please create an account here. If you have entered the awards use the same username / email address and password as before here.

Step 2 - Buy your credits. Choose how many products/categories you want to enter and take advantage of the bundles on offer.  Don't worry of you want to add more at a later date the bundle price will still be honoured

Step 3 - Enter your product. The easy step by step process will gather all the information about your products and ranges and give you the opportunity to upload supporting images, documents and videos

Step 4 - Judging - This is the hard part where our judges made up of retailers, buyers and key industry experts have to choose their favourite products.

If you need any help during this process then please do not hesitate to get in touch and a member of the team will be able to guide you through.

 



THE CHANCE TO BE FEATURED ON THE GIFT OF THE YEAR PODCAST
Brought to you by Gift of the Year and supported by the Giftware Association. The podcast shines a spotlight on the UK's thriving gift industry, providing insight into all aspects of the creative and sales process, from concept to retail and everything in between. Each week you will meet a new key player from retail or supply and learn about their role within their business, their insights on the industry and, of course, to talk about their entry or previous winner in the Gift of the Year awards!

> LISTEN HERE
If you have any questions or would like to know more then please get in touch with the team who will be more than happy to help and guide you through your entry on awards@ga-uk.org