 GIFTS OF HOPE - CHILLIWINTER CANDLES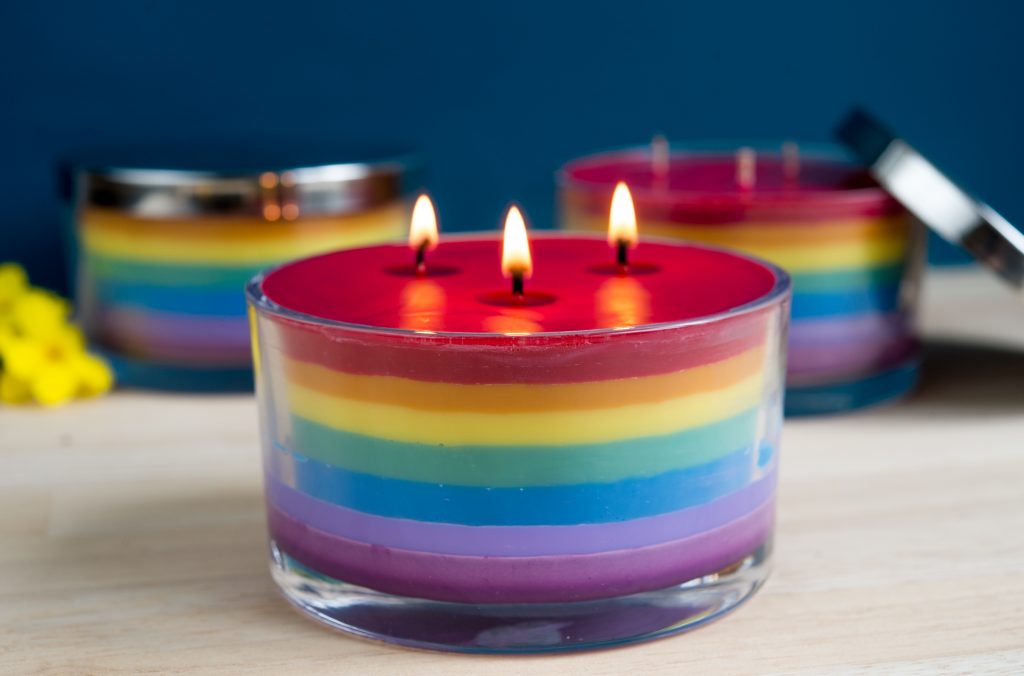 The Giftware Association caught up with entrants into our GOTY Gifts of Hope competition. There is still time to enter our charity focused category. Find out more and enter here
Tell us about your business….
ChilliWinter is located amongst the salty air, and sandy shores of our Isle of Wight home, in the South of England. One half of us, (me, Kathy), leads the candle chandlery alongside my HR Consultancy, whilst Dave is a Silversmith - alongside being a full-time key worker.
We take pride in making our products by hand, and we really enjoy what we do. Yes, we have proven recipes and strict manufacturing processes that incorporate plenty of quality testing, but there is a subtle charm and quirkiness across some of our lines, which give room for variation. We've been making candles for almost five years, and although we've only been trading for just over a year, I'm transferring my 23+ years' business experience into our brand and its development.
With 17 stockists currently and an ecommerce site, we also run artisan candle making experiences, as well as offering a b2b service for several clients, from concept and design, through to manufacture.
How has your business been affected by Covid-19?
To focus on ChilliWinter, I gave up my Head of HR role for a Hampshire-based charity, and the joys of commuting back in December 2018. After an unexpectedly successful start, we had been trading just less than a year, when the lock down hit. Because we run everything from home, we haven't been eligible for the buffer of the varied government financial assistance schemes. Only two of our stockists have remained open, and understandably, their priority has been to distribute food and other essential products across the community.
This year was due to be a step-up for us with a footprint with UK mainland stockists, larger retailers and scale-up private b2b orders – all halted. We were looking forward to elevating our brand and deepening customer engagement at numerous festivals, fayres, and county shows across the South East and West of England – all of which have been cancelled. We've been forced to abandon over 35+ artisan experience workshops planned for 2020.
Sadly, this has meant our planned strategy to further invest, scale-up production and expansion, have been significantly interrupted.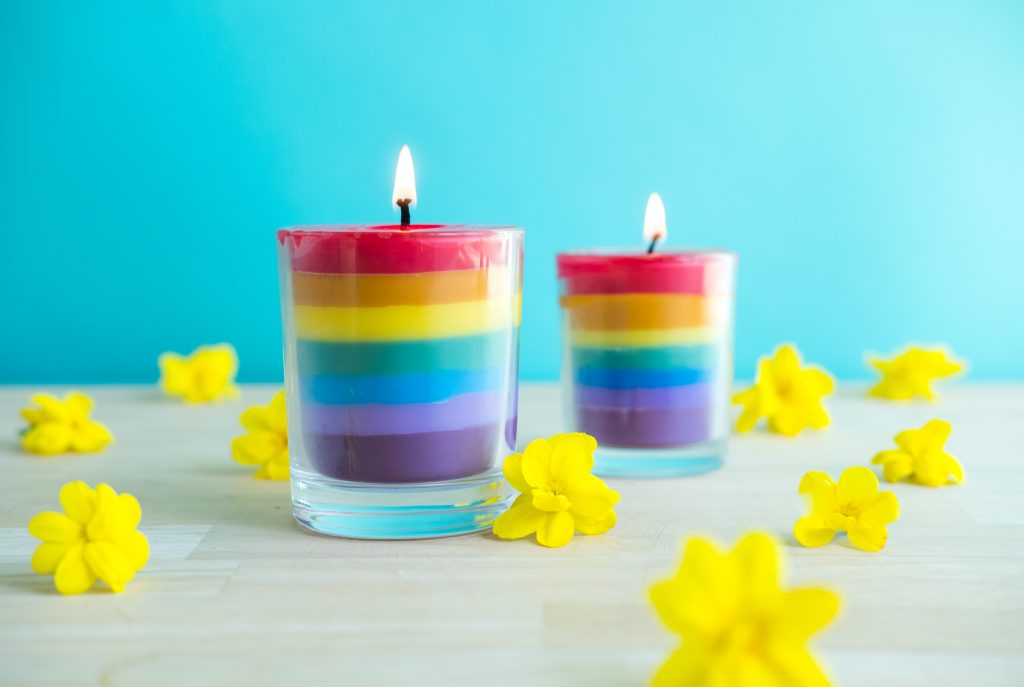 What prompted you to create a new product during this time?
With a head-start in retail, I've worked in charitable, not-for-profit, and the public sector throughout my career, and Dave remains a key worker. I've been a Trustee for a charitable organisation in the past too, so working with (and for) our community reflects our personal and business values. Being a naturally creative problem solver, I adapted and responded to the uncertain environment by creating our Gift of Hope Rainbow Collection, taking action to help our community.
With all fundraising events for numerous charities being cancelled, we understood this would be devastating for their planned revenue streams, and in turn impacting the most vulnerable people in need – locally as well as nationally. I had already met with Mountbatten Isle of Wight back in February to explore a b2b opportunity, and so, I decided to accelerate this by developing a 100% not-for-profit Collection, dedicated to their Coronavirus fundraising appeal.
Rainbows fitted the bill perfectly in every way, as the image quickly became iconic internationally, symbolising hope and unity. Translating this into a candle product took about 3 days to develop and test, and with our photographer, web designer and most of our supply chain on board, we launched our range via our website, with marketing largely via social media with paid advertising.
What can you tell us about your Gift of Hope?
We quickly established The Rainbow Collection and we selected the two most popular and successful candles as entries for the Gift of Hope Award.
As the beneficiaries of our chosen charity are largely unable to enjoy fragranced candles because these can conflict with patient treatment, it was a fitting decision for the candles to be unscented. This also had added benefits of less manufacturing time, reduced material cost and simple 'CLP' labelling compliance, all of which helped us to get our new products to market, quickly.
On Thursdays, nationwide we saluted our key worker heroes who were (and still are) working selflessly around the clock. Communities were coming outside and spending a couple of minutes to clap and cheer, showing their support and lifting one another's spirits. Every week, we invited our customers to extend this once they said farewell to their neighbours and turned back indoors. We asked them to light a rainbow candle to remember the lives lost, those in hospital fighting for their lives, and to remember each key worker hero's unabated efforts to feed, protect and serve our nation.
Visually these candles are aesthetically beautiful and uplifting, which appeals to most, if not all, market segments. Both product entries are handmade using 100% pure natural soy wax and traditional plaited cotton-wicks. The glass vessels have a timeless elegance, suiting any style and space whilst enhancing the overall ambiance with the beautiful rainbow hues, when lit. The glass is high quality heat and shatter-resistant, and the three-wick candle is complemented by a stainless-steel lid with a mirror finish, keeping the candle dust-free.
When we launched the Rainbow Collection, we were unable to provide a gift box due to the shortened window of opportunity with supply chain restrictions. Latterly, a branded luxe presentation box is now available.
Single wick
20cl * 160g net * Approx. burn time 22 – 26 hours * 70mm Diameter x 84mm Height
Three-wick
55cl * 440g net * Approx. burn time 70 – 80 hours * 125mm Diameter x 70mm Height
Which charity does your Gift of Hope raise money and awareness for and why have you chosen them?
All ChilliWinter Rainbow candles are made on a not-for-profit basis, with all proceeds from every item purchased going directly to Mountbatten Isle of Wight. This supports their hospice pledge, as it's normal fundraising events and activities continue to take a significantly different approach this year, directly due to the Coronavirus pandemic.
Mountbatten provides vital hospice and palliative care services across the Isle of Wight Community for those most in need, and their families. As well as the 16-bed Hospice in Newport, on any given day Mountbatten Isle of Wight provides care to over 1400 people in their homes, as well as offering other support services for patients and their families.
Whilst we've been fundraising for Mountbatten Isle of Wight as our nominated 2020 charity, this has brought about countless and often emotive story-telling moments, shared by our customers. They have passionately relayed their Mountbatten Isle of Wight experiences with pride, how they have shaped and touched their lives. For us, raising awareness about what Mountbatten Isle of Wight does (and how), is helping to break down some of the misleading stereotypes and taboos about end of life care, which can be natural barriers to people accessing their services, at the most difficult time of their lives.
Mountbatten's annual fundraising revenue is essential to its continuation and so far, we have contributed to this, surpassing our original £500 target, with just over £3,000 so far since mid-April. Helping engage our community with Mountbatten Isle of Wight's Coronavirus Appeal has shown the staff and volunteers' compassion, and how very much they are appreciated, and is hugely fulfilling for us, as we know it is for our customers too. It is also not a 'one-off', as the Rainbow Collection continues as the fundraising pot keeps growing! To continue our support throughout 2020, we have just launched our 'Hello Sunshine!' product Collection, which is running in parallel with their annual Sunflower appeal.
Where can your product be purchased? Please share your web links so we can direct people to you:
As our stockists are starting to re-open, we are delighted that some can include the Rainbow candles. However, with the recent surge in website traffic and sales, this remains the best place to browse and shop our 'Charity Products' category. We have a growing presence on social media, and use these for all our latest news, reader treats and monthly giveaways!
Website: www.chilliwinter.co.uk
Twitter: ChilliWinterIOW
Instagram: chilliwinteriow
Facebook: @ChilliWinter
Media enquiries: Owner Directors:
Kathy Chillistone and Dave Winter
M. 07912 946 574
Image credits: Stephanie Mackrill Photography