 *SPRING FAIR 2021 CANCELLED*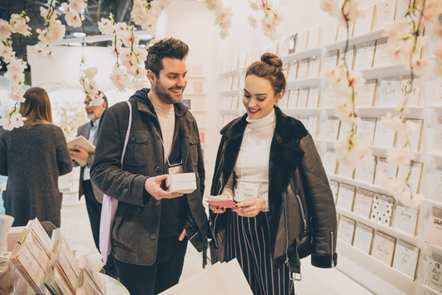 Hyve Group announce changes to their 2021 show calendar.
Spring Fair @Home virtual forum to launch in 2021.
Spring Fair will return as an in-person event, 6th-10th February 2022.
London, UK, 4 November 2020 – Hyve Group, the organiser of Spring Fair, the UK's leading destination for home and gift retail, together with the co-located Jewellery & Watch and Fashion (JWF) and Glee at Spring Fair announce today changes to the scheduled event in 2021.
Moda, the national footwear show, also organised by Hyve and planned to co-locate at Spring Fair 2021 also announce today changes to its scheduled 2021 event.
Due to new UK government restrictions on the reopening of business conferences and exhibition halls, Spring Fair will no longer take place in February 2021. The next planned home, gift and fashion retail event will be Autumn Fair, together with Moda, at the NEC Birmingham on 5th-8th September 2021, while Spring Fair will return as an in-person event, 6th-10th February 2022.
Hyve and the team behind Spring Fair, JWF, Glee at Spring Fair and Moda are now working to deliver an enhanced virtual forum with product features and exclusive seminar content designed to educate and inform participants. More information on "Spring Fair @Home" will be available on the Spring Fair website, while "Fashion Together" can be found on the Moda website in due course.
Julie Driscoll, Managing Director – UK Retail says, "While it is regrettable that we won't be able to meet in person at Spring Fair and Moda in February due to the new UK government rules, we are incredibly excited to host Spring Fair @Home and Fashion Together. Following the success of this year's virtual forums, we're looking forward to providing our clients and customers another touchpoint to be inspired and stay connected with the retail industry."
Ian Taylor, Managing Director – NEC Group Conventions & Exhibitions, says: "We're saddened to not be welcoming the retail community to the NEC for Spring Fair in February 2021, but are pleased to hear that retail professionals and suppliers will still have an opportunity to connect with each other in early 2021, albeit in a virtual environment with Spring Fair @Home. We look forward to welcoming everyone back to the NEC in person for Autumn Fair and Moda in September 2021, with Spring Fair itself returning in February 2022."
Sarah Ward, Chief Executive, The Giftware Association says, "Spring Fair @Home will be a great networking opportunity for the industry and a chance for businesses to stay connected. I am delighted that we are able to host the Gift of the Year 2021 Awards with Spring Fair as part of the virtual forum."
Will Jones, Chief Operating Officer, Bheta says, "Spring Fair is an important platform, not only for BHETA members but also for the retail industry in the UK. I am very much looking forward to continuing our support and working together for Spring Fair @Home, and into 2021."
Spring Fair continues to provide exclusive webinars, industry news and product updates that keeps the home and gift retail community informed, connected and inspired on The Community hub.
About Spring Fair
Spring Fair is a global power brand with international reach. A definitive marketplace for the home and gift retail industry. Located in the centre of the UK, at the NEC in Birmingham, Spring Fair provides an easily accessible destination for retail professionals and suppliers to meet every February, at the very start of the buying season. Co-located with Jewellery & Watch and Fashion (JWF) and Glee at Spring Fair, Spring Fair is an all-encompassing show for retailers, designers, contractors, architects and interior decorators to come and find their next best-seller, gain insights into the newest product trends and connect with the retail community. Spring Fair is a brand of Hyve Group plc. http://www.springfair.com
About Autumn Fair
Diverse, relevant and exciting, Autumn Fair is the marketplace of the season for the home and gift retail industry. Perfectly timed at the beginning of September, the event is a crucial shopping destination for buyers to prepare for the Golden Quarter, retail's busiest and most profitable time of year in the lead up to Christmas and New Year. Autumn Fair is a brand of Hyve Group plc. http://www.autumnfair.com
About Jewellery & Watch and Fashion (JWF)
Running twice a year alongside Spring Fair in February and Autumn Fair in September, this brand-new offering is where the most coveted contemporary jewellery and watches meet the newest, must-have fashion pieces including footwear, handbags, wallets, scarves and luggage. As a response to growing retail demands and consumer trends, JWF offers buyers a chance to diversify their offering and grow their business across two editions. JWF is a brand of Hyve Group plc. http://www.jewelleryandwatchbirmingham.com
About Moda
Moda is the show the brings fashion to life. Hosted in Birmingham, the heart of the UK, Moda makes fashion accessible to everyone. Held bi-annually, in February and September, Moda offers a curated and comprehensive selection of womenswear, accessories and footwear, from both leading brands and exciting new names. Known as the National Footwear Show, Moda is the leading footwear trade show in the UK, offering the largest selection of women's, men's, and children's footwear collections, as well as specialised podiatry brands. Not only does Moda grant you access to the latest collections, our exclusive live content brings visitors the latest market insights, trends and business advice for a successful season. https://www.moda-uk.co.uk/welcome
About Glee at Spring Fair
Glee at Spring Fair is a second touchpoint throughout the year for the gardening and outdoor living community to network and do business with new and existing buyers. Visitors who wouldn't usually see garden-related products at Spring Fair can now discover the latest concepts and trends. From garden care to garden décor, Glee at Spring Fair showcases suppliers from Glee's core show sectors including Landscaping and Garden Decoration, Garden Care, Plants and Outdoor Entertaining. Glee is a brand of Hyve Group plc. http://www.gleebirmingham.com/glee
About Hyve Group plc
Hyve Group plc is a next generation global events business whose purpose is to create unmissable events, where customers from all corners of the globe share extraordinary moments and shape industry innovation. Hyve Group plc was announced as the new brand name of ITE Group plc in September 2019, following its significant transformation under the Transformation and Growth (TAG) programme. Our vision is to create the world's leading portfolio of content-driven, must-attend events delivering an outstanding experience and ROI for our customers. Where business is personal, where meetings move markets and where today's leaders inspire tomorrow's. http://hyve.group/Home
Media contact:
Sarah Waterfall
Head of Marketing – UK Retail
Sarah.Waterfall@hyve.group
+44 (0)203 545 9646